About Us
Protocase delivers a whole new experience to engineers and design professionals by delivering custom electronic enclosures with unmatched speed, simplicity and service.
Creativity from the Protocase Community
Over 12000 customers around the world are using Protocase to manufacture their custom electronic enclosures and components. They range from small startups to major technology companies and research institutions. This means that we get to see a multitude of designs from many areas of technology. We have to admit that we find many of these designs interesting, and, in fact, it wouldn't be a stretch to say that our customer's designs are sometimes more interesting than our own work! Thus we created this "spotlight" section, which will be devoted to sharing some of the creativity that we see within the Protocase community.
Customer Spotlights
July 2017
Project Orthrus 2.0
For Australian Lukasz Dyjakon, his personal custom PC enclosure project is designed to be as small as possible yet elegant and functional, and to allow the high powered components inside the PC to run at optimal temperatures. Then, to turn his ideas into reality, Lukasz went to Protocase for engineering services and professional-grade manufacturing.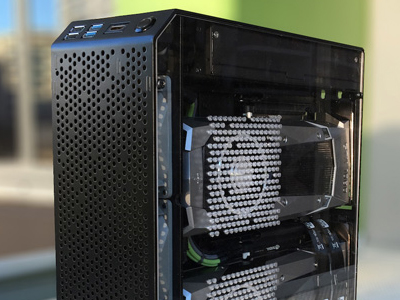 Previous customer spotlights
Case Studies