Lead Times:
2-3 business days*

CNC Milling
Overview
Protocase Tech Tip Video
Quick video about CNC Machining Basics
CNC Milling is the removal of metal with a rotary cutter or other rotating cutting tool. With precise equipment, and a wide variety of tooling, we are able to cut just about anything, within tolerances of a few thousandths of an inch or less.
Engineers, innovators, maintenance managers and others choose Protocase for custom CNC milling, because we are able to effectively and accurately machine custom parts and enclosures, with absolutely no minimum orders. At Protocase, you don't have to worry about dealing with a machining-shop queue, or your small-quantity order being bumped for a production run.
We pride ourselves on our reliability and superior customer service. Contact us to get started.
Protocase's CNC Machining Division includes 5-Axis and 3-Axis milling, as well as CNC Turning and CNC Router. We offer CNC machining of aluminum, copper and plastics, both for sheet metal and bar stock.
Lead Time:
Parts are graded on a complexity scale. Parts with low complexity will have a leadtime of 2-3 days. As complexity increases, the leadtime ranges from 2-5 days. High-complexity parts will have a leadtime ranging between 5 and 15 days.
Similarly, quoting time can range from 1 business day (or faster) to 5+ business days, depending on the complexity of your design.
If you have a design, you would like assessed and quoted by our team, please use our Request-a-Quote form.
Have questions or want to discuss our capabilities in relation to your specific needs? Connect with your Protocase Account Manager or email info@protocase.com.
Gallery of Milled Parts:
Protocase 5-Axis & 3-Axis Milling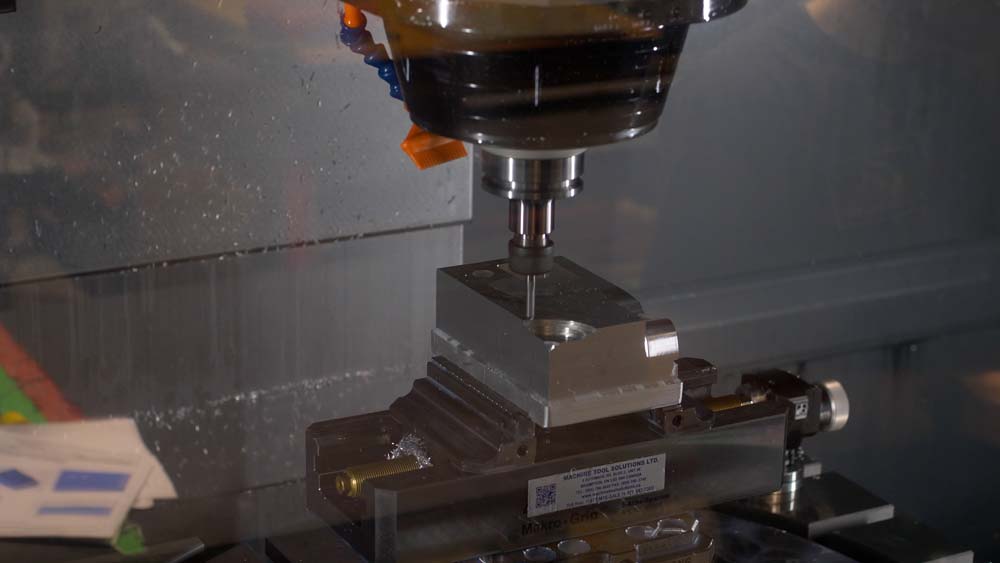 Protocase CNC machining services are ideal for prototypes and small runs, because our turnaround times are extremely fast and we readily accept orders of quantities as low as one.

Our CNC Machining Division has been operating since 2015.
Our Capabilities
3-axis machining employs cutting parts on three axes: the X, Y and Z axes. The machining tool removes materials in three basic directions that correspond to the axis of a flat surface.
3-axis machining is suitable for parts with shallow features, such as pockets and grooves.
Our 5-axis machining provides a vast variety of possibilities as to the part sizes and shapes we can effectively process in 2-3 days, with no minimum order. 5-axis machining offers the highest precision and quality available.

5-axis refers to the number of directions in which the cutting tool can move. You can process five sides of a part in single setup, because the cutting tool moves across the X, Y and Z linear axes, as well as rotates on the B and C axes. This allows the cutting tool to approach the part from any direction.
Even simple parts are ideal for 5-axis milling, as it is the most efficient with less setups.

Machined parts are widely used in a slew of industries, including aerospace, defense, robotics, oil & gas, medical technology, research and more.
You deserve a fast, hassle-free CNC machining experience
Get your design quoted and assessed by our CNC team. We're here to help.
Quote My Design
Contact Us