Products & Services
Protocase manufactures fully finished custom electronic enclosures and associated parts from a wide variety of materials and components, in 2-3 days with no minimum order. Protocase also provides expert and affordable enclosure design services.
CNC Milling
Vertical 3-Axis Milling of Sheet Metal & Bar Stock in 2-3 Days
Milling is the removal of metal with a rotary cutter or other rotating cutting tool. With precise equipment, we are able to cut a huge variety of parts, to within tolerances of a few thousandths of an inch or less.
Our 3-axis milling machine has a 30,000 RPM spindle which allows us to cut at high speed with smaller cutters, and features an automatic tool changer which decreases total time to cut a part.
What we offer:
Vertical 3-Axis Milling on Sheet Metal:
Aluminum
Cold/Hot Rolled Steel
Galvanneal
Stainless Steel
Copper
Sheet metal can be milled to create panels and bus bars. CNC machining is ideal for creating durable panels that require pockets, grooves or chamfers.
Work holding of sheet metal is accomplished with a vacuum chuck, which firmly draws the sheet metal against a flat surface, preventing it from moving and chattering. We use a 26" x 16" (660.40mm x 406.40mm) vacuum chuck. Parts larger than these dimensions can sometimes be milled, but extra setups may be required.
Typically, sheet metal milling is performed on aluminum and copper. Steel and stainless steel may also be milled, but cycles are longer due to the inherent cutting characteristics of these metals. We stock tooling for all of the above sheet metals.
Stocked Aluminum Sheet Metal
Click here
to view other aluminum thicknesses available at Protocase, as well as other types of stocked sheet metal.
Vertical 3-axis Milling of Bar Stock
We offer 3-axis vertical milling of bar stock in aluminum.
Steel bar stock and stainless steel bar stock can obtained it on a per job basis, with a typical lead time of less than a week.
Work holding is typically with the use of precision machine vices and clamps. With this service we can produce a wide variety of machined parts and enclosures.
Stocked Aluminum Bar Stock
Stocked Hot Rolled Steel Flat Bar Stock
Machined Enclosures:
Machined enclosures are solid, durable and sophisticated. They are especially ideal when you require protection from the outside elements, such as air, liquid or dust. We also offer O-rings for your machined enclosure for further protection.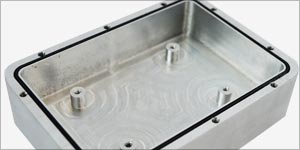 Due to tooling reach, the largest internal pocket we
can machine in an enclosure from bar stock is
26" X 16" X 5.75". Maximum size of work could be reduced (or expanded) by dimensions of required tooling (as well as the features required). Contact us at
info@protocase.com
to discuss your project.
Vertical 3-Axis Milling of Aluminum Angle
We offer 3-axis milling of Aluminum Angle (also known as Structural Aluminum Angle), which is a lightweight, corrosion-resistant extruded aluminum product with inside radius corners.
Lead Times:
At Protocase, we are able to CNC machine your enclosures, parts and components within 2-3 days.
However, lead time may increase as jobs get larger. Extra lead time will also be added to accommodate delivery of non-stocked items where applicable. For more information, email info@protocase.com.

Work Envelope:
| | |
| --- | --- |
| Work Envelope: | Please note: If you need a part more unique than our minimum and maximum constraints, contact us as we may be able to design a solution to meet your needs. |
The largest item we can mill is defined by the machine work envelope, which, depending on the material used, is either:
Bar Stock: 26" x 16" x 12" | 660.40mm x 406.40mm x 304.80mm
Sheet Metal: 4' x 8' | 1,219.20mm x 2,438.40mm
Larger parts can sometimes be accommodated through multiple setups.
Sometimes other constraints (such as tool size) can limit practical work envelope for a specific job. For more details, email info@protocase.com about your specific needs.

Constraints:
Our equipment is 3-axis, which places certain limitations on angles, curves or contours.
Sheet Metal: Due to the limitations of our machines, the maximum size sheet metal parts we are able to mill in a single setup is 26" x 16" (660.40mm x 406.40mm).
The minimum sheet metal part that can be vacuumed chucked without clamps is 5" x 5" (127mm x 127mm). Vices can be used for parts smaller than 5" x 5" (127mm x 127mm) - please email info@protocase.com for more information.
Bar Stock: The maximum length of bar stock in a single setup is 24" (609.60mm). The bar stock comes in 20 foot lengths and we cut to size. The machine dictates the size constraint.

Stocked Tooling:
We currently provide the following stocked CNC tooling:
End mills

Diameter:
(1/2" | 12.7mm), (1/4" | 6.35mm), (1/8" | 3.18mm),
(1/16" | 1.59mm) and (1/32" | 0.79mm)
3 flute solid carbide

Chamfer mills

Diameter:
(1/4" | 6.35mm) and (1/2" | 12.7mm)
Angle: 60, 82, 90 and 100 degrees
4 flute solid carbide

Face mill

diameter:
(3" | 76.20mm)
6 flute carbide insert

Regularly stocked drill bits used with a Keyless Jacobs Chuck

Fractional Drills from:
(1/16" | 1.59mm) to (1/2" | 12.7mm) by (1/64" | 0.40mm) increments
Letter Drills A - Z (0.234" - 0.413" | 5.94mm - 10.49mm)
Number Drills 1 - 60 (0.228" - 0.040" | 5.79mm - 1.02mm)
Should you require tooling that we don't stock, we will order it on a custom basis for your job. Extra lead time will be required. Common tooling can typically be obtained in a few days.

Self-Clinching Fasteners:
Concealed fasteners:

Concealed fasteners for blind features should be used when:

Outside surface finish is important
Metal is too thick for other stocked PEMS ®
Where protecting from air, liquid, or dust is extremely important
Self-Clinching fasteners (commonly known as PEM® brand self-clinching fasteners, which is a trademark of PennEngineering & Manufacturing Corp) are threaded nuts, studs, or standoffs that are mechanically pressed into metal to provide solid fastening points. Machined parts generally use blind-hole PEM® brand self-clinching fasteners (whereas sheet metal is generally used with through-hole PEM® brand self-clinching fasteners).
Inserting PEM® brand self-clinching fasteners into blind holes has the extra benefit of a smooth finish on the opposite sides of sheet metal after the fastener is installed. These PEMS® can be used in sheet metal as thin as 0.075" (1.90mm).
Protocase stocks the following PEM® brand self-clinching fasteners for blind milled holes:
CHC-440-12
CHC-440-6
CHC-440-8

CHC-632-12
CHC-632-6
CHC-632-8

CHC-832-12
CHC-832-6
CHC-832-8

CSS-440-3
CSS-440-4
CSS-440-5
CSS-440-6
CSS-440-8

CSS-632-4
CSS-632-6
CSS-632-8
Concealed fasteners for blind features are ideal when:
Outside surface finish is important
Metal is too thick for other stocked PEM® brand self-clinching fasteners
Where protecting from air, liquid, or dust is extremely important

Corner Radius:
Corner Radius:
We are able to use very small cutting tools to make corners with a very small corner radius. Our suggested smallest insider corner radius would be no less than 0.063" (for best economics).
If you need an even smaller corner radius, we stock a 1/32" (0.79mm) end mill, and can also obtain even smaller end mills. However, you will encounter depth limitations, material removal rates and increases in tool breakage rates, thus raising the cost of the part. Email info@protocase.com to discuss your specific needs.

Milling Toolmarks:
The surface finish of CNC machined parts will have visible toolmarks, due to the spinning motion produced by the CNC milling machine's cutter.
If you require a smooth, uniform finish to your part, we recommend choosing a secondary finish such as Grained Finish or Powdercoat.

Secondary Finishes:
Because finishing processes affect surface finish (and therefore part size), we do not recommend applying secondary finishes to high-tolerance parts, as the finishing process can remove or add enough material to put the finished part out of size tolerance. Please contact info@protocase.com for more information.
Protocase offers the following secondary finishes for your machined enclosures, panels and parts:
Grained Finish: Part is deburred and scratched using a brush/sander to create a specific grain. This is ideal for parts where a uniform bare finish is required, but powdercoating is not desired.
Due to geometry, grained finish can only be applied to the outside surfaces of CNC machined cases and parts, NOT on the inside pockets.
Powdercoating: Powdercoat paints with texture (Sandtex Polyester and Textured Polyester) will cover toolmarks with no additional finishing operation.
Non-textured paints (Smooth Polyester, Smooth Epoxy and Smooth Polyester-Epoxy Blend Hybrid) will not cover toolmarks on their own. As a result, an additional finishing operation such as grained finish will need to be performed as well.
Digital Printing: Following powdercoat finish, machined parts and enclosures can be digitally printed with text and images. This is ideal for branding (such as your logo), labeling connectors and switches and for decorative purposes. (Silkscreening is also available, as an alternative to digital printing).
Machined Engraving: Machined parts and enclosures can be also engraved using our 3-axis vertical CNC milling machine. This is a form of permanent marking, ideal for labeling, branding or schematics. Also known as etching, machined engraving is available with powdercoat painting, grained finish, anodizing and chem film chromate coating, depending on the material. Please see our Machined Engraving page for more information.
Chem-Film Coating: Also known as chemical conversion coating, chromate coating or yellow chromate coating, this process creates a surface that is corrosion resistant, durable and exhibits stable electrical conductivity. Machined enclosures and parts no larger than 30" x 30" x 45" can be chem-film coated in-house by Protocase within 2-3 days. Please note: if you do not want visible toolmarks, please make sure to specify that grained finish be applied before chem-film coating.
Anodizing: Anodizing is an electrochemical process that converts the metal surface (aluminum, typically) into a decorative, durable, corrosion-resistant, anodic oxide finish. Although anodizing is a finish we offer, it is performed externally. As a result, our standard lead time does not apply - turnaround times are typically 1-2 weeks. Please email info@protocase.com for more information. As with chem-film coating, visible toolmarks from the CNC machine's cutter will be visible. Should you require a uniform finish, please make sure to advise that grained finish is required as well before anodizing.

Information required when placing an order:
When placing an order for a part or enclosure that requires CNC machining, ensure you provide us with a detailed drawing of your part(s). We can accept CAD files or conventional drawings. If you can't provide detailed drawings, we can assist you with design services.
Let us know if you need any hardware such as brackets or self-clinching fasteners included in your order.
If you have any questions about CNC Milling, contact us directly at info@protocase.com.