Jan 2016
"The Best Custom PC Case in the World?" - Linus Sebastian
Share:
"When I reached out to Protocase about creating a custom, rackmountable case for my personal PC, I DID not think I would be this blown away with the final product..."
When Linus Sebastian, one of YouTube's most popular tech reviewers, wanted a custom made case for his personal enthusiast PC, he came to Protocase for design assistance and final manufacturing.
It was hard to say goodbye to his much-loved nine-year-old old rig, which was originally a gift from his then girlfriend, now wife. But, "the build must go on!" Linus said as he began moving components to the new 4U, 18 gauge steel enclosure.
Watch the video below to see the manufacturing of the case and final assembly of the components into a truly stunning rack-mounted, liquid-cooled PC.
Order your own Linus designed case starting at $1,769.63 (Economy pricing) or $2,550.31 (Priority pricing) or contact an account manager to discuss adding further customizations.
Our direct digital printer can add crisp and colourful personalized graphics as the finishing touches to the front panel.
Please note: The Linus-designed case available for you to download, quote and order is the V5 version. The V5 version has a slightly different design than the original Linus case featured on YouTube. As well, the V5 version is a Federal Standard 595 Color FS 17038 Black, which is a full gloss smooth powdercoat. The rackmount featured in Linus' YouTube video is Graphite Sandtex. If you wish for your Linus case to be a different powdercoat color, please specify when you contact us to quote and order.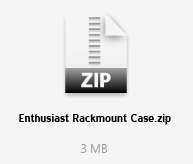 To view the 'Version 5' CAD design of this case please download the
eDrawings files
(3MB .zip file) here and also download the
free viewer software here
.