Products & Services
Protocase manufactures fully finished custom electronic enclosures and associated parts from a wide variety of materials and components, in 2-3 days with no minimum order. Protocase also provides expert and affordable enclosure design services.
Customizable Diecast Enclosures
Customized to Your Exact Specifications in 2-3 Days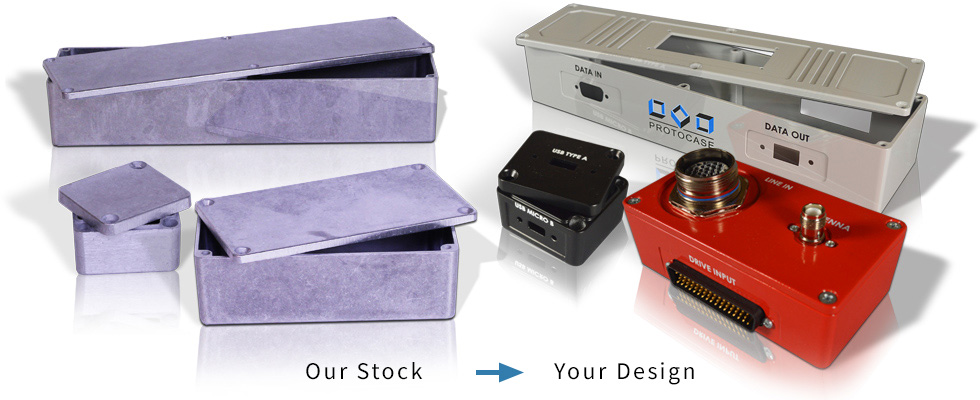 What are Customizable Diecast Enclosures?
Protocase now stocks aluminum diecast enclosures in a variety of styles and sizes, ready to be customized to your exact needs in 2-3 days, with no minimum orders.
Using the same industry-leading services our customers already depend on for fully custom machined enclosures from bar stock, our Customizable Machined Enclosures from Diecast Aluminum can be customized in the following ways:
Customized in 2-3 days, with absolutely no minimum order - that's the Protocase way.
Why Choose Customizable Diecast Enclosures?
Customizable Diecast Enclosures are ideal for people who are looking for the durability and protection of a machined enclosure, but require the most cost-effective option available. Our Customizable Diecast Enclosures are available in a variety of sizes and styles, and offer protection against dust and water.
Customizable Diecast Enclosures are the most inexpensive way to achieve your design goals for a machined enclosure, without having to start from scratch.
How to Order a Machined Enclosure from Diecast Aluminum:
1. Choose your enclosure.

Choose from: Standard Diecast, Watertight Light Duty and Watertight Heavy Duty.

2. Download the file.

We supply DXF, STP, IGS and PDF for your chosen Diecast enclosure.

3. Make your desired changes.

Using your CAD software of choice, or on the PDF file provided.

4. Send us your customized file.
To save even more time, our design services team can complete your design exactly to your specifications, for a reasonable hourly fee. Email info@protocase.com to get started.
Choose a Diecast Aluminum Enclosure Style:
Part Number
Dimensions
Watertight
Tolerance
ZIP File
Height
Width
Depth


(Less Lid)

(Includes dxf, igs, stp & pdf)

1590H

2.07"|52.5mm

1.50"|38mm

1.06"|27mm

No

± 0.020" | 0.508mm

Download 1590H

1590G

3.94"|100mm

1.97"|50mm

0.83"|21mm

No

± 0.020" | 0.508mm

Download 1590G

1590BB

4.67"|119mm

3.68"|94mm

1.18"|30mm

No

± 0.020" | 0.508mm

Download 1590BB

1590V

4.70"|120mm

4.70"|120mm

3.54"|90mm

No

± 0.020" | 0.508mm

Download 1590V

1590N1

4.77"|121.1mm

2.60"|66mm

1.39"|35.3mm

No

± 0.020" | 0.508mm

Download 1590N1

1590KK

4.92"|125mm

4.92"|125mm

2.10"|53mm

No

± 0.020" | 0.508mm

Download 1590KK

1590P1

6.01"|153mm

3.24"|82mm

1.81"|46mm

No

± 0.020" | 0.508mm

Download 1590P1

1590F

7.38"|188mm

7.38"|188mm

2.48"|63mm

No

± 0.020" | 0.508mm

Download 1590F

1590EE

7.88"|200mm

4.73"|120mm

3.17"|80mm

No

± 0.020" | 0.508mm

Download 1590EE

1590BX

10.0"|254mm

2.80"|70mm

2.00"|51mm

No

± 0.020" | 0.508mm

Download 1590BX
Customized Standard Diecast Examples:
Diecast aluminum alloy that is rugged, yet easy to machine
Lap joint construction protects against dust and splashing water, as well as provides improved EMI/RFI shielding
Smooth surface with no sharp edges
Designed to meet IP54
Low side wall draft angle (2 degrees or less) for easy PC board mounting
Tolerances
Manufacturing tolerance for the stocked diecast aluminum enclosures we offer are noted in that tables above.
Our standard CNC machining tolerances is ±0.005" (0.127mm). As a result, all cutouts and machined features on a single face will be ±0.005". relative to one another only.
Our standard CNC machining tolerance and the manufacturing tolerance of the diecast aluminum enclosure will stack. For example, for a diecast aluminum enclosure being customized, the actual tolerance on your cutouts could be ±0.025" (±0.020" + ±0.005"), depending on how the part is set up in our machine.
If you require a tighter tolerance from a certain location, please be sure to relay this information to your Protocase Account Manager when requesting a quote so that our Engineering & Design Services team can be made aware.
For example, if you require a tolerance of ±0.005 from the right edge of a face, the "leftover" tolerance would be applied relative to the left side of the face, which would mean the tolerance would be ±0.025" from the left side.
Note: Leftover tolerances can only be applied to one of two perpendicularly opposed edges on a face. (For example, this tight tolerance rule could be applied to the top and right edge, but not the left and right edges).
The way in which we choose what edge to reference is arbitrary. If you need to have a tolerance tighter than ±0.025" from any edge, please let your Protocase Account Manager know.