Products & Services
Protocase manufactures fully finished custom electronic enclosures and associated parts from a wide variety of materials and components, in 2-3 days with no minimum order. Protocase also provides expert and affordable enclosure design services.
Electronic Enclosures
Hybrid Enclosures (Extruded/Milled)
Hybrid enclosures use a combination of extruded sides, sheet metal top and bottom, and custom machined front and back plates.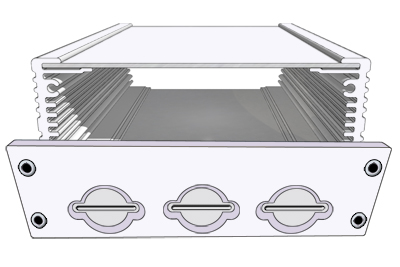 The hybrid enclosure's extruded sides have slots that are ideal for mounting a printed circuit board. The machined front and back panels offer increased sturdiness compared to a traditional sheet metal extruded enclosure.
The end result is a customized PCB enclosure that feels both durable and sophisticated.
We offer 6063 aluminum extrusions in two height options:
Protocase can build your completely customized hybrid enclosures in 2-3 days, in the quantity you require (there is no minimum order - ever!). As with all of our enclosures, panels and parts, we offer a wide variety of custom finishes in order to achieve a professional, high-quality look, plus custom cutouts, fasteners and other hardware.
Hybrid Examples:
Materials:
Our stocked extrusions are 6063 Aluminum.
Top and bottom panels specifically must be 0.064" (1.63mm) 5052 aluminum in order to fit the aluminum extrusion's slots.
The machined front and rear panels are typically made from 6061 Aluminum, as this type of aluminum is very easy to machine.
Finishes:
The aluminum extrusions (side rails) come in a bare aluminum mill finish. Powdercoat and/or chem filmed can be applied to the extrusion as a secondary finish. We do not recommend applying anodizing to aluminum extrusions.
The panels in an extruded aluminum enclosure can have many of our finishes applied (either for the entire enclosure, or part-by-part):
Graphics & Labelling:
The front, rear, top and bottom panels in a hybrid enclosure can have graphics and other marking applied:
Stocked Extrusions:
| | 1U Extruded Enclosure | 2U Extruded Enclosure |
| --- | --- | --- |
| External Height | 1.72" | 43.688 mm | 3.47" | 88.138 mm |
| Internal Height | 1.443" | 36.6mm | 3.194" | 81.1mm |
| Maximum Length | 35.0" | 889.0mm | 35.0" | 889.0mm |
| Maximum Width | 23.0" | 584.2mm | 23.0" | 584.2mm |
| Minimum Length | 2.0" | 50.8mm | 2.0" | 50.8mm |
| Minimum Width | 1.625" | 41.275mm | 1.625" | 41.275mm |
We are happy to provide custom or non-stock extrusion profiles for additional charges and an extended lead time.
Design Resources:
Other Details:
ROHS Compliant
Inspection Services available
Protocase extruded aluminum enclosures are not IP/NEMA rated