Products & Services
Protocase manufactures fully finished custom electronic enclosures and associated parts from a wide variety of materials and components, in 2-3 days with no minimum order. Protocase also provides expert and affordable enclosure design services.
Electronic Enclosures
Hybrid Enclosures (Extruded/Milled)
Protocase builds hybrid enclosures in 2-3 days. Hybrid enclosures use a combination of extruded sides, sheet metal top/bottom, and custom machined front and back plates. This creates a simple case that feels durable and sophisticated. The extruded sides have slots for PCB mounting, creating a solid and fully custom PCB enclosure. We can build hybrid enclosures from your CAD drawings, or you can take advantage of our design services and start with sketches, concepts, or components. As with all our enclosures, you simply specify all of your features and custom cutouts in your design, and we create them during fabrication. That way, your enclosure is ready to use, and you don't have to waste time drilling and filing as with off-the-shelf enclosures. Powdercoat finish, direct digital printing, chem film conversion and engraving are available to enhance functionality and aesthetics.
We build fully custom hybrid enclosures: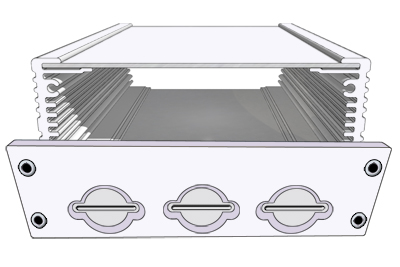 Details:
Available in a range of dimensions
(maximum height: 1.72")
ROHS Compliant
Get started by choosing one of the following easy design options: