Products & Services
Protocase manufactures fully finished custom electronic enclosures and associated parts from a wide variety of materials and components, in 2-3 days with no minimum order. Protocase also provides expert and affordable enclosure design services.
Electronic Enclosures
5-Sided Enclosures
At Protocase, we can build 5-sided enclosures to your exact specifications in 2-3 days, with no minimum order.
Made up of four sides and a removable top/cover, the 5-sided enclosure is one of our most versatile enclosure styles. For one, the top/cover can be converted to a door or lid by adding a hinge and a latch.
Depending on your needs, 5-sided enclosures can be portable cabinets or wall-mounted.
As with all our enclosures, custom cutouts are included, so you don't have to waste time drilling and filing as with off-the-shelf enclosures. We build in all the hardware and fasteners that you need, as well as internal metal components such as brackets, partitions and more. Powdercoat finish is standard, and you can further customize your design with a professional look with digital printing, silkscreening, machined engraving and more.
We build custom rackmount enclosures to your design: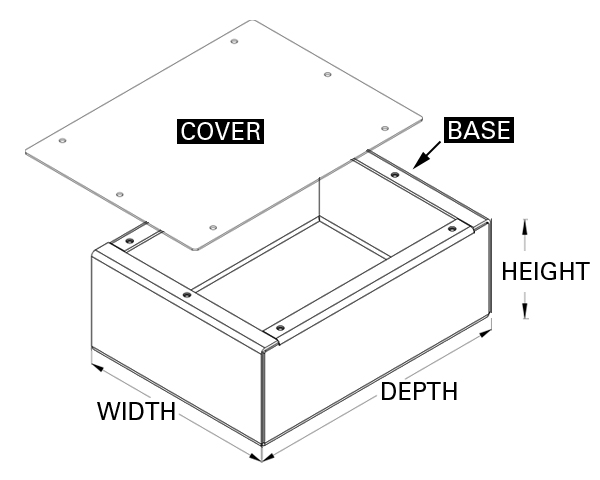 Details:
Available in a wide range of dimensions
When the enclosure's height exceeds 5", we recommend separating the sides and seam weld them to the base to form a complete enclosure.
ROHS Compliant
Get started by choosing one of the following easy design options: