Products & Services
Protocase manufactures fully finished custom electronic enclosures and associated parts from a wide variety of materials and components, in 2-3 days with no minimum order. Protocase also provides expert and affordable enclosure design services.
Electronic Enclosures
Custom Rackmount Enclosures
At Protocase, our rackmounts are 100% custom made in 2-3 days, so we can supply you with anything from a standard 19" configuration, to a fully custom design. Custom cutouts are included, so you don't have to waste time drilling and filing as with off-the-shelf enclosures. We build in all the hardware and fasteners that you need, as well as internal metal components such as brackets, backplanes, and partitions. Powdercoat finish is standard, and silkscreening is available to enhance functionality and aesthetics.
We build custom rackmount enclosures to your design: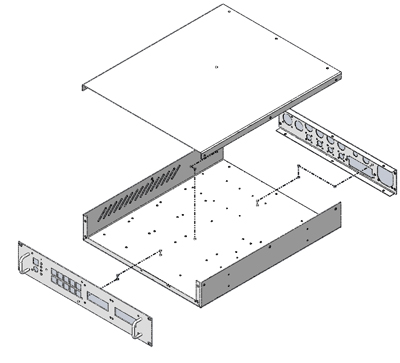 Details:
Standard 19" configuration available in height 1U and up
Fully custom width and heights accomodated at no extra cost
Choose any depth
ROHS Compliant
Get started by choosing one of the following easy design options: