Design Your Enclosure
We strive to make the design process simple for you, whether you are an expert in enclosure design, or an electronics professional who is experiencing custom enclosures for the first time. Click on the tabs below to learn more.
Send Us Your CAD Drawing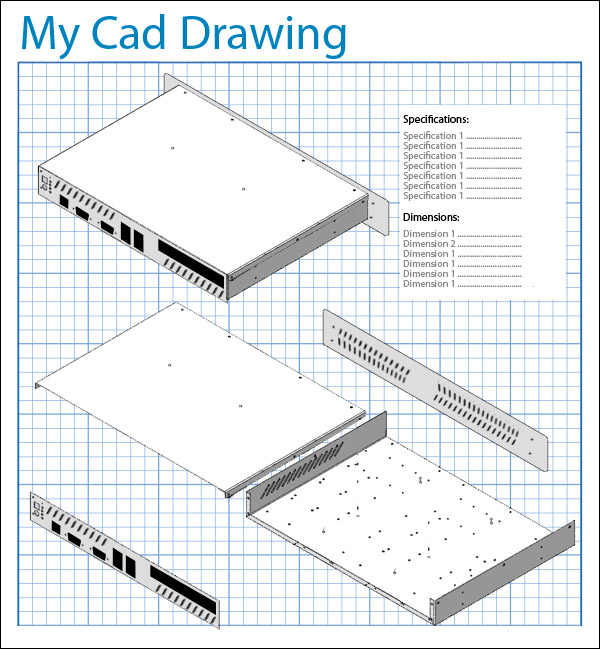 Starting from a completed CAD drawing is the quickest way to turn your drawing to ENCLOSURE. All you have to do is send us the CAD file and we take it from there.
For more information call us (Toll free ~ 1.866.849.3911 USA and Canada; Tel ~ 1.902.567.3335 for other international locations) and we will be happy to discuss your project requirements with you.
How to send us a CAD drawing

You can send us your CAD drawing in one of the following ways:

Email us at

- or -

Upload your file using

CAD Formats

Below are the CAD formats we work with:

.sldprt, .sldasm (Solidworks Pack & Go)
.x_t (Parasolid)
.stp (STEP file)
.igs (IGES file)
.asm (ProE 3D assembly and part files)
.sat (AutoCad 3D assembly)
.dwg (AutoCad 2D assembly)
.dxf (AutoCad 2D assembly)
What happens next?
After we review your design we send you a quote (quotes are provided within 24 hours). As soon as an order is placed, you will receive an order confirmation email followed by an eDRAWING of your enclosure within 24 hours.
Once approved, your order enters production and your order typically ships within 2-3 business days. Shipping details are provided electronically once your order leaves our facility.
Our technical support team and sales representatives will provide any guidance you may require throughout the process. They will ensure all issues related to your design, such as powder coat colors and optional silk screen requirements, are dealt with in an expeditious manner.
Terms & Conditions for
Customer-Submitted Designs - General
It is understood that the enclosures, parts or components you order were not designed by Protocase Incorporated, nor does Protocase Incorporated have any control over their use or misuse once delivered to you.
If Protocase Incorporated staff helps you create or modify a design, or offers suggestions or advice in any other way, such suggestions or advice are to be regarded as general suggestions only, and offered without responsibility for errors or omissions.
Timely performance is dependent upon Customer providing any requested information to Protocase, i.e. drawing approvals, commercial documentation etc.
View our full Terms & Conditions