Design Your Enclosure
We strive to make the design process simple for you, whether you are an expert in enclosure design, or an electronics professional who is experiencing custom enclosures for the first time. Click on the tabs below to learn more.
Automatic Enclosure CAD Template Generator
This free, easy-to-use tool will design a blank enclosure for you in a CAD format of your choice, and email it to you right away. All you have to do is open the design in your own CAD package, and add details such as custom cutouts, fasteners, brackets, partitions, and hardware. In addition to saving time by doing part of the work for you, you can also be assured that the basic enclosure design can be manufactured by Protocase, thereby avoiding time-consuming rounds of design submission, rejection, and modification. Please see our Terms & Conditions .
Choose your Enclosure Style: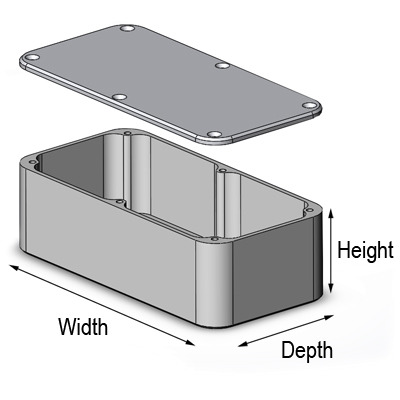 Protocase can generate a custom template as a starting point for your CNC machined enclosure. Machined enclosures are milled from solid aluminum in CNC vertical 3 axis mills. They can be made weathertight and or watertight with the addition of an o-ring or gasket.
Fill out the form below and we will email you a template.
IMPORTING STEP FILES
Follow this two-step process to import your STEP file into SolidWorks:
Select all, right-click and fix (this will prevent parts from being pulled out of location).
Run the import diagnostics on all enclosure parts, such as base, cover, etc. (There is no need to run this on the screws or self-clinching fasteners.)