About Us
Protocase delivers a whole new experience to engineers and design professionals by delivering custom electronic enclosures with unmatched speed, simplicity and service.
The History of Protocase
"At Protocase, we're changing the way that engineers and designers think about electronics enclosures."
The Story Behind Protocase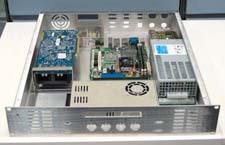 Protocase is rooted in the work experience of our founders, both of whom are engineers. One worked in product development and low-volume manufacturing, and the other in R&D. In 1999, they had a casual conversation with a third engineer, about how difficult it was to get a metal shop to build a run of 10 custom rackmounts. He had found a metal shop to take the work, but they couldn't paint it. He found another shop who would powdercoat it, but they couldn't silkscreen. He was frustrated over the wasted time and effort, and they talked about just buying off-the-shelf enclosures. But it takes so long to customize them, and you usually do damage to the paint.
This story resonated with our founders, who had experienced the same pain in their working lives. So, we built a unique business that provided fully finished custom enclosures with a 2-3 day turnaround, no minimum orders, and super service from sales and tech. It was built on deeply lean manufacturing and carefully designed processes, but most of all, never losing focus on the fact that we are here to help our customers get their jobs done, fast and simple.
Although we started with a handful of local customers, the concept took off. We now have more than 300 employees on our team, and 16,000+ loyal customers who work for organizations that range from small businesses to the best-known technology companies and research institutes. They are based in the United States, Canada, UK, and all over the world, including Asia and Australia.
But at the end of the day, it is the unparalleled simplicity, service and speed that we deliver that keeps our customers coming back again and again. Check out what some of our customers have to say about their experience with Protocase. We hope you'll work with us next time you need custom sheet metal, CNC machined or 3D printed enclosures, panels or parts (whether in quantities small or large), so you can experience the difference for yourself.
Steve Lilley, P. Eng. (Mechanical)

President and Cofounder

Background:
I spent about a decade with a company that developed and manufactured marine navigation for military and commercial applications, rising to VP Manufacturing.

On procuring enclosures for manufacturing:
We developed sophisticated leading-edge electronics, and then manufactured them in small, high value runs. Setting up for these manufacturing runs always took a lot of effort, but procuring enclosures was always way more difficult than it should have. The problem was that we did runs of 5, 10 20, and 50, and no one seemed truly interested in our business, or certainly not interested enough to give us the attention we needed. Lead times were way too long, and because of this, there was no opportunity to address the inevitable problems that occurred. And worst of all, I had to deal with this same challenge over and over again because our suppliers just couldn't do what we needed.

Vision for Protocase:
I was convinced that if we could help people like me save time and effort, that we'd have a winner. Close to 20 years later, with 16,000+ customers worldwide, I know my feeling was correct. Now I'm focused on growing this company while still maintaining the speed and excellent service that got it to where it is now.

Doug Milburn, Ph.D. (Mechanical Engineering)

Protocase Co-founder and Vice-President

Background:
I had such a great time in University that I spent a dozen years there. After that, I started a company that did research in advanced materials and associated manufacturing processes.

On buying enclosures for R&D:
In the R&D world, you usually don't have much buying power. Sales people are hoping they'll hear from a purchasing agent who's looking for 10,000 units. When they find out that I'm only looking for quantity one, they make it fairly clear that they're not really interested. So when it came to putting my electronics in enclosures, the only option was to buy off-the-shelf enclosures from a catalog. I spent a lot of hours working with dull grey metal boxes, drilling holes and filing, and cutting my hands on sharp edges. At the end of the day, I'd put in a lot of hours, and had nothing more than an ugly hacked up box.

His vision for Protocase:
Steve and I thought that if executed properly, then super-fast, template based, made-to-order enclosures could make the whole 'modified off-the-shelf' approach obsolete.