Why We Became ISO 9001:2015 Registered & AS9100D Certified, After Intentionally Avoiding it for a Decade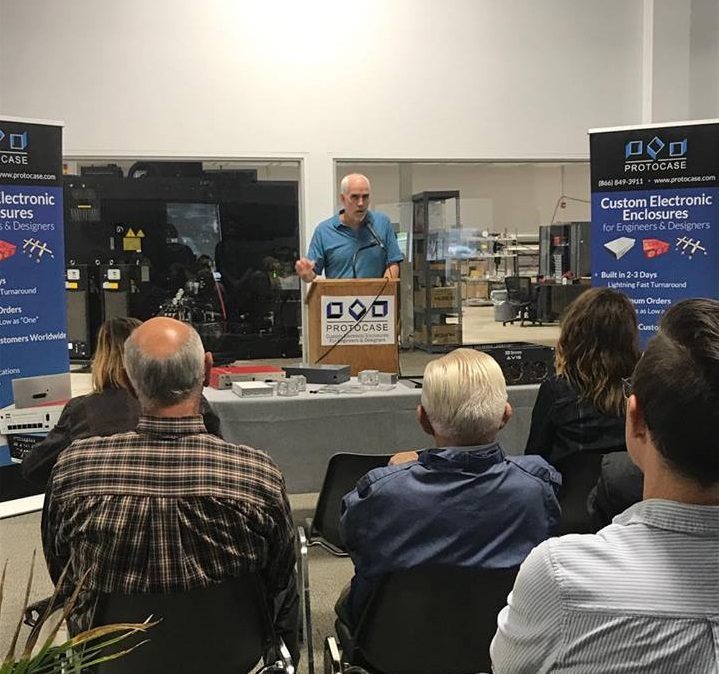 When Steve Lilley and I founded Protocase back in 2001, we had a vision of creating an on-demand manufacturing system that would give engineers and scientists the means to quickly and affordably build 'things' that they were designing for their projects. We knew what we were proposing was different – custom sheet metal enclosures, panels and parts, built exactly to their needs, in 2 to 3 days, with no minimum order.
In order to fulfill that vision of on-demand, mass custom manufacturing, quality had to be the principle driver for us. When we started, we were acutely aware of how excellent the top mass production companies had become with respect to quality. They routinely achieved defect rates measured in parts per 100,000. However, custom shops that did small jobs performed orders of magnitude worse.
Over time, we realized the massive challenges faced by those doing low volume custom work, versus those companies doing mass manufacturing. So we set about learning how to get on a continuous improvement (CI) track that would take us, as a 'mass custom' organization on a journey towards 'mass' quality rates. I'm going to quickly give you an overview of the challenges, and why we chose to at first avoid, and now embrace, formal quality certification. Then you'll understand why, almost 15 years later, Protocase is now officially ISO 9001:2015 registered, as well as AS9100D certified.
Why avoid certification for almost a decade?
In my early years, working in research in physics and mechanical engineering, I spent a lot of time designing and building electronics and experimental apparatuses. This involved working with shops who would build things like enclosures and metal parts for me, typically in one-off or very small volume. I was struck by the number of times that the parts didn't perfectly meet my needs or expectations, despite the skill and dedication of those fine folks at the shop.
At the same time, I watched a quality revolution sweep through mass production. The work of Deming and colleagues penetrated the industry, as programs like continuous improvement and Six Sigma became commonplace, and standardized quality management frameworks such as ISO 9001 and AS9100 became a popular standard.
We started Protocase with high ideals and soon started to build an ISO 9001-like quality system. This gave us a clear view of what happened, in those instances where we failed to get customers exactly what they needed. But every time we consulted quality experts, the first question they asked was "Can you show me the drawings of what you are making?"
It became clear to us that a whole lot of conventional continuous improvement based-quality enhancement was product based. Small batch custom manufacturing, as a process, was characterized by extreme variability in independent variables. This tended to obscure patterns that needed to be identified in order to make progress.
That observation implied that real quality improvement was just going to be difficult. We committed to going down this road, and have spent the last decade slowly and systematically improving things.
So what about quality certification? We have used an ISO-like system, which has been in place since 2006. Why not just certify? The answer is flexibility. Without certification, we have been able to move much more quickly to learn how to apply quality principles to ultra-small-batch custom manufacturing. So we intentionally avoided certifying – until now.
Why did we turn 180 degrees and decide to certify?
Simple. We have made a ton of progress over the last decade in systematically and quantifiably improving quality. We still are far from defects per hundred thousand, but we are 1.5 orders per magnitude better than when we started. Most importantly, as we continue to operate under our CI system, our defect graph steadily slides downward.
Our customers have felt this in two ways: they are more likely to get exactly what they expected, and they are less likely to see a turnaround delay due to internal defects and rework. With all of that in place, it was time to pull the trigger on certification.
Why certify, rather than just operating the same system without certification?
Quality certification communicates to and assures our clients that we operate at or above a certain level with respect to quality management. Simply put, certification makes their life easy.
For example, traditionally, about 30 percent of our clients are in aerospace. In their industry, they require assurance that their suppliers operate with a reasonable degree of sophistication in quality management. Ticking off the boxes for ISO9001 or AS9100 does that. If not, we end up belaboring them by filling out long-form supplier surveys. Our director of sales, Shirley Evely, felt the brunt of that paperwork. She saw the value of becoming certified, and made a passionate plea last year to pursue standards certification – I'm glad we took her opinion seriously!
Now that Protocase is ISO 9001:2015 registered, as well as AS9100D certified, it's a simple checkmark when we are approached by aerospace companies, defense organizations and more who require certification. This is true in many other sectors as well. Our company is fitted to a standard that's recognizable to everyone – it's more convenient, and just makes sense.
We're happy to be there now!
The standards certification was straightforward. The entire journey only took a few months, because we already had quality system management processes in place already. I'm thrilled to be on the other side now. I am also happy that the system that we had certified delivers continuously improved quality (rather than just meeting a static target). In other words, we have a whole lot more than just a couple of banners.
Let me close by thanking our talented team of managers and employees. Without their dedication over the years to creating and maintaining solid quality standards and procedures, the act of becoming certified would have no doubt been an insurmountable battle, or at the very least, a really long process that might have stalled our growth.
Check out our shiny new certificate proclaiming that we are ISO 9001:2015 registered and AS9100D certified. If you'd like to connect with a Protocase account manager to discuss how we can help your organization with custom metal enclosures or sheet metal and machined parts, built to your specs in 2-3 days with no minimum order, contact us to get started.