How We Used 3D Printing to Validate the Valve Designs & Schematic for Our Emergency Mechanical Ventilator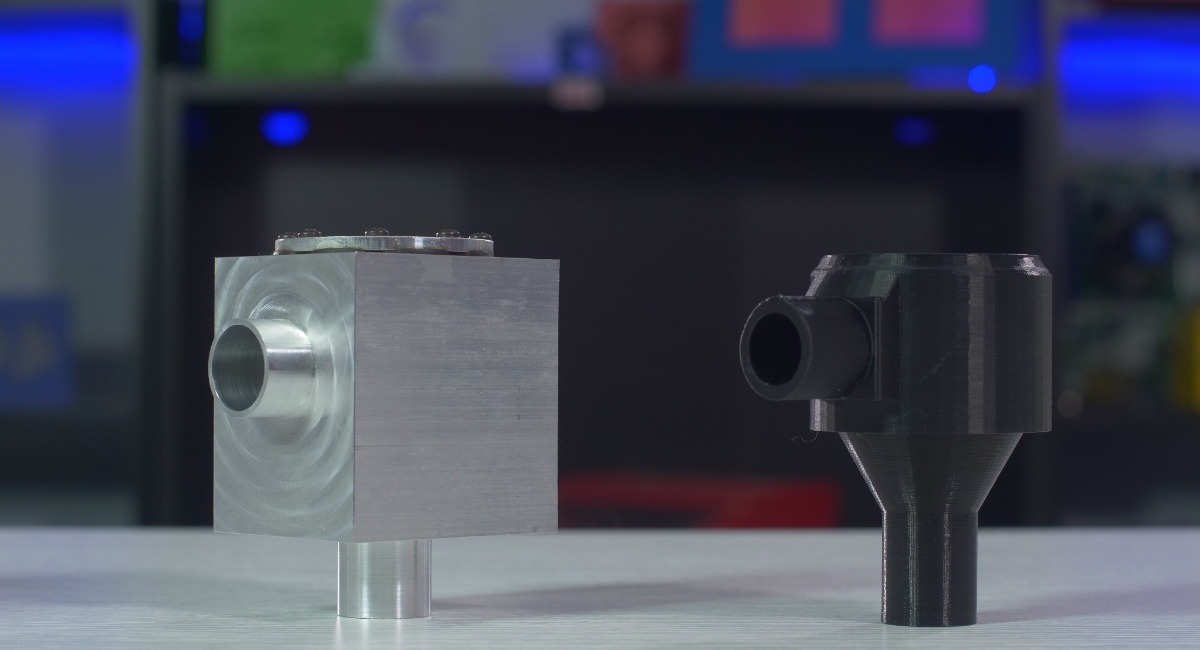 When the COVID-19 pandemic became a serious concern in North America in early 2020, there were many unknowns. How was COVID-19 spread? What were the symptoms? Could COVID-19 be spread when no symptoms were present? Were there any lasting after effects, or spinoff illnesses? How far and how quickly would the spread occur? Would wearing masks help curb the spread? When would a vaccine be ready?
Amongst all of those unknowns, though, one fact was certain – if the pandemic spread and serious cases grew exponentially, ventilators would be crucial in order to properly treat patients. Another certainty: Many countries, including Protocase's own home base in Canada, did not have an adequate supply of ventilators for such a scenario.
In the early stages of the COVID-19 pandemic, the federal government deemed Protocase to be essential, due to our client base of organizations working in innovation, medicine, aerospace and defence. But beyond being open and ready to make our customers' custom parts and enclosures so that they could continue to innovate and develop new technology, Team Protocase wanted to do its part to assist in dealing with the COVID-19 pandemic. The project? Build a functional, portable ventilator that could be quickly manufactured and assembled.
The Challenge
After connecting with a group of medical professionals, including emergency physicians, respiratory therapists and others, to discuss the criteria for a functional ventilator, our Research and Development team mapped out the pneumatic system. One crucial part of a ventilator's design are the valves, which, working in tandem with branching pipes, form a circuit for inhalation and exhalation. The team needed to source three common types of valves: a check valve, an adjustable pressure check valve and a solenoid.
One problem – the ready-to-buy valves were in exceptionally high demand.
"Everyone was kind of jumping on the versions of these parts that would be suitable for ventilators and all of the different solutions to the pandemic. There were some supply-chain interruptions," says Justin Lewis, Mechanical Engineer in Protocase's R&D team. "After we struggled for a bit with trying to order the valves we need, we decided to make our own. The end resulting valves are essentially the version of those parts that we could make with what we had in house quickly without having to deal with lead times."
The designs for the valves came together quickly, since the overall design (and imperative criteria of a valve's function) already well set out and established.
"Basically, we were given a list of criteria that needed to be met by the doctors and respiratory therapists that we consulted with," says Jordan Rose, R&D Mechanical Engineer at Protocase. "Based on the pneumatic design of the entire system, you can kind of derive what pressures these things need to act at. That's the other half of the information we needed to go on. We looked at how does a check valve work, and at what pressures and flow rates do these things need to work at, using the math we would have learned in engineering school."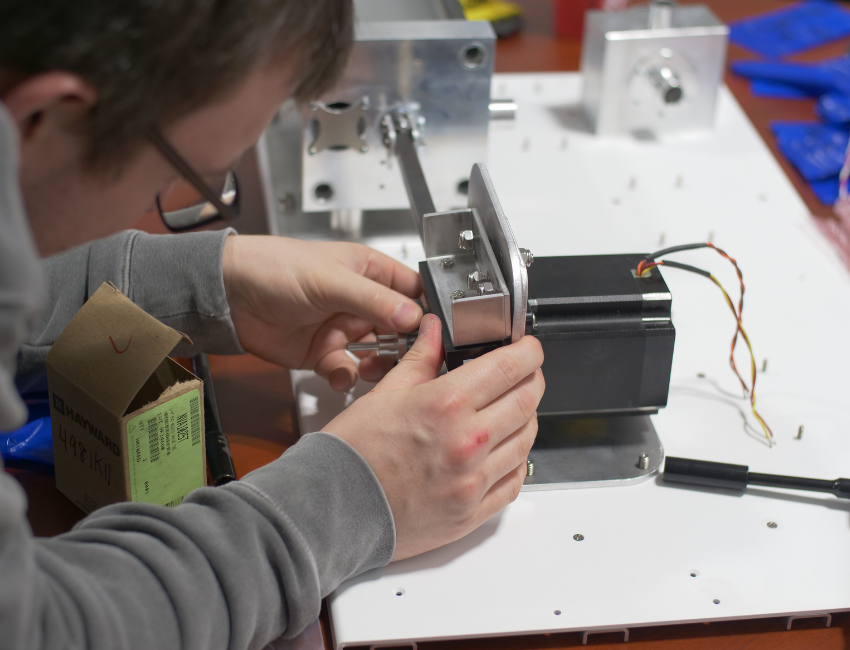 "It's industrial Lego. It's about seeing the overall thing, all built out of these basic blocks," explains Lewis. "These are the basic blocks – we just have to build them and snap them together in the right order so that they all accomplish the goal."
With the valve designs well established, as well as pressure and flow requirements set, the team set to work on building the initial prototypes. For that task, 3D printing was the logical first step, as it would validate the dimensions and verify calculations for pressure and flow rates.
"Since the machining process is substantially longer, 3D printing the parts first to confirm specs is important," says Rose.
"3D printing validated the entire schematic," chimes in Lewis. "It allowed us to put everything together and say, 'Okay, this works,' before investing all of the time and money into building the proper machined parts."
The team did a few iterations of 3D printing the check valve and adjustable check valve, trying to streamline the design as much as possible and make sure it functioned properly. For instance, in an early design of the adjustable check valve, the valve had a circle and a boss on one side.
"The reason I did that was to see what kind of support was required for that circular boss. Because otherwise, you may need to support it underneath," says Rose. "I wanted to try to avoid any surface issues that might be there so that the hose that was in the pneumatic system would fit properly. Eventually, we went to a straight tube shape which worked fine."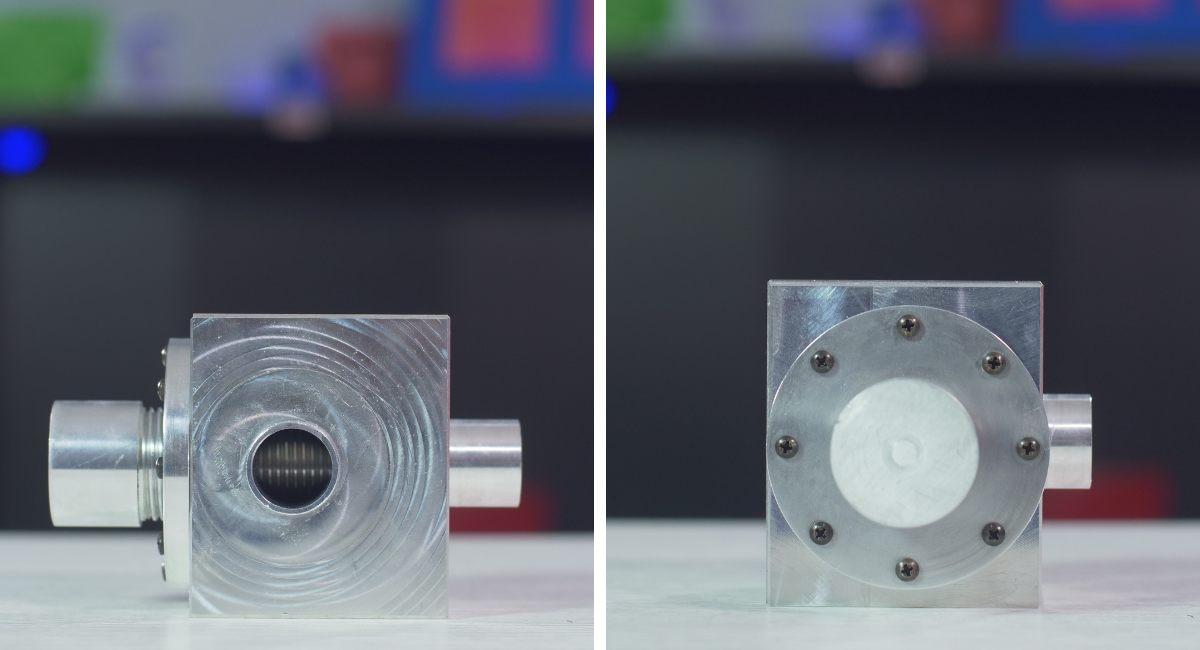 "The overall theory was good from the get go, it was more about getting it to seal correctly, make sure we had the right springs," says Lewis.
The one valve that wasn't 3D printed as an initial prototype was the pneumatic solenoid – with good reason.
"It looks simple from the outside, because it's just a big block of metal, but on the inside of it, there are lots of different chambers," explains Rose. "It is not something that would be feasible to 3D print."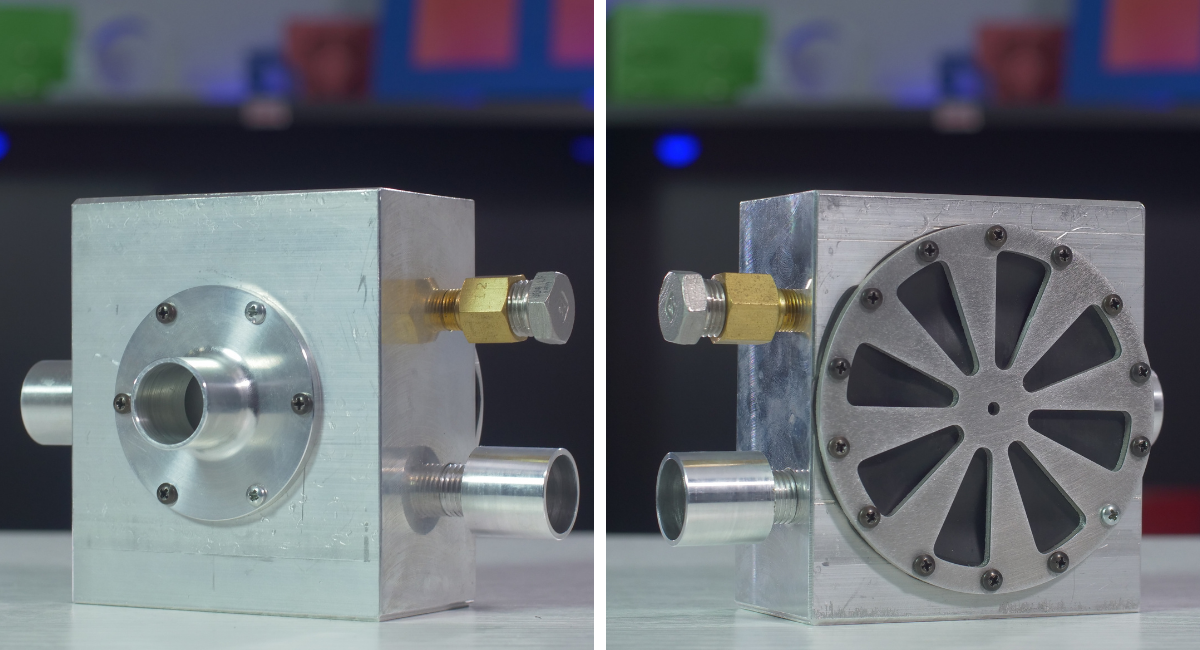 "With 3D printing, it can be harder to achieve a shaft seal on that type of material," says Lewis. "By milling the solenoid, we were able to machine it to a beautiful finish and put a fitted shaft in there so that it all sealed up properly."
The pneumatic solenoid includes every aspect of Protocase's custom manufacturing, with CNC lathe parts, milled parts, sheet metal parts, a 3D-printed part, as well as gasket material. Instead of cutting the rubber gasket material into a typical gasket, the team cut the rubber into a circle using a CNC router to create a check-valve bladder.
Looking Back – and Looking Forward
In the end, going the 3D printing first was hugely beneficial for ensuring the industrial Lego pieces would fit together and function as the schematic laid out, without taking up valuable, crucial time CNC machining all of the parts.
"It's just nice to know you're headed in the right direction. You have the schematic, you put it all together and then go, 'Oh wait, this is all laid out incorrectly.' There were times that we made adjustments to how the whole system was laid out," says Lewis. "You don't want to go spending a pile of money and time on machined blocks to do that. These 3D printed parts were a little leaky, but we knew that the overall system was working, so that we could confidently invest in the next phase."
Even the final version of the CNC machined valves may not be the most streamlined, and are perhaps clunky compared to the ready-to-buy counterparts on the market, but there's a reason for that, says Rose.
"We designed them to be well within our capabilities, because if we ever did have to go and machine 2,000 of them, that we could do them quickly," he explains. "We actively tried not to design anything fancy, or push the limits of our machining."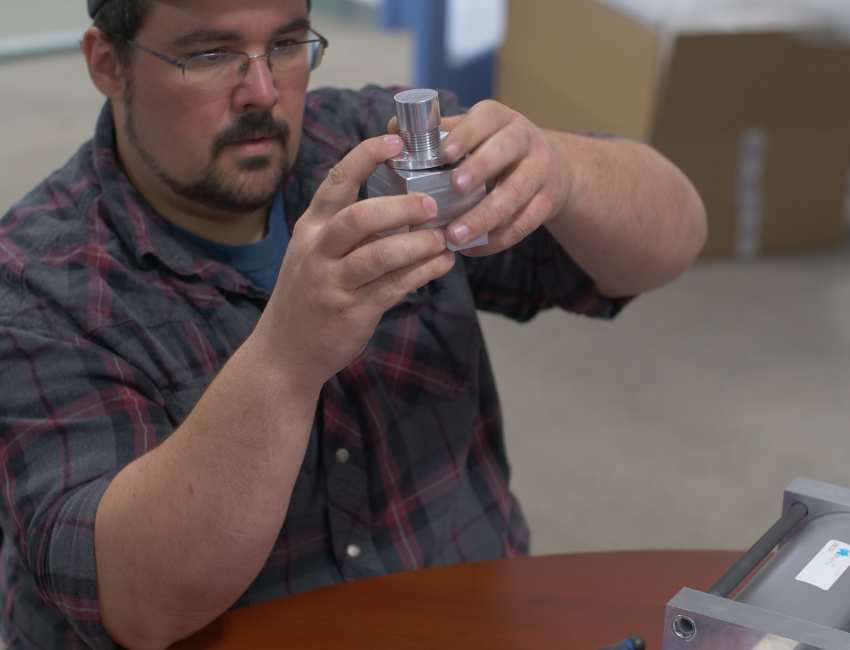 As with any prototype or development of a product, it can be useful to reflect on what went well, and what could be improved. All in all, both Rose and Lewis agreed that the project stayed on solid footing thanks to the nimble manufacturing available at their fingertips to test layouts and confirm specs without any time delays.
Looking back, however, they do see the benefits of going with an electrical system for the ventilator. A system with an electrical system can be turned on when you need it on, and turned off when you need it off using the software. A pneumatic system, on the other hand, has a vacuum system that can be difficult.
"This pneumatic solenoid is like playing a musical instrument," elaborates Lewis. "It's great if you can have it tuned on the way out but if something changes, you don't want to have to have someone in the hospital who really knows intricately how to work the machine. You ideally want someone who can adjust the knob easily. In terms of something in-house that we could do quickly, the system we designed and built is great, but what we've learned since March is that supply lines have somewhat returned back to normal and we could have maybe gone with an electrical system."
"At the time, that was the one thing we couldn't get – an electric solenoid," adds Rose. "Everyone was panicked. Now, they are much easier to source.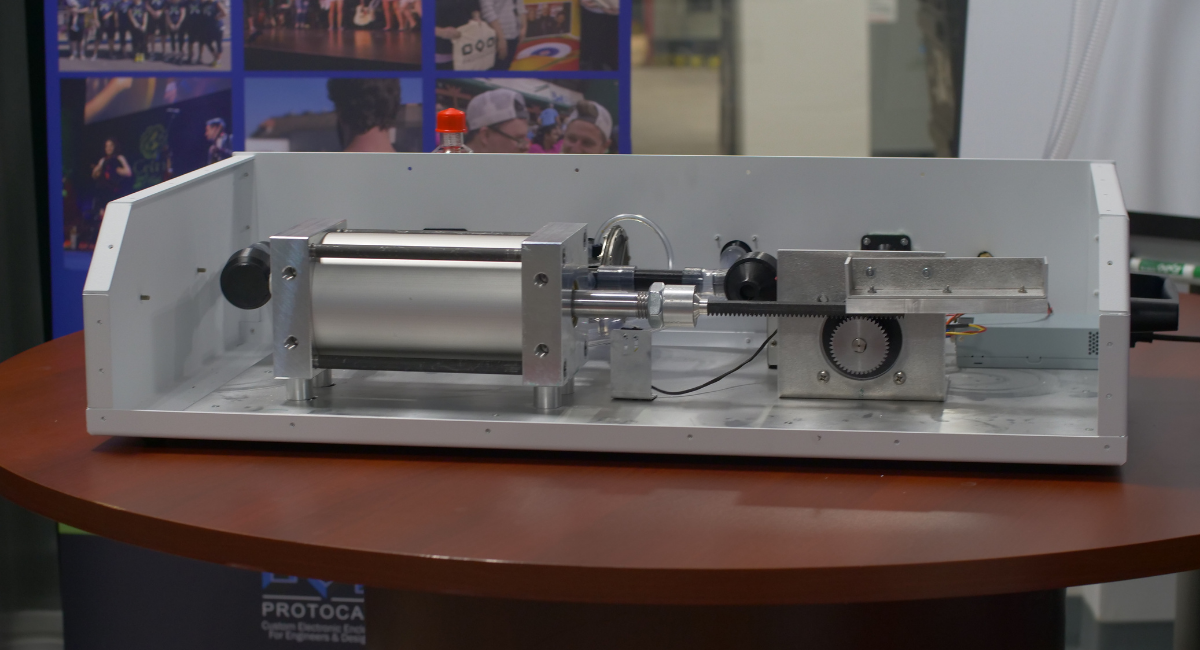 Looking at the big picture, the ventilator project, including the design and manufacturing of the three valves, has helped shape the work of Protocase's R&D team.
"When this project came up, it appeared to be a global emergency. We dropped everything else and a bunch of us all came together," says Rose. "What we realized, in doing this project, that we could stop our other projects to focus on just one or two things, and really narrow things down."
Instead of spreading themselves too thin, or becoming insulated from each other's work, the Research & Development group now focuses on functioning as a team.
"We have specific goals that we can all work on together and we can pool our resources," explains Lewis. "It just changed the way that everyone works on projects, we almost treat every project now as an emergency of sorts. This project was the catalyst for a lot of improvements within our R&D department."