Design Services from Protocase: 6 Tips
Turning your design concept into reality is Protocase's speciality. If you have a project that requires custom sheet metal or CNC-machined low-quantity parts, we're here to help make the process as simple as possible with awesome customer service, fast quoting and design resources.
However, sometimes the act of turning your concept into a part-in-hand can be challenging. For instance, mechanical design may not be your specialty, or if you may be pressed for time.
That's why Protocase offers several resources to make the designing process as streamlined as possible in order to save time and stress. One key resource if you're extremely short on time or knowledge is Protocase Design Services. In other words, a member of our Engineering team will do your design work. This blog will outline the best practices for using our design services.
But first, here is a rundown of our other resources available to make your designing as easy as possible:
Protocase Design Resources
If you've got the design in mind, and want to create the design yourself, we have a few tools that can help you save valuable time and give you some solid starting points:
Template Generator: Our free tool on our website allows you to create an initial CAD design in one of our enclosure styles. You'll be emailed a CAD file based on the material, thickness and dimensions you need. From there, you import into your CAD software of choice so that you can customize it with cutouts, fasteners, graphics and more.
Cutout Library: We have a vast collection of common cutout patterns for accessories that are often mounted on enclosure faces or panels. Think fan patterns, fuse holders, LEDs, switches and much more. You can download any of the cutout patterns as DXF (Drawing Interchange Format, or Drawing Exchange Format) or SLDPRT (SolidWorks Part File) for free. After that, simply import the file(s) into your CAD software of choice.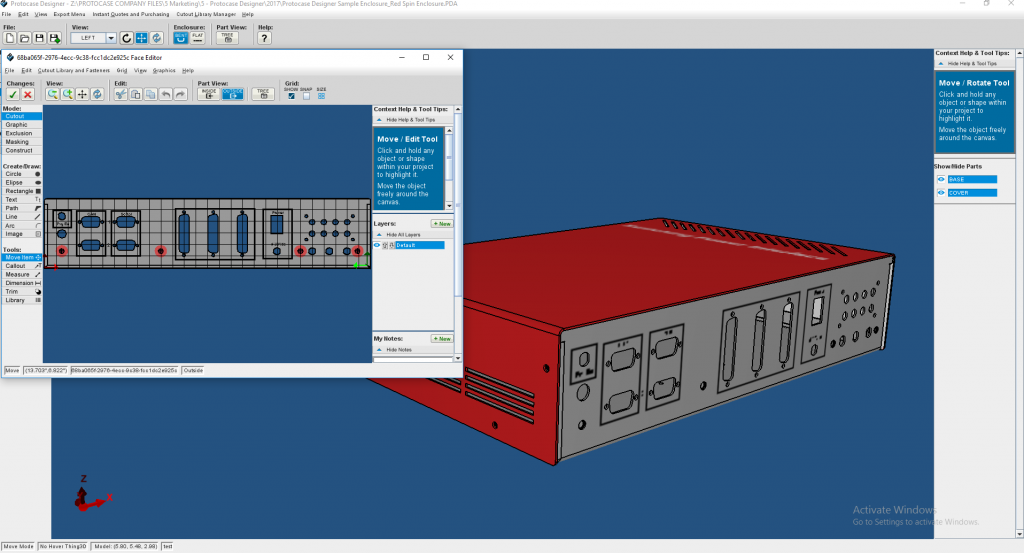 Protocase Designer: Our free CAD software is the fastest way to design, quote and order custom enclosures, brackets and panels. Everything is template based and will provide design checks as you go. The end result? You will only be able to design what is manufacturable in our facilities. Get your design quoted instantly (as many times as you want!). Then, order when you're ready to have us manufacture your design. Electrical engineers love Protocase Designer, because it allows them to design their parts and enclosures themselves.
Want Hands-off Designing? Use Design Services
Maybe those options above don't suit your needs. You may have a really complex design in mind that can't easily be created in Protocase Designer. Or, you may have a list of components and electronics, but lack the bandwidth to even plan out your design.
In these cases, Protocase Design Services is an awesome option. A member of our Engineering and Design Services team will draft your design for you, based on your requirements and instructions. You will be charged an hourly fee for the design time.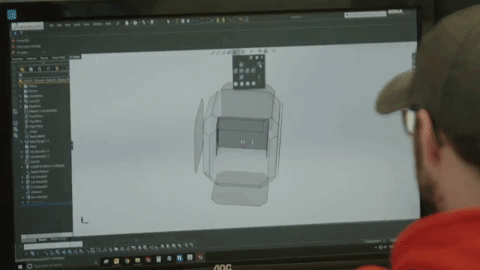 Design Services Tips
To make the process go smoothly, there are six key things to keep in mind.
#1 – Plan it out.
You should have an idea for how you want your parts laid out within the enclosure. We're flexible on how you provide us that information. It can be anything from a written description to a rough CAD sketch. Similarly, you could lay the parts out and take a picture, or even create a cardboard mock up.
#2 – Map out your dimensions and critical locations.
If you have any specific size requirements or position locations that are critical, we need to know as early as possible in the process.
#3 – Source your component models.
Many components, including motherboard, power supply and drives are generic sizes. We need to know the form factor of the parts you're including in your enclosure. This way, we can add the correct mounting features in the correct location. If you're unsure of your part's form factor, we're happy to help you find out. We'll even let you know if we have a CAD model.
And, if we don't have models for your parts, we will need to create one. This means we will need information from you. This can be CAD files, dimensioned drawings, or we may need you to send the parts to us. Some part manufacturers may have CAD models they may be willing to give you if you ask them. It's a lot faster and requires less back and forth if you have this information before we start.
#4 – Don't forget about the cables.
Leave room to account for cable management. Those pesky cables that connect everything together have to go somewhere.
#5 – Be open to changes.
Having some "wiggle room" in your design makes things much easier for everyone. There may be a cable or connector sticking out in the way. Or, the way a component has to be mounted means that sometimes the layout you want just isn't possible. Sometimes, our manufacturing capabilities impose limitations on how things can be arranged within your enclosure. We'll work with you to find a way that is still manufacturable and as affordable as possible.
#6 – Remember that the quote is a rough estimate.
As always, we try to make sure the initial quote for your design services work is accurate. Because the more drafting time required, the higher the possibility that the actual price for your Design Services time could change during the process.
Summary
In conclusion, we really enjoy seeing your designs come to life. That's why we do what we do.
We are here to make your life as easy as possible. We want to make sure the idea in your mind is what ends up in your hands. That's why we offer so many design resources and tools. One of those resources is having a member of our team create the design you envision. For the smoothest experience possible, we recommend communicating as much as possible about your vision, your requirements and your application.
Do you have any questions or want to discuss a project you've got in mind? Contact your Protocase Account Manager directly, or email info@protocase.com.