June 2018

Share: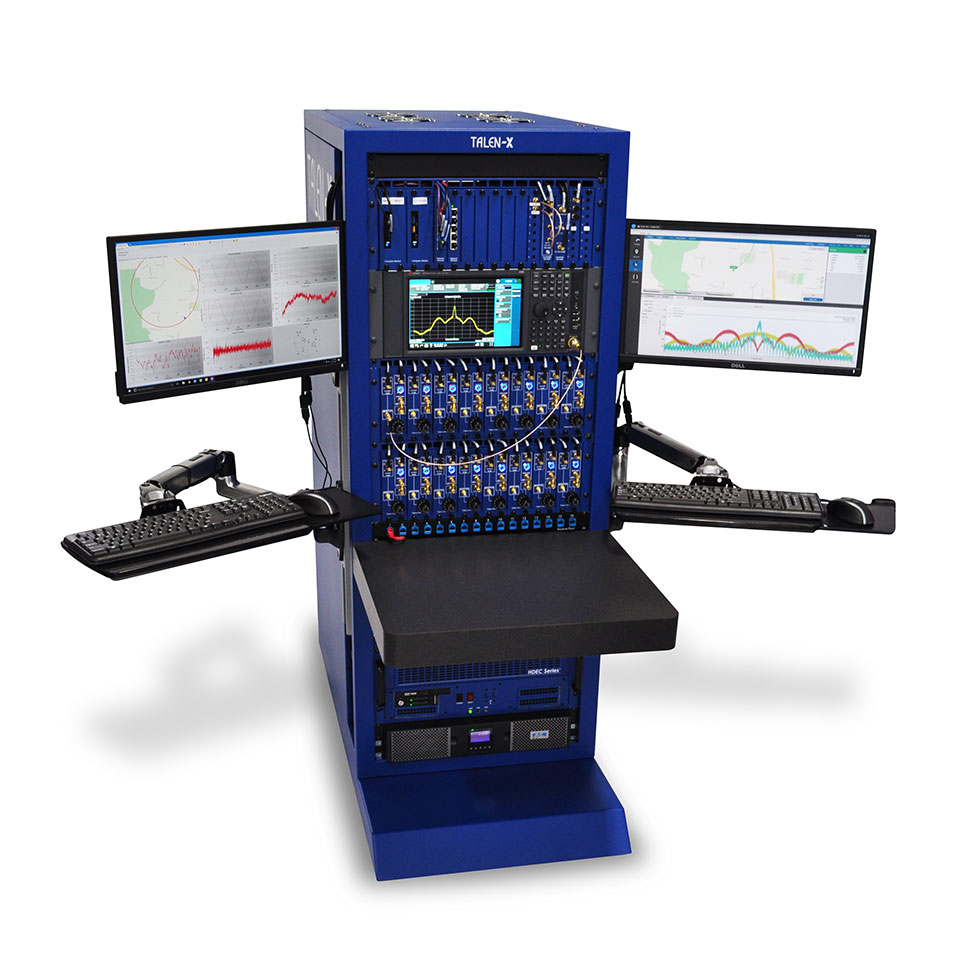 When it comes to the aerospace and defense industry, only the most reliable, ultra-precise products on the market will suffice. This is where Talen-X thrives. Known to be an agile, innovative and fast-paced organization, Talen-X excels in the field of Global Navigation Satellite Systems (GNSS), which is a satellite system used to pinpoint the geographic location of a user's receiver anywhere in the world.
Ten founding employees started the company in 2016, recognizing there were significant gaps and slowdowns in innovation in the GNSS industry. The team created Talen-X on the principle of solving real-world GNSS problems and helping engineers to work faster – and better.
Since then, Talen-X has steadily grown its customer base to both government and commercial sectors across the United States to attend to their critically important needs. The company has also partnered with several key industry players, to integrate its technology into well-established and widely-used products, including its most recent revolution in the GNSS industry, BroadSim Anechoic.
BroadSim Anechoic
Built on the platform of Talen-X's proven BroadSim GNSS simulator, which debuted in 2016, BroadSim Anechoic is a fully featured, software-defined GNSS Simulator and Jammer that was created in partnership with Skydel to address GNSS simulation in an anechoic chamber.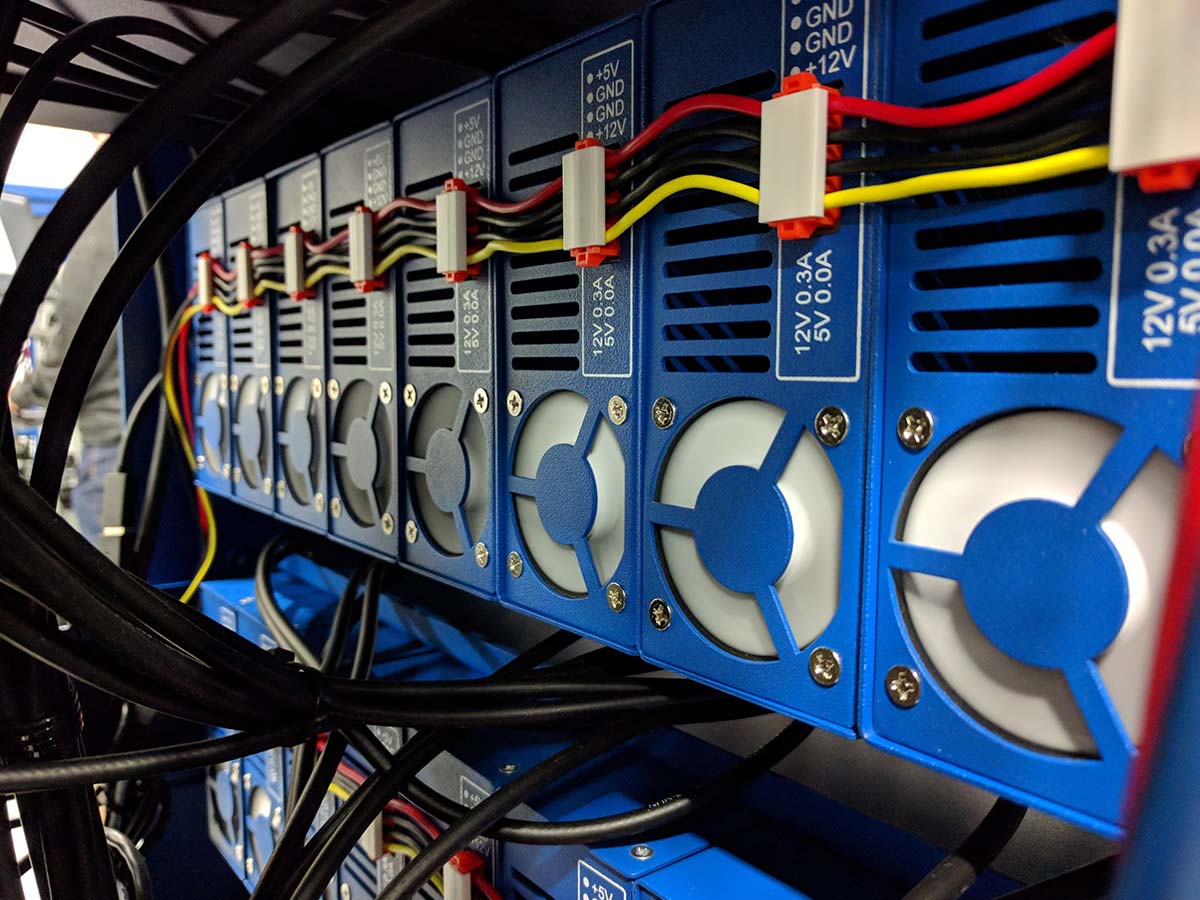 At its heart, BroadSim Anechoic allows Talen-X's customers in defence to properly test mission-critical systems and platforms because the product can emulate real-world threat scenarios. The BroadSim Anechoic simulates GNSS jamming signals in anechoic chambers, which are rooms designed to completely absorb reflections of either sound or electromagnetic waves. The product can drive 16 dual frequency antennas, which gives users the flexibility to run test after test.
Another area in which BroadSim Anechoic leads the industry is its Controlled Radiation Pattern Antenna (CRPA) testing. Many airborne- and ground-based platforms are transitioning to using CRPAs because of their added jamming resiliency and significant tracking advantages in degraded environments. Performance and vulnerability testing is very difficult to do hardware-in-the-loop (HITL) for these systems which is why anechoic chambers are required. These anechoic chambers allow for RF signals to be transmitted in a controlled environment simulating live sky signals.
Custom Parts from Protocase
Seeking a one-stop shop, quick turnarounds and ample material options, Talen-X first approached Protocase in 2017 to manufacture many different sheet metal parts that would help make up the BroadSim Anechoic system. These components consisted of an amplifier, a network switch, a combiner, antenna, and computer modules, all of which were designed to fit into a standard 19" rack, with the end goal of having multiple modules that could be placed into a single chassis.
Due to the level of sophistication and attention to detail that the Talen-X engineers dedicated to this system, the team had an equally high standard expectation for the fabrication of its sheet metal components.
"We expected to receive the products quickly, and to have them look professional. We received just that," says Tyler Hohman, Chief Operating Officer at Talen-X. "The turnaround delivery time is unmatched in the industry - going from a CAD design to a turnkey fabricated metal enclosure with paint and labeling in a matter of weeks. We have been thrilled with how easy it is to work with the Protocase team, and we especially like how quickly our products are turned around. As a company that does a lot of hardware prototyping, without Protocase, we would suffer severely from long turnaround times and sourcing multiple vendors."
BroamSim Anechoic's Amplifier Module
Of all the parts fabricated by Protocase, Hohman highlights the amplifier module as a standout, as it plays a major part in the success of the entire machine.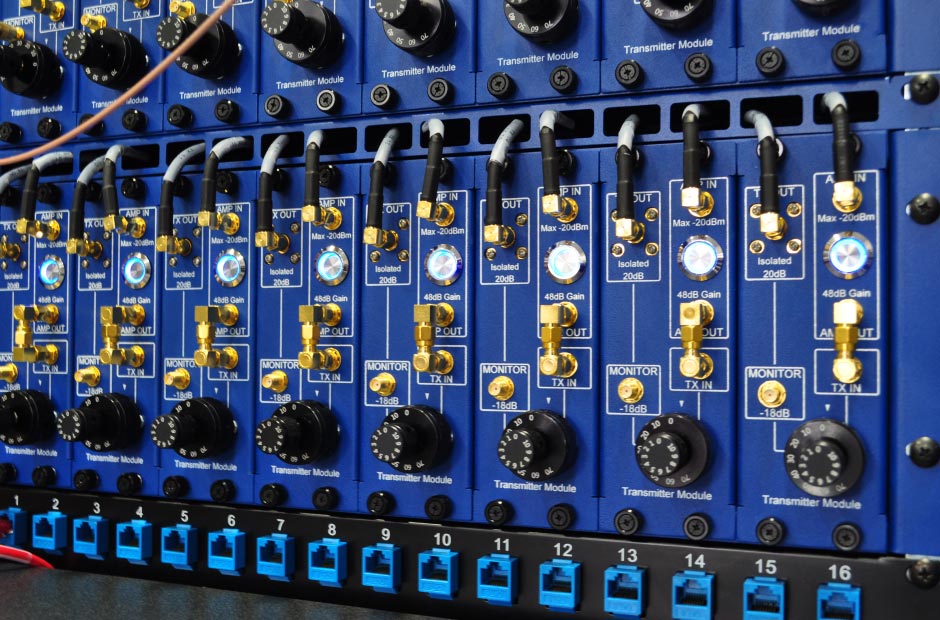 "The amplifier module houses a 50dB Low Noise Amplifier (LNA), 80dB variable attenuator, and an RF isolator with a monitor port," says Hohman. "This was critical for the system's success because the radio-frequency (RF) signals that are generated from our system are around -50dBm, and we had to run these signals through hundreds of feet of RF coax cables, and then into an antenna where they have to radiate in free space."
The free space loss of RF signals in the GPS frequency band is extremely high, so Talen-X needed to incorporate a high-gain, low-noise amplifier to drive the correct signal levels. However, not all of the antennas in the anechoic chamber are the same distance away, and because of that, they needed more precise control of the RF power. By adding in an 80dB dial attenuator with 1 dB increments, the user is able to fine tune each RF output through the amplifier module. The system has one amplifier module for each of its 16 antenna.
The end result by Protocase for the amplifier module is a sophisticated RAL 5010 Gentian Blue 2U rackmount case made out of 18-gage Cold Rolled Steel. Designed in SolidWorks, the enclosure is packed with RF input/output components, power, buttons and fans, all labeled using Protocase's direct digital printing, yet remains compact and rigid.
What's Next for Talen-X
As it stands, Talen-X is one of the most fast-paced and forward-thinking companies in its industry, but the organization continues to set its eyes on future innovation and growth. "Talen-X aims to be the leader in high-end GNSS simulation capabilities in order to better support high-end customer needs," says Hohman. "We are primarily a software company, which is why we work with the great team at Protocase to help meet our hardware needs."
For more information on the BroadSim Anechoic system, and all of Talen-X's other products, visit its website.