May 2019

In Greek mythology, Talos was a giant man of bronze forged by inventor and craftsman Daedalus. Known for circling the island of Crete and throwing rocks at invaders, Talos is considered one of the very first robotic entities recorded in history.
As a technical consulting firm specializing in quick-turn projects, TALOS Embedded Systems' name inspiration is quite fitting. After all, the company's lean team of engineers have a shared experience and passion for robotics and automation, and a genuine pride in the quality and craftsmanship of its work.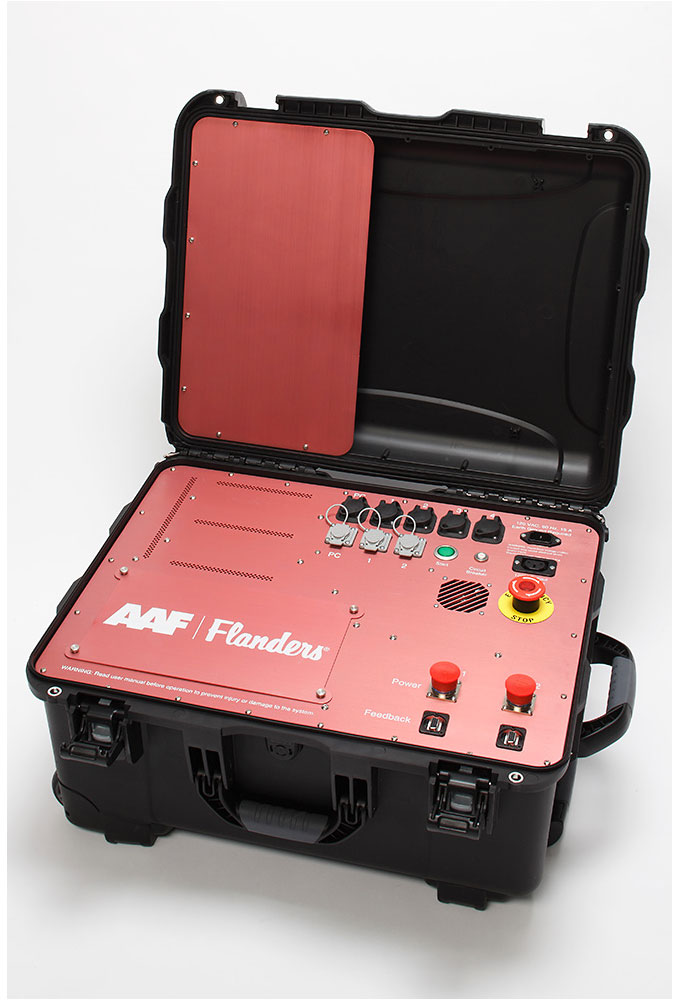 TALOS Embedded Systems
From aircraft controls to particle testing in the nuclear industry, TALOS Embedded Systems specializes in designing and building custom systems for its clients spread across a wide array of industries. The Bellevue, Washington-based company's group of mechanical, electrical and software engineers are experts in creating complex testing and control equipment for many unique applications.
TALOS specializes in quick turnaround, complex custom products. They have to always be hustling to make sure their service can fit into their customer's tight timeframes.
Lead time is absolutely crucial.
"In our business, it is the single most important and driving factor for our customers," says David Standiford, project manager for TALOS. "When they have a project, they turn to us because they need it yesterday."
Working with Protocase
Besides needing solutions designed and produced both quickly and efficiently, TALOS Embedded Systems' customers also require a design firm that is responsive to their ever-changing requirements. Because of this, Standiford and the team put that same evolutionary procedure into their design and manufacturing processes to make sure they stay ahead of a market that changes almost as quickly.
"There is constantly new technology being developed and our team has to stay on top of these new solutions to be competitive in today's market, from different manufacturing techniques like coatings and material processing techniques to state of the art sensors that detect the previously undetectable," says Standiford.
Protocase's custom manufacturing in 2-3 days, then, was an excellent fit for TALOS' needs of "just-in-time manufacturing," as Standiford calls it.
One such design that TALOS turned to Protocase to have custom-built was a rugged motor enclosure system (RMES) for a massive client in the air-filtration industry. AAF Flanders required a quick turn control system, and TALOS delivered. Protocase manufactured a custom motor cover for the system in 5052-H32 aluminum featuring grained finish, red anodizing and white silkscreened labeling.
"We always start with the conceptual design, and then refine the product usability," explains Standiford.
Why TALOS Chooses Protocase
Looking for a custom metal manufacturer can be difficult when you have specific requirements you must meet in order to satisfy clients' needs. Finding someone to make a box for you is easy; finding a manufacturer who checks all the requirements and customizations you need can be a bit tougher, especially in specialty markets. But for Standiford, it's not just finding a supplier who can do as asked - customer satisfaction is crucial.
"You'll find thousands of companies that machine boxes, hundreds that machine them well, and a handful that have that responsiveness and support like Protocase has," says Standiford. "Many of these companies take weeks to respond. My favourite tagline is the 'our phone system has recently changed.' Protocase has none of this."
"We work with Protocase because of the support," explains Standiford, adding that his Protocase account manager, Amy, is consistently prompt to return emails and phone calls. "When we have a problem, Protocase is responsive."
Looking Forward
TALOS has spent a significant amount of time in the past few years developing and refining their process to better design and develop products in the fields of embedded systems and electrical/computer engineering.
In addition to reaching new heights in designing and developing custom embedded systems for their clients, the company will soon be launching a fresh new look and brand.
To learn more about TALOS Embedded System, check out the company's website.