August 2020

Necessity, as is commonly said, is the mother of invention, and Thingsfactory knows this all too well. Since starting in 2017, the Montreal, Canada-based company has been harnessing artificial intelligence (AI) and Internet of Things (IoT) in order to develop products that provide real-time monitoring of critical systems and prevention of loss.
But when the COVID-19 pandemic began in early 2020, the company saw a dire need and quickly pivoted their product design. Thingsfactory's focus shifted to creating a thermographic camera system that could identify people exhibiting the symptoms of COVID-19.
TF-350 Thermal Camera
The TF-350 uses a thermal camera to measure specific heat points on people's faces that have the highest temperature sensitivity. It uses facial recognition to look at the entire face and tear ducts on both sides of the eyes, which tend to be the hottest points on the face. The TF-350 can measure multiple subjects at once, as long as the subjects are within its field of view. The unit's usefulness is virtually universal, as it can be deployed by hospitals, nursing homes, supermarkets, airports, mass transit centre, sports arenas, manufacturing facilities and more, in order to detect possible sick persons in real time.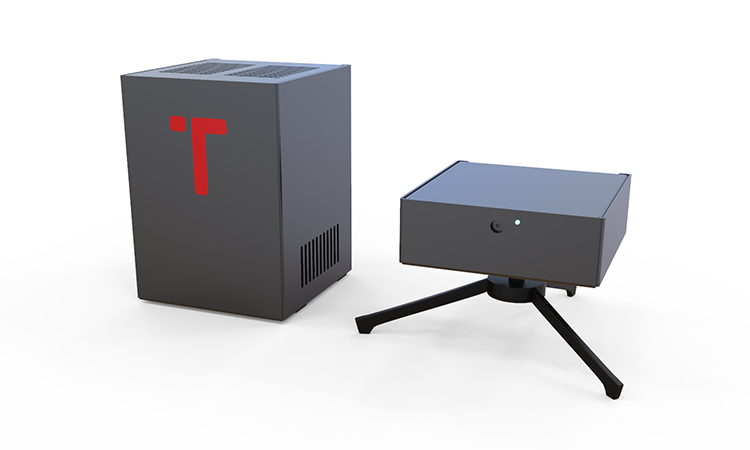 While Thingsfactory is not alone in the industry of thermographic detection, the company's integration of AI is what makes them innovative in the space. As Pierre Gauvin, president and co-founder, explains, the TF-350 can measure all the data it collects in real-time and gives out alerts to those monitoring who should be pulled aside for extra testing.
"Compared to other products showcased recently, our TF-350 is a tele-thermograph and not a mere thermal camera. This means that it has on board processing power and artificial intelligence that scans and filters subjects on the move and in accordance to WHO and FDA fever guidelines," says Gauvin. "We wanted to create a product that was portable; smart through being able to filter out the false positives; and fast, so that it can scan crowds, small gatherings or single file people in real time, without any other supporting infrastructure."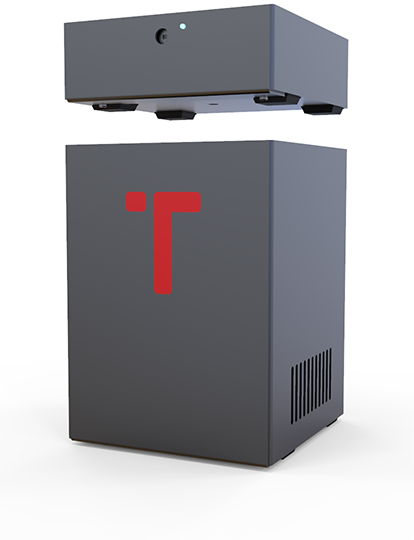 The TF-350 collects data anonymously, so that if the security personnel monitoring the station were to miss the alert, they wouldn't be able to pull up any info on the possibly infected person afterward. This ensures that no sensitive information can be used maliciously, in order to address privacy concerns that people have with facial recognition technology. The software is also secured with a built-in firewall.
With portability and ease of use being major priorities, the Thingsfactory team designed the TF-350 to be able to be set up and operational in two minutes. It is a minimalist all-in-one design with two enclosures. One handles the processing the data and AI algorithm, while the other enclosure holds the temperature sensitive camera. As the COVID-19 pandemic spread, Thingsfactory moved quickly to get their product out.
"We already had the code since we have been developers of AI solutions since 2017," explains Gauvin. "So, we just adapted it to concentrate on faces and grabbing temperatures with our on-board thermal camera."
Protocase as a Supplier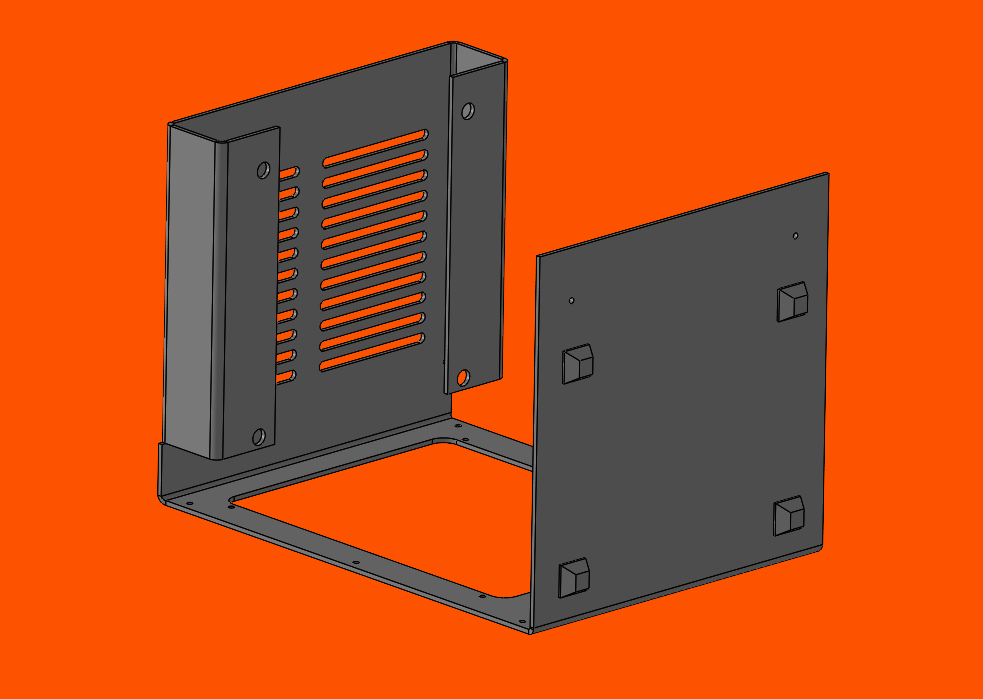 Due to supply-chain issues stemming from the COVID-19 pandemic, Thingsfactory wanted a Canadian-based supplier who could turn parts around quickly. Professional-grade quality and aesthetics was also a major priority. After finding Protocase through an online search, the team felt the manufacturer was a solid option to supply the enclosures for their design and meet their tight timelines.
"The thing we liked the most about Protocase was the fast turnaround. Being an Agile-based company, we move on a day-to-day basis to make sure people have these when they need it during the second wave. We had to find suppliers who worked in days, not weeks or months. Protocase was a perfect fit."
After a week or so of back-and-forth to iron out the enclosure design, Thingsfactory received its prototype. The TF-350 is available for purchase now on its website, with a Generation 3 model coming soon that will further optimize the mechanical design of the TF-350's enclosure.
Looking to the Future
With Thingsfactory first product ready and available for purchase, the team has been working on both revitalizing the current design and creating a similar product in a rackmount form. The plan for the rackmount design is to enable support of multiple cameras working simultaneously and processed in a central location where they can be monitored. Protocase aims to help the prototyping process move smoothly by removing any mechanical design bottlenecks.
"With great partners such as Protocase, we are able to adapt to ever-changing market conditions and address the COVID pandemic with awesome product #covidsolutions that prevent contamination and loss of life, making a difference one unit at a time."