Products & Services
Protocase manufactures fully finished custom electronic enclosures and associated parts from a wide variety of materials and components, in 2-3 days with no minimum order. Protocase also provides expert and affordable enclosure design services.
Helical Inserts
Helical inserts are inserts made of coiled wire with a diamond-shaped cross-section. They screw into a threaded hole to form a mating internal thread for a screw or stud.
Because of this, helical inserts are the ideal option for creating high-strength threads in soft alloys like aluminum in CNC machined or CNC turned parts.
Helical inserts are also commonly known as screw thread inserts (STIs), or their Stanley Engineering Fastening brand name Heli-Coil®.
Tang vs Tangless Helical Inserts
Helical inserts are either tang-less or contain a tang, which is a small piece of metal that's used to apply the torque required to insert the helical insert.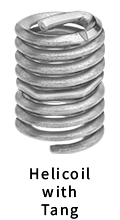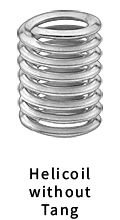 Protocase stocks a variety of tanged helical inserts. Tangless options can be ordered for additional leadtime and cost.
Free Running vs Self-Locking Helical Inserts
Free running helical inserts have a thread that is smooth and free running.
Locking helical inserts have the same characteristics as free running, but also allow frequent removal and reassembly of screws without appreciable loss of torque and positively secure threaded members against vibration or shock loosening.
Stocked Helical Inserts
Imperial
| Thread Size | Insert Length (Inches) | Free Running or Self Locking | Part Number | Material |
| --- | --- | --- | --- | --- |
| 2-56 | 0.129 | Free Running | 1185-02CN129 | 304 Stainless Steel |
| 2-56 | 0.172 | Free Running | 1185-02CN172 | 304 Stainless Steel |
| 2-56 | 0.215 | Free Running | 1185-02CN215 | 304 Stainless Steel |
| 2-56 | 0.129 | Self Locking | 3585-02CN129 | 304 Stainless Steel |
| 2-56 | 0.215 | Self Locking | 3585-02CN215 | 304 Stainless Steel |
| 4-40 | 0.168 | Free Running | 1185-04CN168 | 304 Stainless Steel |
| 4-40 | 0.28 | Free Running | 1185-04CN280 | 304 Stainless Steel |
| 4-40 | 0.168 | Self Locking | 3585-04CN168 | 304 Stainless Steel |
| 4-40 | 0.28 | Self Locking | 3585-04CN280 | 304 Stainless Steel |
| 6-32 | 0.207 | Free Running | 1185-06CN207 | 304 Stainless Steel |
| 6-32 | 0.345 | Free Running | 1185-06CN345 | 304 Stainless Steel |
| 6-32 | 0.207 | Self Locking | 3585-06CN207 | 304 Stainless Steel |
| 6-32 | 0.345 | Self Locking | 3585-06CN345 | 304 Stainless Steel |
| 8-32 | 0.246 | Free Running | 1185-2CN246 | 304 Stainless Steel |
| 8-32 | 0.41 | Free Running | 1185-2CN410 | 304 Stainless Steel |
| 8-32 | 0.246 | Self Locking | 3585-2CN246 | 304 Stainless Steel |
| 8-32 | 0.41 | Self Locking | 3585-2CN410 | 304 Stainless Steel |
Metric
| Thread Size | Insert Length (mm) | Free Running or Self Locking | Part Number | Material |
| --- | --- | --- | --- | --- |
| M2.5x0.45 | 3.8 | Free Running | 1084-2.5CN038 | 304 Stainless Steel |
| M2.5x0.45 | 6.3 | Free Running | 1084-2.5CN063 | 304 Stainless Steel |
| M2.5x0.45 | 3.8 | Self Locking | 4184-2.5CN038 | 304 Stainless Steel |
| M2.5x0.45 | 6.3 | Self Locking | 4184-2.5CN063 | 304 Stainless Steel |
| M3x0.5 | 4.5 | Free Running | 1084-3CN045 | 304 Stainless Steel |
| M3x0.5 | 6 | Free Running | 1084-3CN060 | 304 Stainless Steel |
| M3x0.5 | 4.5 | Self Locking | 4184-3CN045 | 304 Stainless Steel |
| M3x0.5 | 6 | Self Locking | 4184-3CN060 | 304 Stainless Steel |
| M4x0.7 | 6 | Free Running | 1084-4CN060 | 304 Stainless Steel |
| M4x0.7 | 10 | Free Running | 1084-4CN100 | 304 Stainless Steel |
| M4x0.7 | 6 | Self Locking | 4184-4CN060 | 304 Stainless Steel |
| M5x0.8 | 7.5 | Free Running | 1084-5CN075 | 304 Stainless Steel |
| M5x0.8 | 7.5 | Self Locking | 4184-5CN075 | 304 Stainless Steel |
| M6x1.0 | 9 | Free Running | 1084-6CN090 | 304 Stainless Steel |
| M6x1.0 | 9 | Self Locking | 4184-6CN090 | 304 Stainless Steel |