Incorporating Plastic into Sheet Metal Enclosures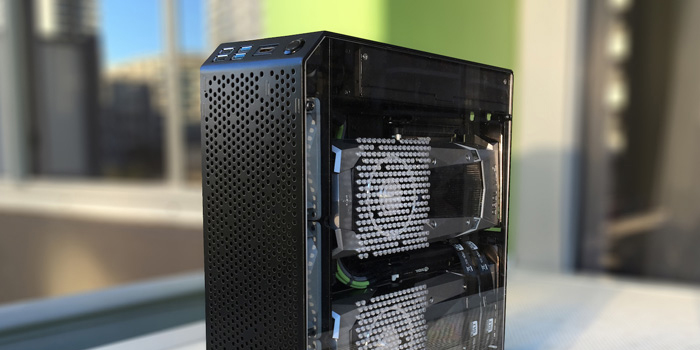 At Protocase we are in the business of turning the design visions of engineers and scientists into real functional professional grade enclosures and parts as quickly as possible. We are always trying to expand our capabilities in a way that aligns with what our customers want to achieve. In recent years we have had more and more requests for plastic parts. In response, we now stock acrylic and acetal, from which parts and enclosure components can be machined in 2-3 days, either alone or as part of an enclosure or assembly. I wrote this blog post to pass along some design wisdom that we've collected in our Engineering and Design Services group, and to show you how others have used plastic in their enclosures. Considering incorporating plastic into sheet metal enclosures? Follow this guide.
Tips for Using Plastics in Enclosures
Protocase stocks acetal and acrylic in sheet form, up to 0.750" thickness (24" x 48") for acetal and 6mm thickness (49"x97") for acrylic. If you design with this in mind, you can get parts with no extra lead time or non-stock charges.
Acrylic and acetal are generally 3-axis milled, either on CNC router or mill (work envelope up to 4ft x 8ft). This means that countersinks, counterbores, pockets, or any other 3-axis milled feature may be added.
Cutouts on acrylic and acetal are milled and are subject to a minimum corner radius (0.022″ for material up to 0.250 thick, .032″ to 0.375, 0.062″ to 0.750, and 0.094″ to 1.000) and get larger as thickness increases. This must be considered when mounting square or rectangular components in cutouts in plastic. If these constraints are a problem, our Engineering and Design Services would be happy to help you find creative approaches to achieve your goal.
When attaching plastic via threaded fasteners, it is advisable to use through holes in the plastic with bolts, nuts washers, etc, rather than threading into the plastic. If desired, we can tap plastic, but the user must be very careful not to strip the threads when installing fasteners.
If using any RF sensor technology or antennas inside the enclosure (Wi-Fi), it is suggested to use acrylic panels or acetal panels, as sheet metal can sometimes attenuate signals.
Acrylic can be etched during milling, and silkscreened graphics can be applied. Both techniques give very attractive results.
Both plastics can be mounted flush to enclosure surfaces. This is done by milling the edges of the plastic to create a boss that matches the cutout in the enclosure face. Fastening can be via threaded fasteners or structural tape (3M's VHB). See the sketch below.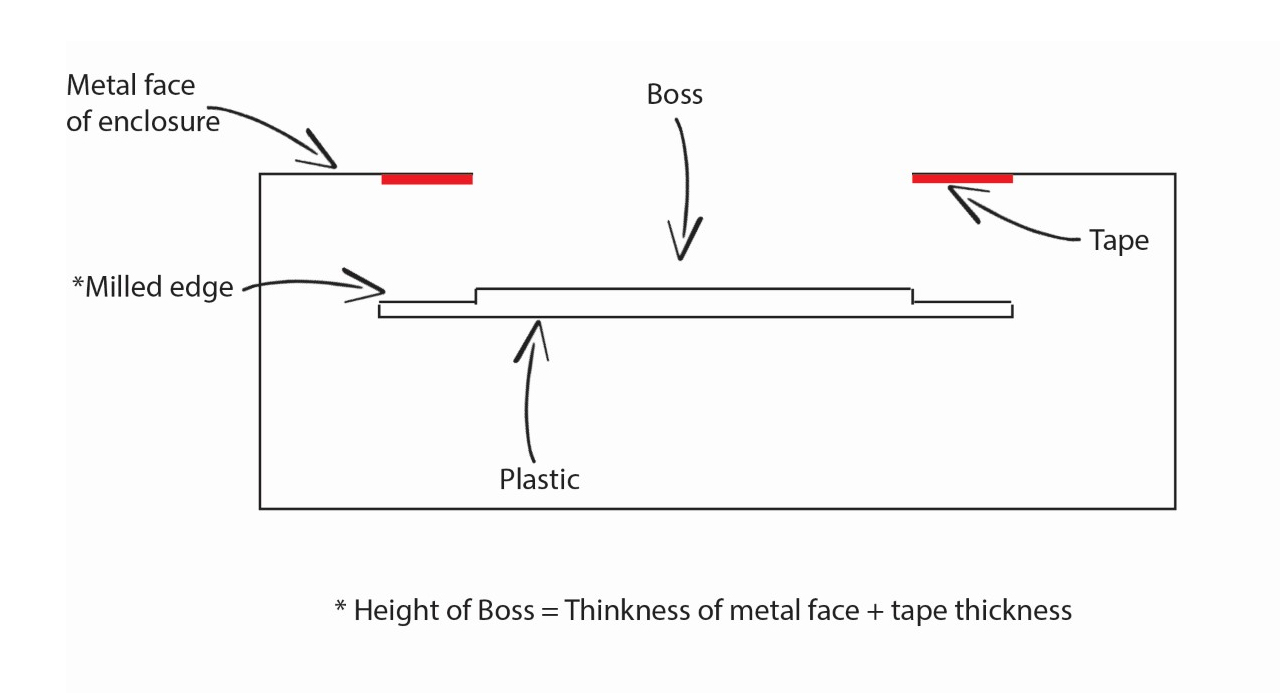 Using Acrylic in Your Enclosure:
Most designers use acrylic for its transparency, although sometimes it is also used for other reasons such as electrical insulation or RF transparency.  It is often used to create viewing windows in enclosures, and also to achieve certain aesthetics.  For example, one of YouTube's popular technology reviewers, Linus Sebastian, wanted a window in his custom PC enclosure, so he used an optically clear cast acrylic sheet 7/32" in thickness (not stocked), 15" x 15.5"and bolted on over studs.
The end-result:
Another customer that used acrylic in their enclosure is Lukasz Dyjakon, an IT consultant. Lukasz used acrylic panels to showcase the internals on both the left and right sides of his PC. His panels also include small custom ventilation cutouts which were milled into the window to assist with the cooling of the case. We used 3mm acrylic (stocked) and each panel was 12.085" X 12.675" in diameter. Panels were then screwed onto the PC enclosure.
Click here to find out more about using acrylic in your designs.
Using Acetal in Your Enclosure:
Acetal is the material of choice when designing an opaque component. Acetal has great dimensional stability, which makes it great for close-tolerance machined parts. Because of its low friction, customers will specify acetal for enclosure components that slide on each other. Our customers have used acetal for such things as clamps for cables or bus bars, fiber optic trays, panels, rack stands and clamping brackets.
Click here for more information on acetal.
Feel free to contact us at 1-866-849-3911 with any questions or inquiries.
For more information on materials and services visit: www.protocase.com
Protocase delivers a whole new experience to engineers and design professionals by delivering custom electronic enclosures with unmatched speed, simplicity, and service. Follow this guide for incorporating plastic into your sheet metal enclosures.