Gaskets are mechanical seals that fill the space between two or more mating surfaces. Engineers and designers use gaskets in electronic enclosures to protect the internal components against dust, debris, and moisture.
When trying to create a proper seal for your enclosures, there are many factors to consider, such as the type of enclosure design, environment, temperature, and more.
Here at Protocase, we can make custom gaskets to fit your exact requirements quickly, in as fast as 2-3 days, with no minimum order. This custom gasket guide will provide some important information on choosing the correct material for your specific needs, constraints and the ordering process at Protocase.
Gasket Materials
Before ordering and installing a new gasket, it's important to select suitable material for your design. We offer several different material options here at Protocase, with each material offering its unique strengths and advantages.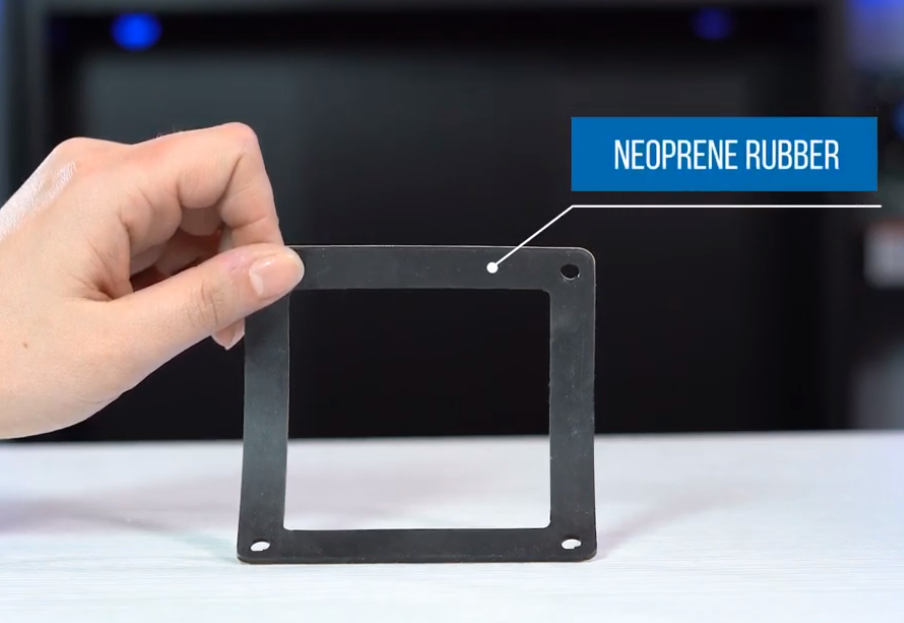 Neoprene Rubber: This is a highly resistant material that is often used for outdoor and marine applications.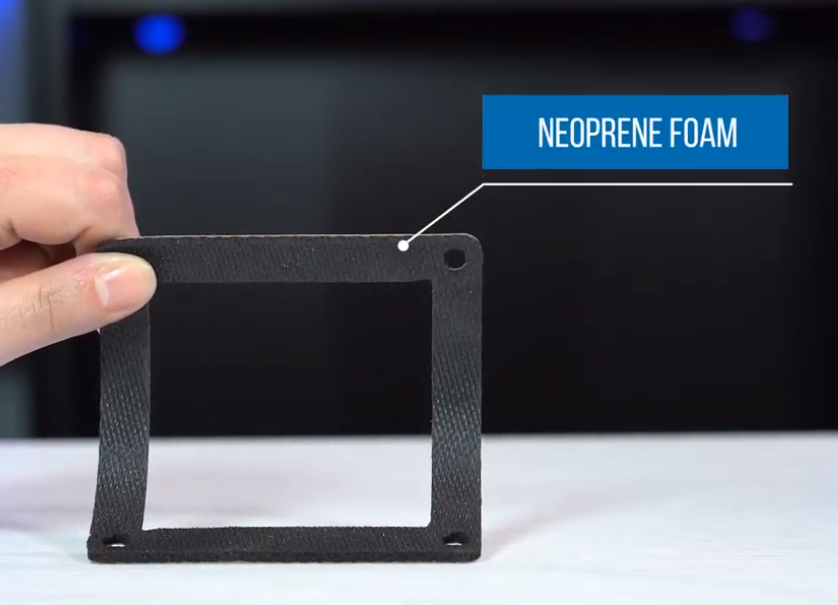 Neoprene Foam: Also known as Monarch, is a soft, flexible, and durable form-fitting sponge rubber that provides good thermal and moisture insulation.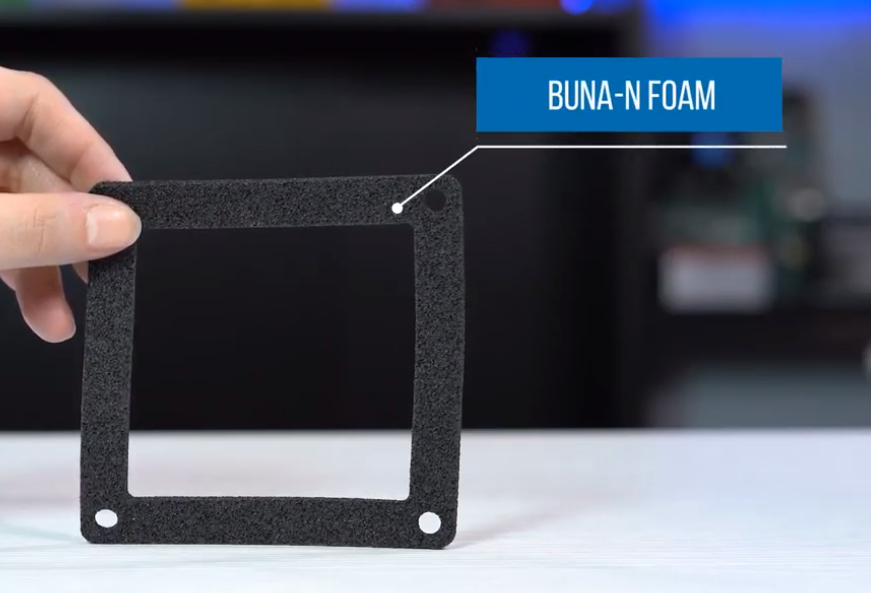 Buna-N Foam: This type of material meets UL fire extinguishing specifications. Buna-N Foam is made from a blend of Buna-N, neoprene, and vinyl. Buna-N Foam offers good resistance to oil and restricts water, air, and gases from being absorbed.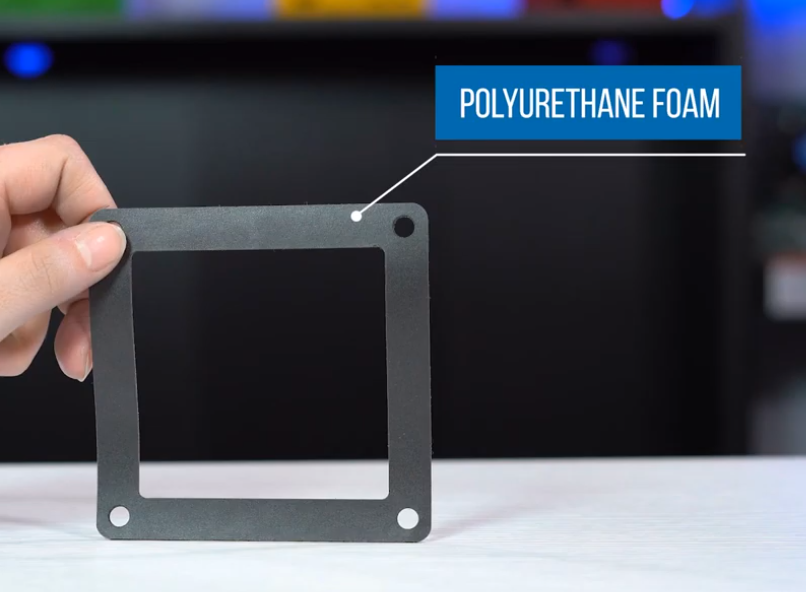 Polyurethane Foam: This material can bounce back to shape quickly, even after extended compression. This material stands up to wear caused by rubbing and scraping. Polyurethane Foam's cell construction allows water, air, and gases to be absorbed. This material is best used to absorb shock and vibration.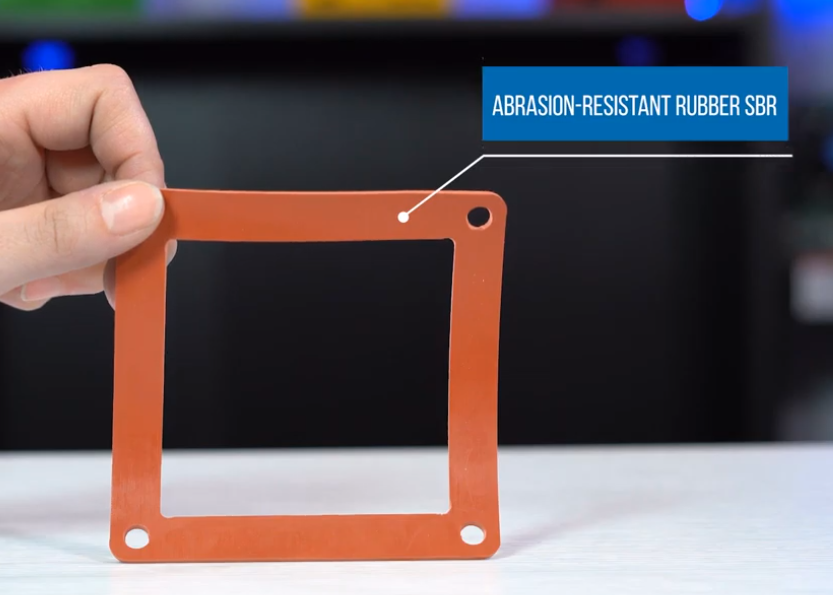 Abrasion-Resistant Rubber SBR: SBR stands for styrene butadiene rubber. This type of material is harder and offers better abrasion resistance than natural rubber. SBR is not recommended for outdoor use.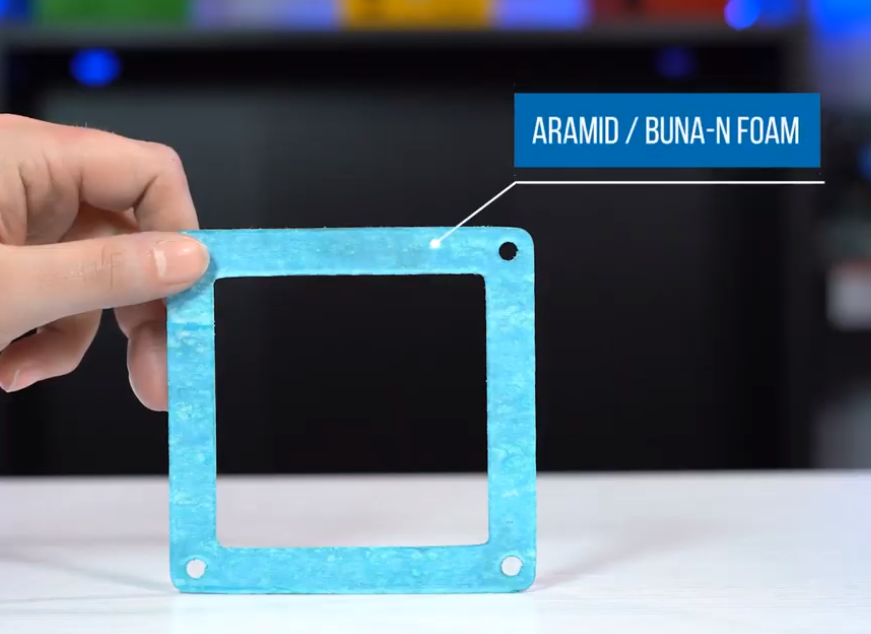 Aramid /Buna-N: This type of material is made from a blend of aramid fiber and Buna-N rubber, which creates a material that resists oil, water, and ethylene.
Thickness Guide for Custom Gaskets
Gasket materials are often offered in a variety of thicknesses and typically have a corresponding durometer. Durometer refers to the hardness of material. Essentially, durometer measures a material's resistance to permanent indentation. The higher the durometer, the harder the material.
For example, the gif below shows High-Strength Multipurpose Neoprene Rubber that we stock. One is a 70A durometer, while the other is a 30A durometer.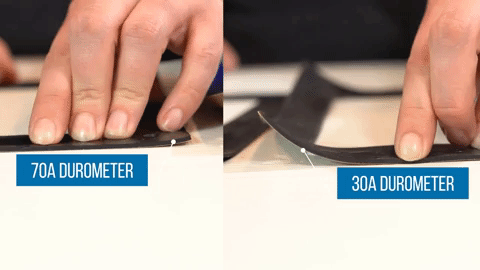 When choosing your gasket material and thickness, make sure to consider its durometer based on your specific requirements.
Custom Gasket Constraints
Of course, the gasket constraints discussed in this blog will pertain to our specific machining capabilities here at Protocase, as we cannot speak to other manufacturers. With that, let's dive in.
When choosing your material, it must meet a minimum rigidity to ensure a precise cut – we recommend staying within 30A to 70A durometer if possible. We can use softer materials if necessary, but cutting accuracy may be sacrificed.
For thickness, we can accommodate between ¼" and 1/64"; however, the gasket materials we stock range from 1/8" to 1/16". You can see a full list of stocked materials here.
There are also a few constraints to keep in mind for part and cutout dimensions. Our CNC router tolerance for cutting gaskets is +/-.030". For overall minimum size, your gasket should be more than 1.25" in diameter. The smallest hole diameter we can accommodate is 0.060".
And finally, it's important to make sure that the tangent of any cutout in your gasket should be at least 0.1" between itself and the nearest cutout (or the edge of the gasket).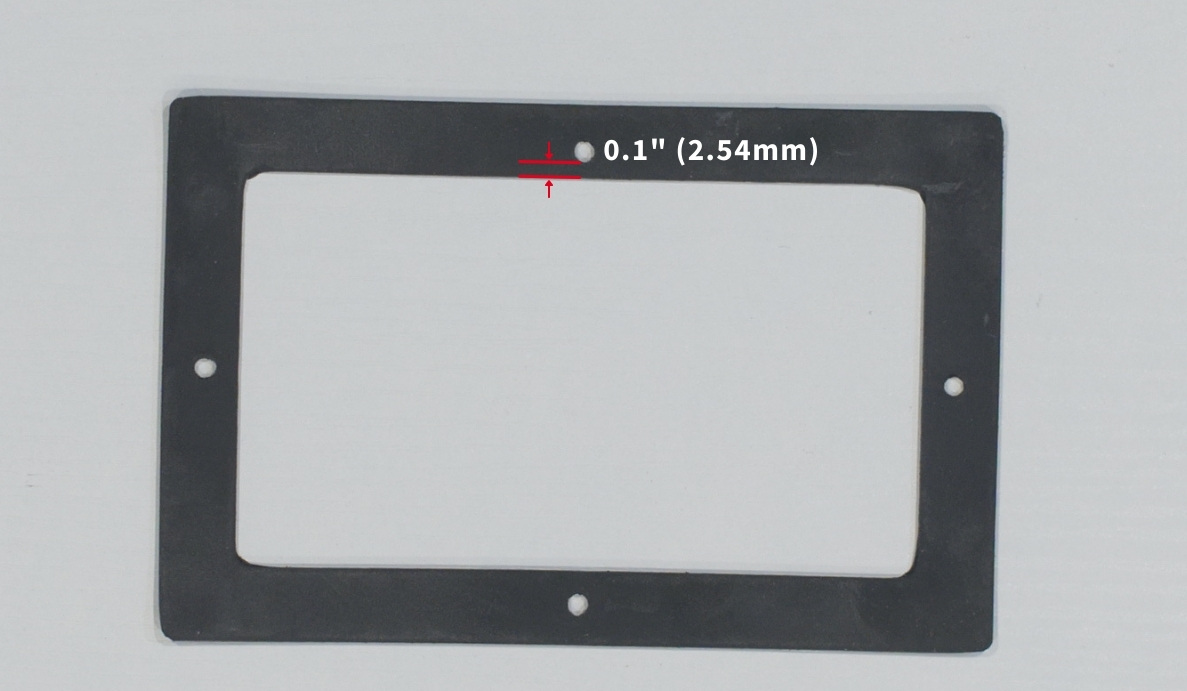 Ordering Custom Gaskets from Protocase
Our goal is to make it as easy as possible to design, quote and order custom enclosures, panels and parts.
Similarly, when it comes to custom-cut gaskets from Protocase, we can create your design in a few different ways.
Send us a CAD design of the gasket you need. Our website lists all of the file formats that we accept.
Send us a sketch or detailed drawing, or you can also send us a photo (for accuracy, a high-resolution photo is best!). Our team will generate the gasket model for you. In addition to supplying photos or drawings, you'll need to provide at least two accurate dimensions for the gasket you require.
Use our Design Services team. They are here to do the design work for you if the other options are not optimal, or you are really short on time.
When your gaskets are created, our team can either install them directly onto your custom enclosures – if you also ordered enclosures for your project. Or, we can ship them uninstalled if that is your preference.
Expert Tip: If the gasket is between the cover and the base of your enclosure, it's a good idea for our team to install it first to ensure the proper fit between parts before it leaves our manufacturing facility.
Whether you need a single gasket, many custom gaskets or an entire assembly of enclosures with gaskets, contact us. We can help you keep your project on track by making what you need quickly!