9 Things to Know About Anodizing Sheet Metal
Anodizing is an electrochemical process wherein aluminum is placed in a liquid bath with an electric current flowing through it. This produces a chemical reaction that thickens the oxide layer on the surface of the aluminum, which in turn increases the materials durability. Anodizing can apply color to the metal or be applied as a clear finish. Anodizing in its modern form has not changed drastically since sulfuric acid anodizing was introduced in 1927. Its longevity is a testament to the strength of the process. Anodizing sheet metal is a perfect application for preventing scratches and wear.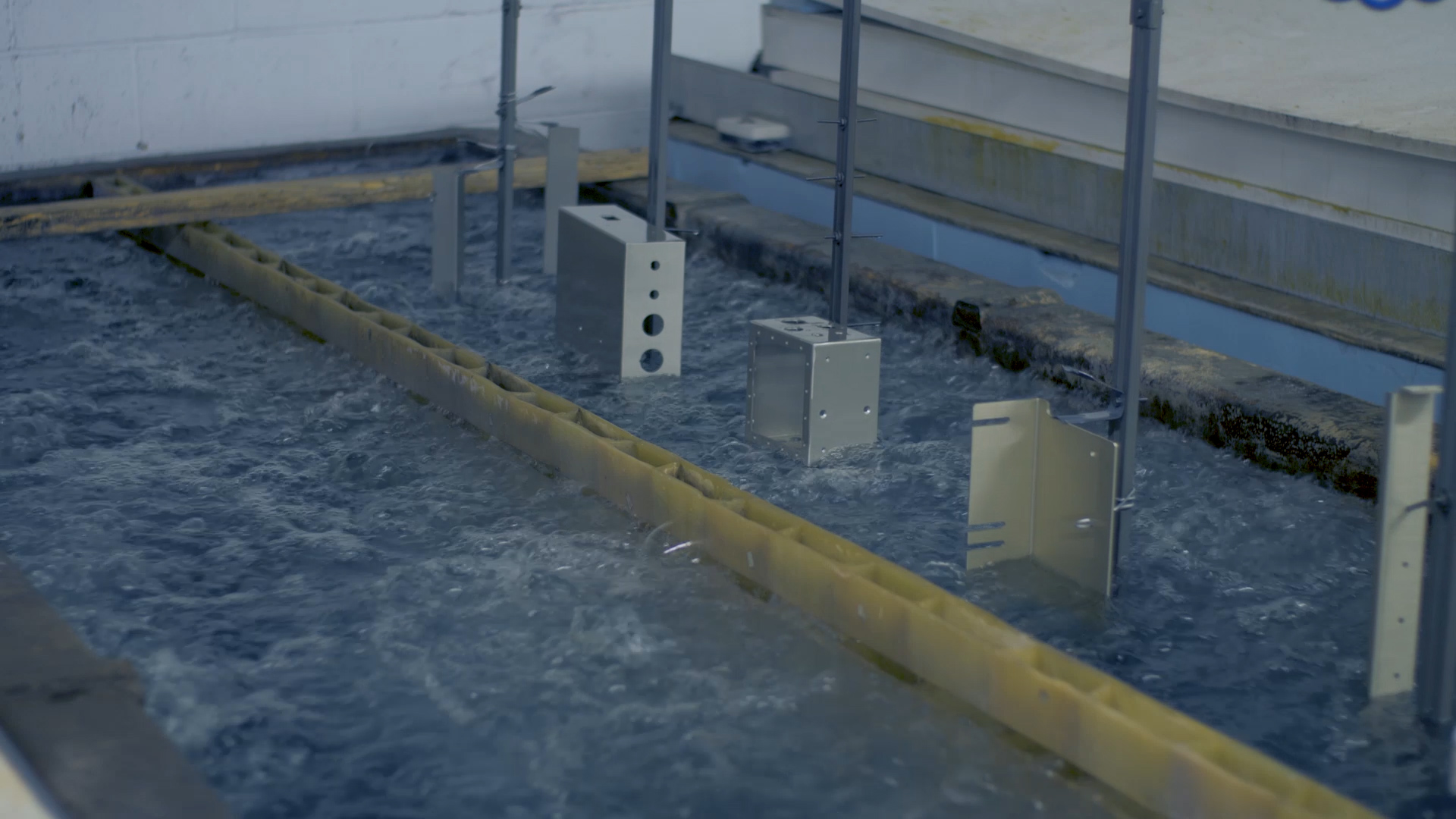 There are many reasons why engineers and designers choose anodizing as a finish. For one, the durability produced by anodizing is exceptional – it creates an extremely hard surface that will be far more resistant to scratches and wear compared to untreated aluminum. Also, once aluminum is anodized, it becomes resistant to corrosion, heat and electricity. Finally, the multitude of color options make anodizing an attractive choice for engineers and innovators who have specific aesthetic requirements.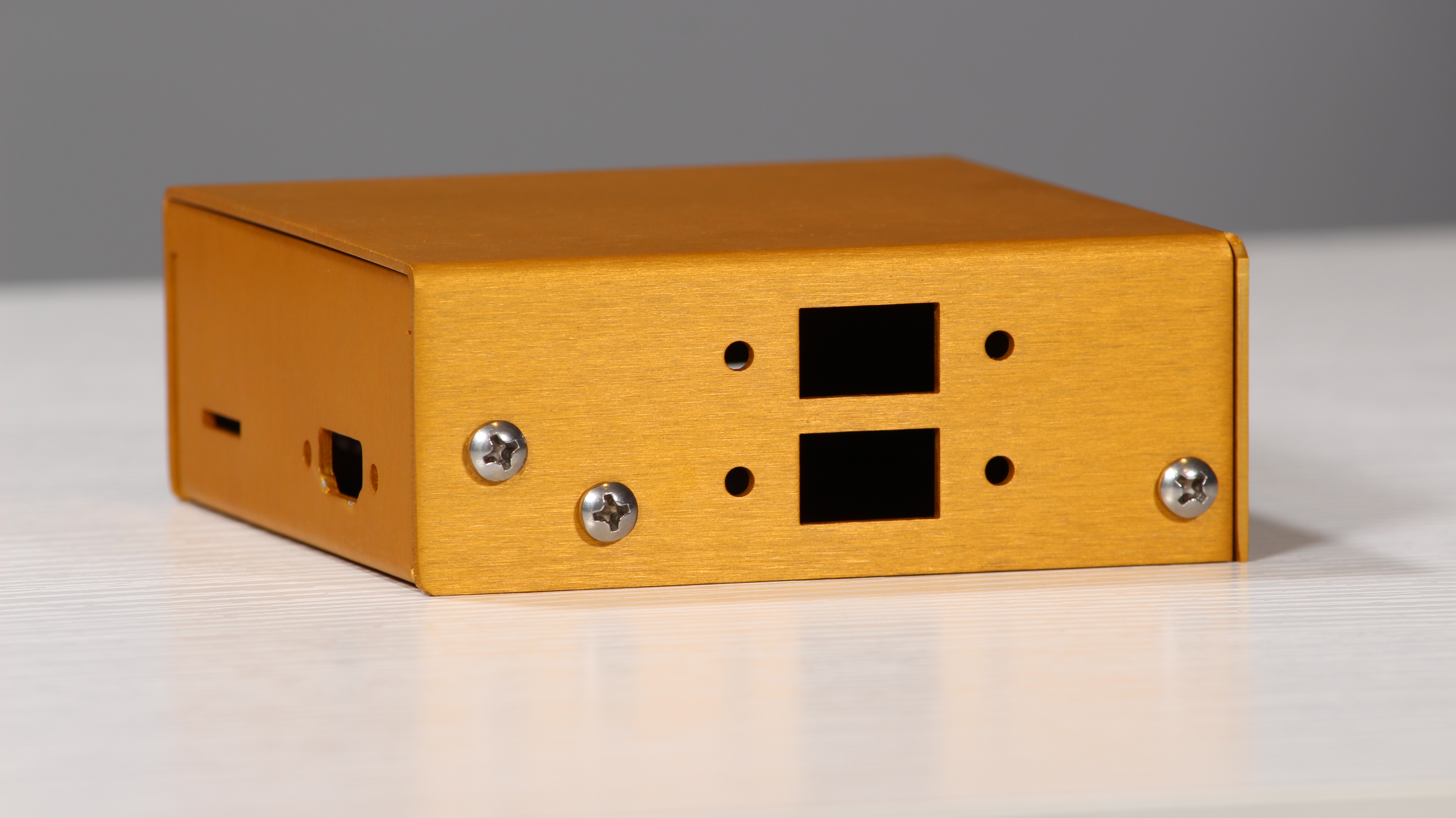 But, before opting for anodizing for your next custom electronic enclosures, parts or panels, there are nine key things you should know.
1. It's ideally suited for aluminum.
Technically, anodizing can be applied on several different types of metal, including magnesium and titanium, but in terms of the metal we stock for your custom parts and enclosures, aluminum is your only option. Any of the aluminum Protocase offers can be anodized, provided it fits within the other limitations of the process.
2. Except for aluminum extrusions.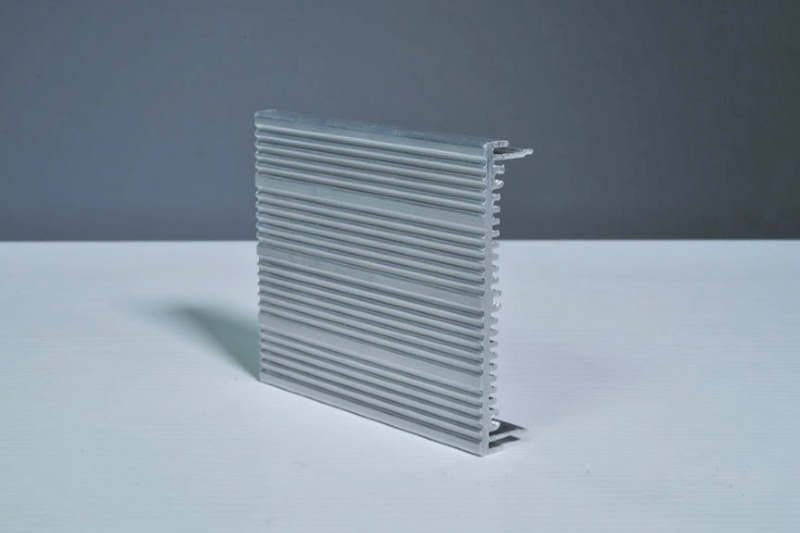 Aluminum extrusions allow you to create a custom extruded enclosure where you can easily mount PCB enclosures. While the 1U and 2U extrusions we stock are made of aluminum, we do not recommend anodizing for them. The extrusion's 6063 aluminum is softer in nature, and doesn't produce a quality anodized finish, especially around the areas where the extrusion was cut to size.
3. There are different types of anodizing.
Some forms of anodizing are more niche, such as phosphoric acid, but there are three main types of anodizing. Nowadays, Type 2 and Type 3 are by far the most common.
Type I: Type I anodizing uses chromatic acid. Protocase does not currently offer Type I anodizing.
Type II: Type II anodizing uses sulfuric acid. Type II anodizing is also known as common or standard anodizing.
Type III: This type of anodizing also uses sulfuric acid. The main difference between the two types is that, for Type III anodizing, the sulfuric acid temperature is lowered and the current runs at a higher voltage. Type III gives a denser, wear-resistant oxide layer that creates a harder and smoother finish than Type II. It is ideal when greater durability is required for your design, such as when parts rub together.
4. There are different classes of anodizing.
Type II and III can be further broken down into two categories, called classes:
Class 1 is for un-dyed finish. It is also referred to as clear or neutral.
Class 2 signifies a dyed finish. When referring to class 2, its color is said also with its type (i.e.: Type II Class II Red).
5. You've got a ton of color options for anodizing.
Here at Protocase, we offer a large selection of Type II anodizing colors (remember, any dyed finish is considered Class 2), as well as Type III Class 2 Black Hard Anodize and two types of clear anodizing: Clear Anodize (Mil-A-8625 Type II, Class 1) and Clear Hard Anodize (Mil-A-8625 Type III, Class 1).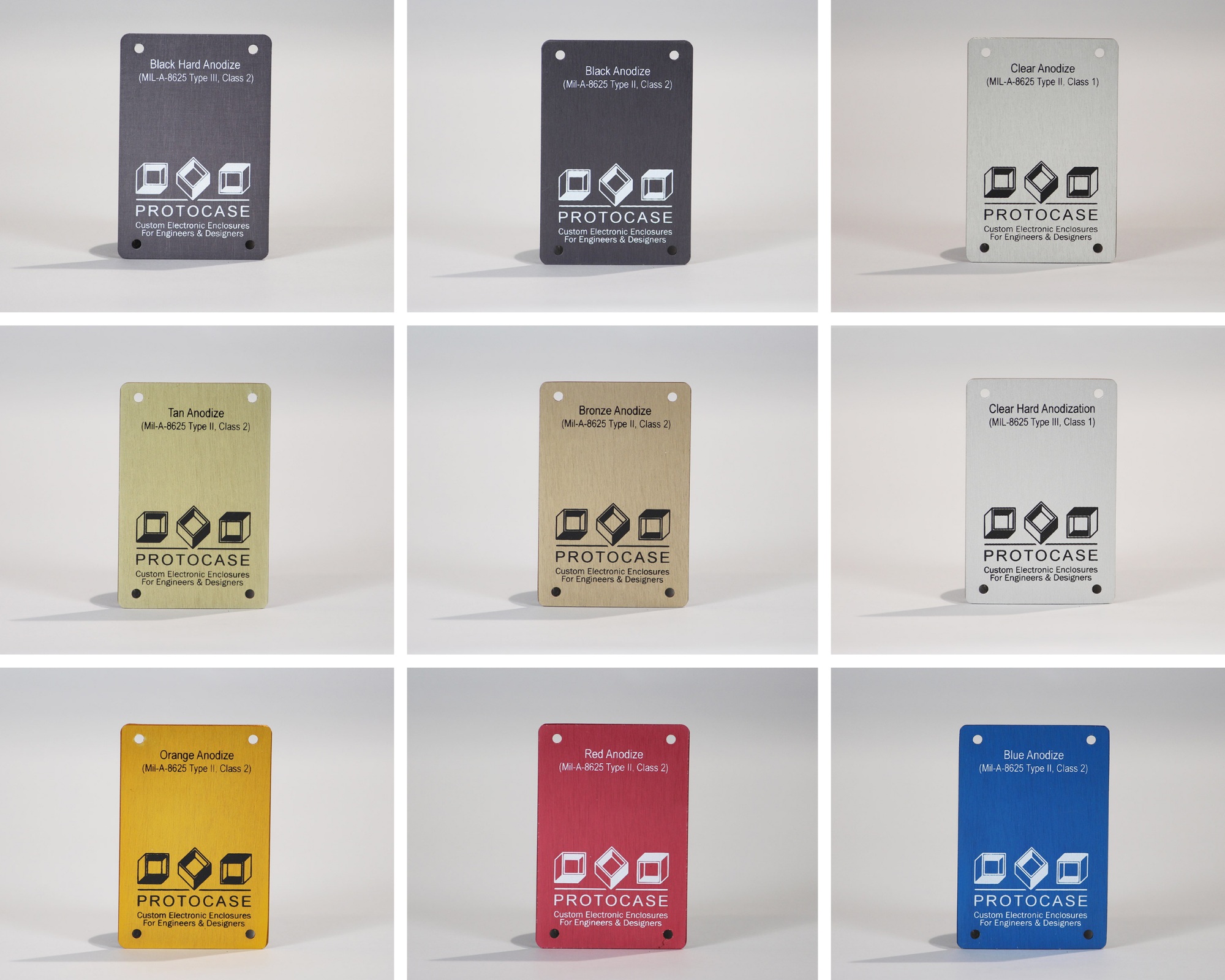 6. For best color consistency, go with small parts in small batches.
Our anodizing suppliers are not able to guarantee color uniformity, especially when it comes to larger parts, or parts in larger unit quantities produced in multiple batches.
Because of this, for the best consistency in anodizing color, we recommend small-sized parts in small volumes at a time.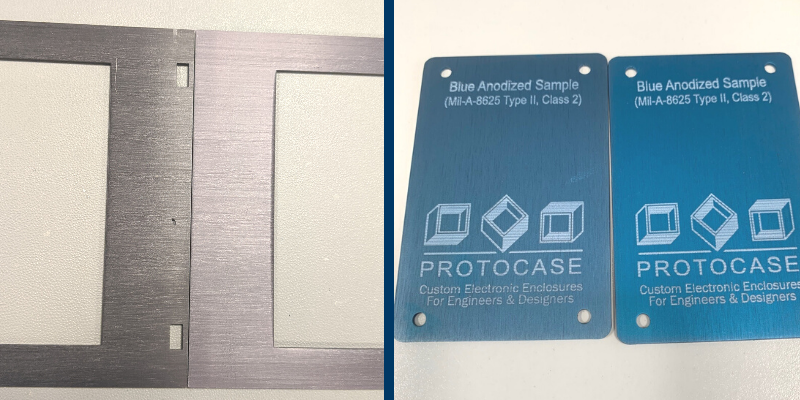 7. Mind the size limitations.
When it comes to anodizing, our suppliers can apply the anodizing finish to your custom parts and enclosures, so long as the parts fit within the maximum dimensions.
And most importantly, the tank size changes for certain types, classes and colors of anodizing.
This chart provides a breakdown of the maximum dimensions:
Anodizing Type
Maximum Dimensions
Type II, Class 1 Clear
Type II, Class 2 Black
32″ x 44″ x 116″ (812.8mm x 1117.16mm x 2946.4mm)
Type II, Class 2 Red
Type II, Class 2 Blue
Type II, Class 2 Orange
20″ x 20″ x 32″(508mm x 508mm x 812.8mm)
Type II Class 2 Tan
Type II Class 2 Bronze
16″ x 16″ x 24″(406.4mm x 406.4mm x 609.6mm)
Type III Class 1 Clear
Type III Class 2 Black
32″ x 44″ x 116″(812.8mm x 1117.6mm x 2946.4mm)
8. There will be color variations when anodizing welded parts.
At Protocase, we offer both seam welding and spot welding as a means to affix your enclosures or parts together. If you choose to have your welded parts anodized, you should know that there will be color variations between your aluminum part overall, and the sections where it has been welded.
When an aluminum part is welded, it undergoes a thermal process that alters metal's microstructure. This change in the metal's microstructure affects the color of the anodized layer in the area and periphery it has been welded. The color will not be uniform on the welded area (and its surrounding location), compared to the other areas of the part.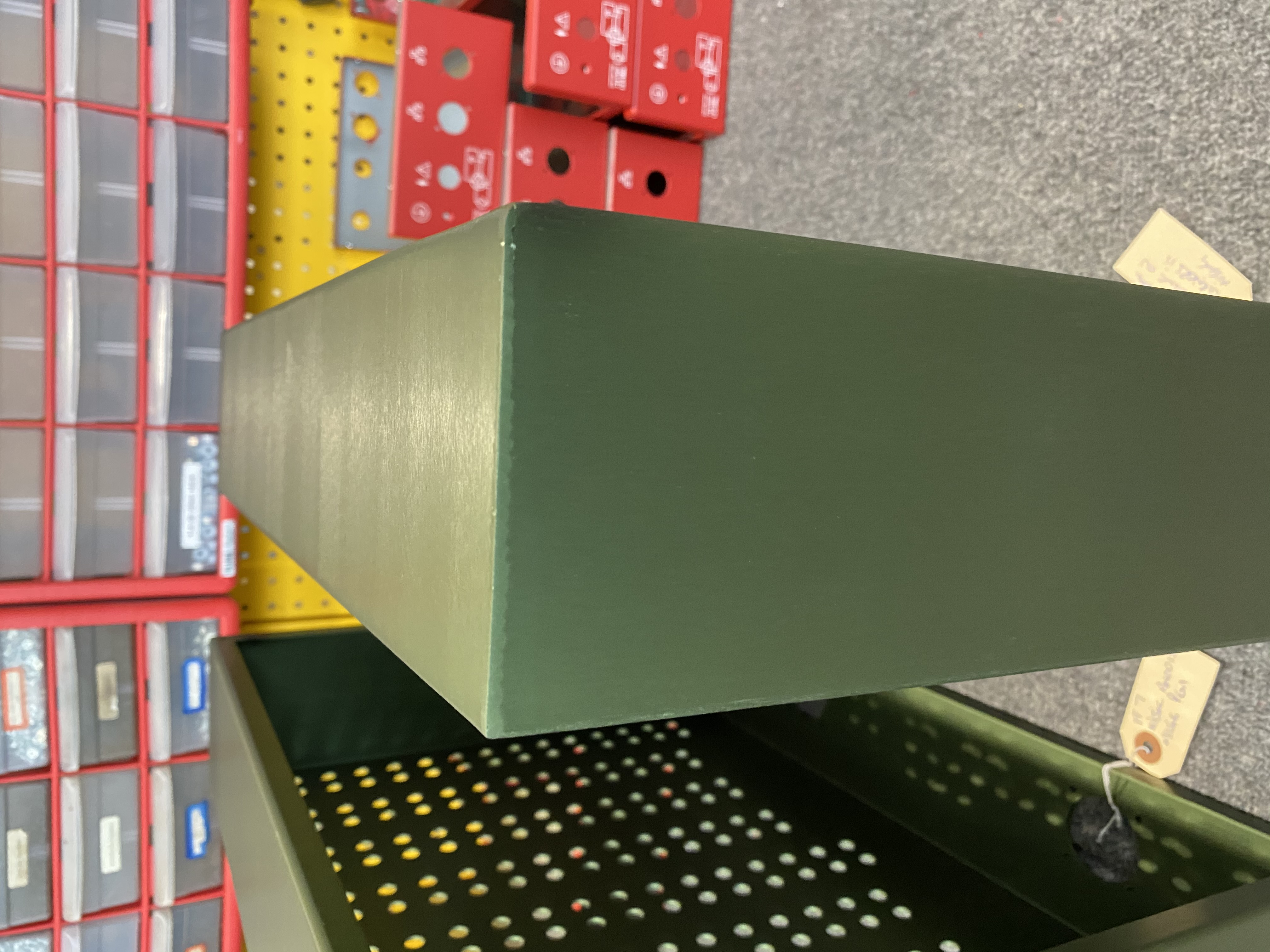 *Note: The enclosures shown above are a green anodizing color, which we do not currently offer.
9. Expect longer turnaround time and minimum lot charges.
Protocase works with third-party anodizing experts to complete the process of anodizing. These third-party suppliers are located off-site from Protocase's manufacturing facilities.
As a result, there will be additional lead time from our typical 2-3 day turnaround to complete your order, as well as a minimum lot charge. Your Protocase Account Manager can provide more information on the leadtime for the specific enclosures or parts you need built.
Conclusion
Ultimately, anodizing sheet metal is an ideal way to add durability and corrosion-resistance to your aluminum parts and enclosures. Not to mention, the many color options give you vibrant aesthetics that really make your parts and enclosures stand out!
Protocase is committed to ensuring your anodized parts are produced how you envisioned, so that you can complete your projects on time.
If you have a custom design that you want manufactured with anodizing, contact us to discuss your options.