Products & Services
Protocase manufactures fully finished custom electronic enclosures and associated parts from a wide variety of materials and components, in 2-3 days with no minimum order. Protocase also provides expert and affordable enclosure design services.
Spot Welding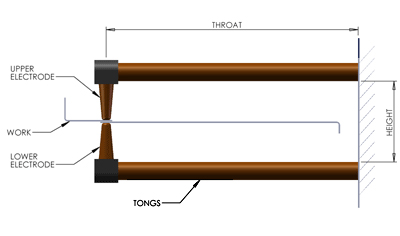 As part of its custom manufacturing offering, Protocase provides spot welding within its 2-3 day fabrication turnaround.
Spot welding is a fast and efficient method of permanently joining two pieces of sheet metal in one or more spots. It can be used in place of using fasteners, as well as joining two or more assemblies together.
Unlike threaded fasteners, spot welding results in little trace of the joint.
Materials
Spot welding can be applied to the following materials:
Stainless steel
Cold rolled steel
Galvanneal
Spot welding strength varies per material, but of the three listed above, stainless steel produces the strongest spot weld.
Constraints
Maximum length of part to fit in throat depth: 22" (558.8 mm)
Minimum length of part for electrode spot: 1" (25.4 mm)
Maximum height of part to fit into throat: 8.5" (215.9 mm)
Minimum thickness of two sheets being spot welding together: 0.046" (1.168 mm)
Maximum width of part to be spot welded: 10' (3048.0mm)
Minimum width of part to be spot welded: 1" (25.4mm)
Note: In order to spot weld galvanneal, the material must be grinded down first.

Finishes
You may opt to grind the spot weld down in order to achieve the smoothest surface finish.
In addition, spot-welded parts may be finished in any of the following ways: