Products & Services
Protocase manufactures fully finished custom electronic enclosures and associated parts from a wide variety of materials and components, in 2-3 days with no minimum order. Protocase also provides expert and affordable enclosure design services.
Anodizing
Protocase Tech Tip Video
Quick video about Anodizing
Protocase is pleased to offer Type II and Type III anodizing.
Anodizing involves an acid bath and electricity which, when used together, is a controlled oxidization that enhances the naturally occurring oxide layer on aluminum. It is this controlled oxidization that makes the oxide surface thicker and therefore, harder.
The aluminum is secured to racks and then lowered into an acid bath. An electric current is then passed through the racking and into the aluminum part. The anodized aluminum can be left in its natural color, or dyed from many color choices, using organic dyes.
Anodized aluminum's surface is much harder than untreated aluminum, and is therefore much more resistant to scratches and wear.
Anodizing: Type II Vs Type III
Also known as common or standard anodizing, Type II is sulfuric acid anodizing (as opposed to Type I anodizing, which is chromic acid anodizing).
Type II anodizing includes two different classes:
Class I signifies an un-dyed finish, also called clear or natural
Class II signifies a dyed finish and the color is named ( i.e.: Type II Class II Red )
Type III anodizing is also sulfuric acid anodizing. The key difference between Type II and Type III is that for Type III anodizing, the sulfuric acid solution's temperature is lowered and run at a higher voltage.
The end result is a denser, wear-resistant oxide layer that creates a harder and smoother finish than Type II anodizing. Type III anodizing is ideal for parts that rub together.
What We Offer:
Type II anodizing options:
Red Anodize (Mil-A-8625 Type II, Class 2)
Blue Anodize (Mil-A-8625 Type II, Class 2)
Sanodure Orange G (Mil-A-8625 Type II, Class 2)
Tan Anodize (Mil-A-8625 Type II, Class 2)
Bronze Anodize (Mil-A-8625 Type II, Class 2)
Black Anodize (Mil-A-8625 Type II, Class 2)
Clear Anodize (Mil-A-8625 Type II, Class 1)
Type III anodizing options:
Black Hard Anodize (Mil-A-8625 Type III, Class 2)
Clear Hard Anodize (Mil-A-8625 Type III, Class 1)
Graphics can be applied on all of our anodizing colors via digital print and silkscreening. Please contact your account manager to discuss other anodizing options.
Please note: anodizing is not available on our aluminum 6063 extrusion or extruded enclosures.
Size Restrictions:
Our standard methods can process components of aluminum with the following maximum dimensions, based on the type of anodizing you are requesting:
Anodizing Type
Maximum Dimensions
Type II, Class 1 Clear
Type II, Class 2 Black
32" x 44" x 116"
(812.8mm x 1117.16mm x 2946.4mm)
Type II, Class 2 Red
Type II, Class 2 Blue
Type II, Class 2 Orange
20" x 20" x 32"
(508mm x 508mm x 812.8mm)
Type II Class 2 Tan
Type II Class 2 Bronze
16" x 16" x 24"
(406.4mm x 406.4mm x 609.6mm)
Type III Class 1 Clear
Type III Class 2 Black
32" x 44" x 116"
(812.8mm x 1117.6mm x 2946.4mm)
For oversized parts, please contact your Protocase account manager to discuss your order.
Anodizing Welded Parts
It is important to note that there will be a difference in color between your aluminum part and where it has been welded.
This is because when aluminum parts are welded, they undergo a thermal process that alters the metal's microstructure. This change in the aluminum's microstructure affects the color of the anodized layer.
The areas where a part has been welded, as well as the periphery, will not be a uniform color compared to the other areas of the part.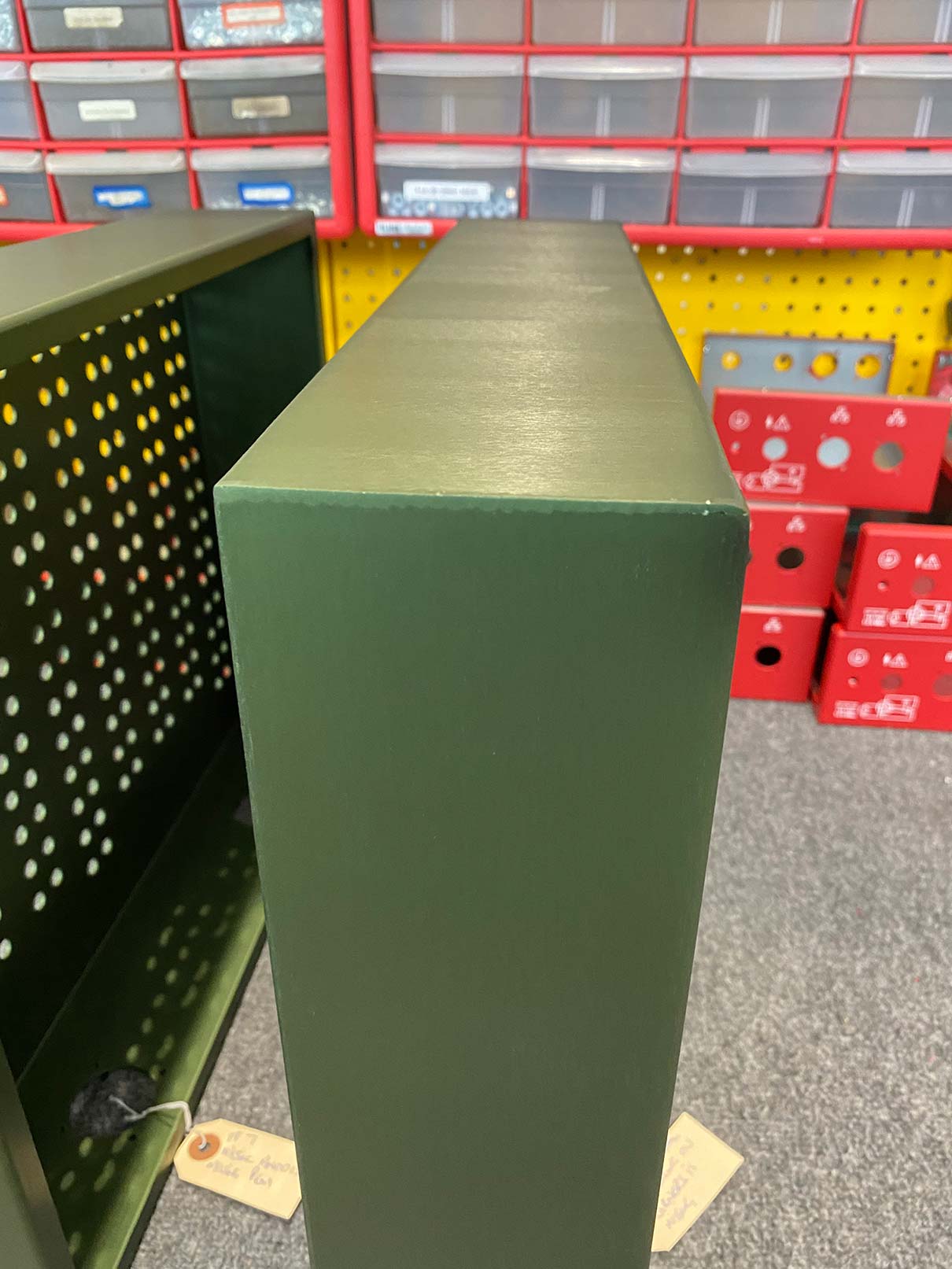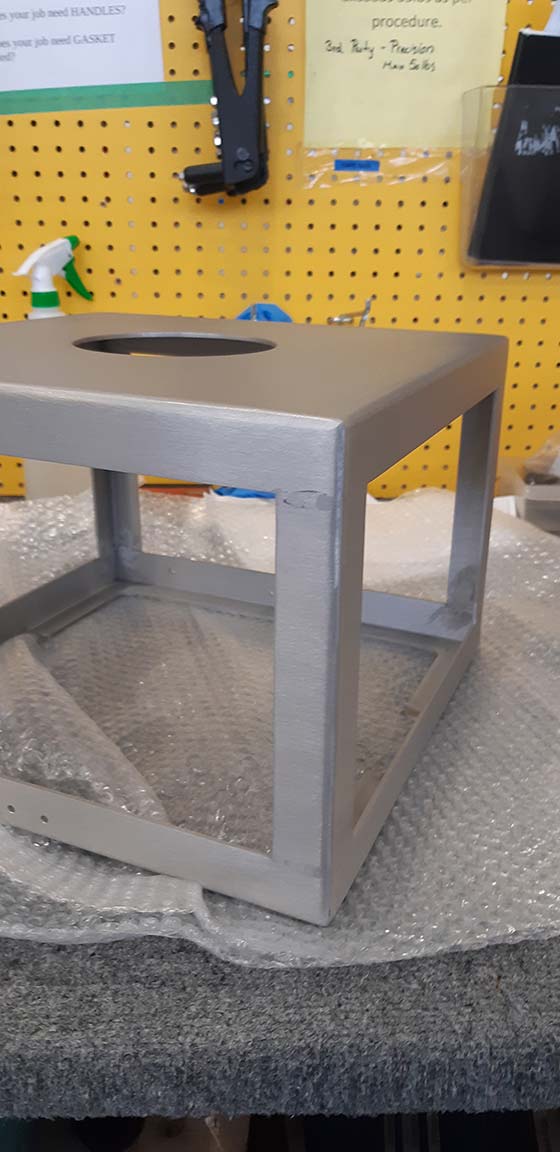 Color Variations and Blemishes
Our anodizing suppliers cannot guarantee color uniformity, especially for larger parts or parts in larger unit quantities.
For consistency in anodizing color, we recommend small-sized parts in small volumes. Some parts may have racking marks.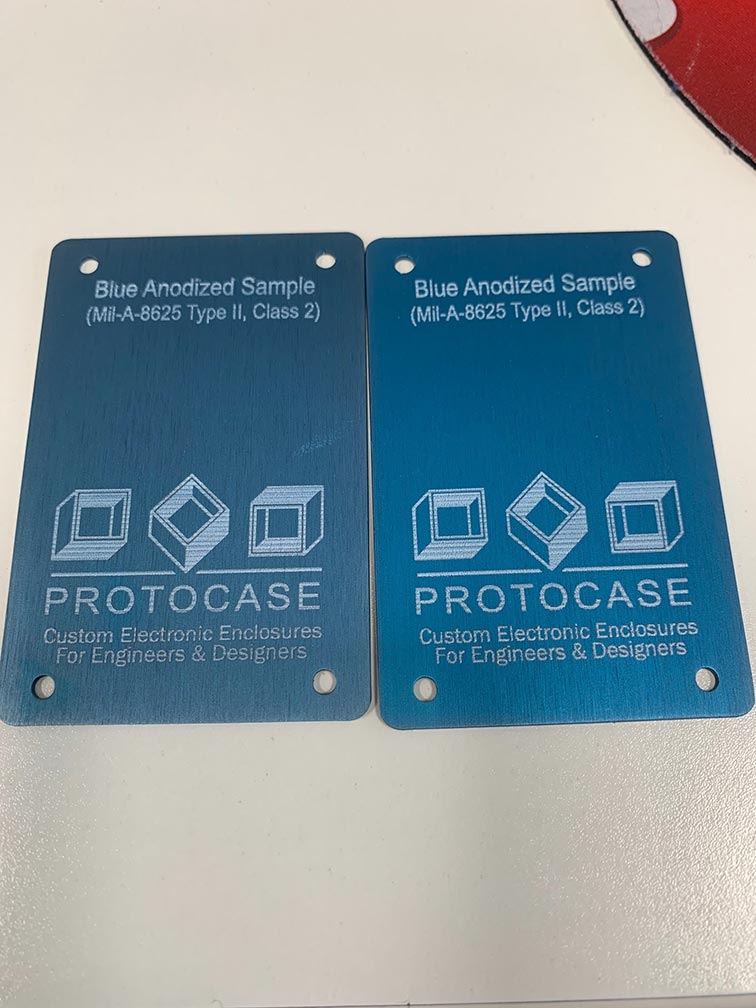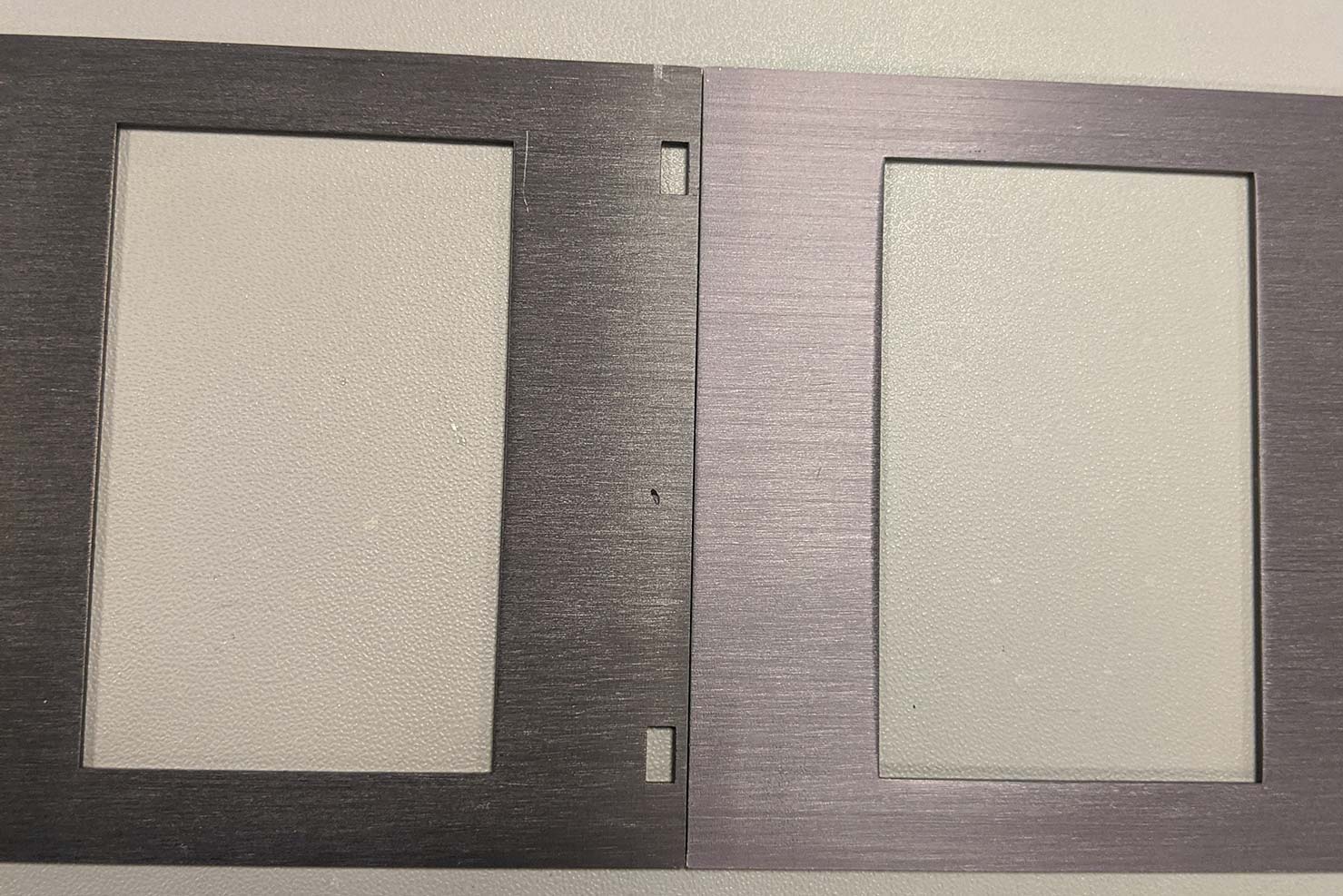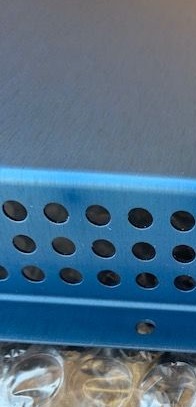 Contact your Protocase Account Manager to learn more.
Why Anodize?
There are many advantages to choosing an anodized finish for your enclosure, part or component:
Durability: Because anodizing creates an extremely hard surface, the finished product will have a very long lifespan and be far more resistant to scratches and wear, compared to untreated aluminum.
Aesthetics: Color (Class II) anodized aluminum maintains its vibrancy in spite of prolonged exposure to UV rays, and will not chip or peel.
Resistance: Anodized aluminum is resistant to corrosion, heat and electricity.
Environmental: Anodizing produces a non-toxic finish, with no harmful by-products.
Lead Times:
Anodizing is completed off-site via a third party supplier. This means there is additional lead time and a minimum lot charge for this service.