Powdercoat Guide for Custom Metal Parts & Enclosures
Out of all of the finishing options we offer here at Protocase, none are more popular than powdercoat for custom metal parts and enclosures. Engineers, designers and scientists choose it as a finish because it's durable, striking and offers a wide range of options in terms of color, reflectivity and texture. This guide about powdercoat for custom metal parts and enclosures will cover several key topics as it relates to powdercoat, including different types available, reflectivity, texture and ideal use cases.
The Powdercoating Process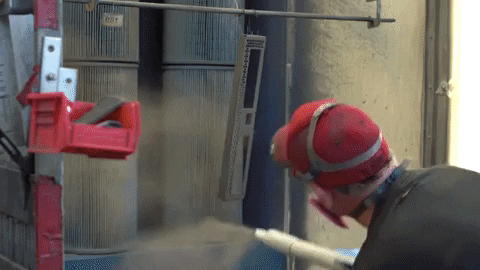 Powdercoating functions similarly to painting, giving a durable colored finish to your parts and enclosures. But instead of paint in liquid form, powdercoat is a free flowing, dry powder that is applied electrostatically and then cured under heat in large industrial ovens. The finish powdercoat provides is generally tougher than paint and provides an excellent look to your parts.
Polyester vs. Epoxy
There are two types of powdercoat that Protocase offers: Polyester and Epoxy.
Polyester powdercoat provides great value, as well as great impact, mechanical and chemical resistance. It has the most flexibility of the two powdercoat options. Polyester powdercoat has a low cure temperature, which makes it more suitable for sensitive components and more resistant to yellowing when overbaked. It provides a solid 1-3 years of UV resistance which makes it ideal for some outdoor applications, as well as being extremely durable inside.
Epoxy powdercoat provides the best corrosion and chemical resistance, as well as excellent durability and hardness. Epoxy powdercoat are the best metal protectors when there is any risk of corrosive environments impacting your part. However, they are not as good at handling the sun as polyester powdercoats and will degrade after only a few months in outdoor weather conditions.
Reflectivity
Protocase offers a variety of powdercoat finishes which provide different aesthetic qualities and durability. The texture of each powdercoat type has a varying degree of reflectivity, with some powdercoats reflecting an enormous amount of light. Other types will reflect next to no light at all. Think of the range of light reflected between a mirror and a black hole! 🙌.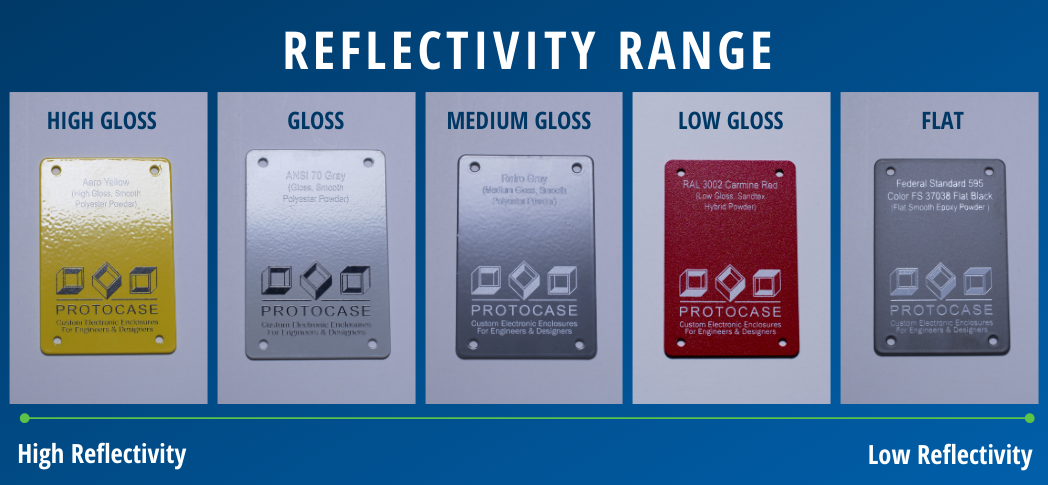 Here's a breakdown of rough reflectivity levels for each type of powdercoat:
| Powdercoat Type | Reflectivity Levels |
| --- | --- |
| High Gloss | >85% |
| Gloss/Glossy | 70-85% |
| Medium/Semi-Gloss | 35-70% |
| Low Gloss | 20-35% |
| Flat | 15-20% |
| Matte | <15% |
The less reflective the powdercoat, the rougher and more durable it will be. Flat or Matte powdercoats are very resistant to blemishes from fingerprints, and generally will survive light bangs slightly better. Gloss powdercoats are brighter and more reflective in appearance, and are slightly more susceptible to minor dings and blemishes.
Sandtex
Another component of powdercoat texture is whether the powder coat is designated as "Sandtex". Sandtex powdercoats have insoluble additives in the powder that give it a rough texture, and are therefore designated as medium gloss or lower.
Sandtex powdercoats are the most durable which makes them ideal for outdoor applications. Sandtex provides excellent slip, impact and fingerprint mark resistance. They will also hide minor blemishes the best of all the powdercoat options. That is why we recommend Sandtex powder coats whenever your enclosure or part will be welded.
Graphics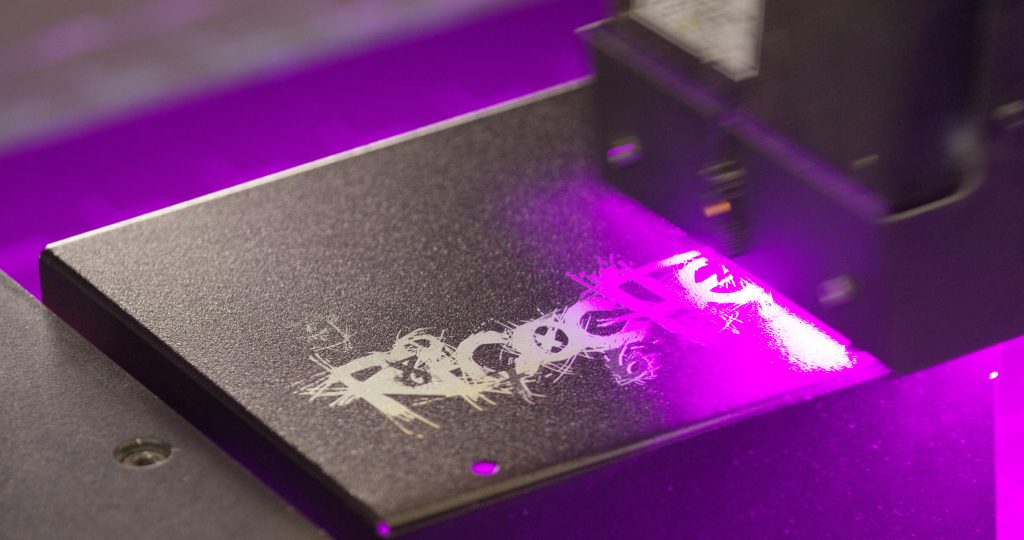 When using a Sandtex powdercoat, it is recommended that you use digital print to apply any graphics to your part or enclosure. This is because the ink jets are pointed down and fill the low-end points of the texture, causing the digital print to stick well to the part.
When using gloss or matte powdercoats, it is recommended that you use silkscreen for your graphics. This is because the smooth texture of the powdercoat surface complements the self-leveling nature of the silkscreen, giving you clean looking graphics that are virtually indistinguishable by touch.
Use Cases
The powdercoat you choose should match your requirements and application.
Use this quick-reference guide to make sure you're choosing the correct powdercoat for your specific use case: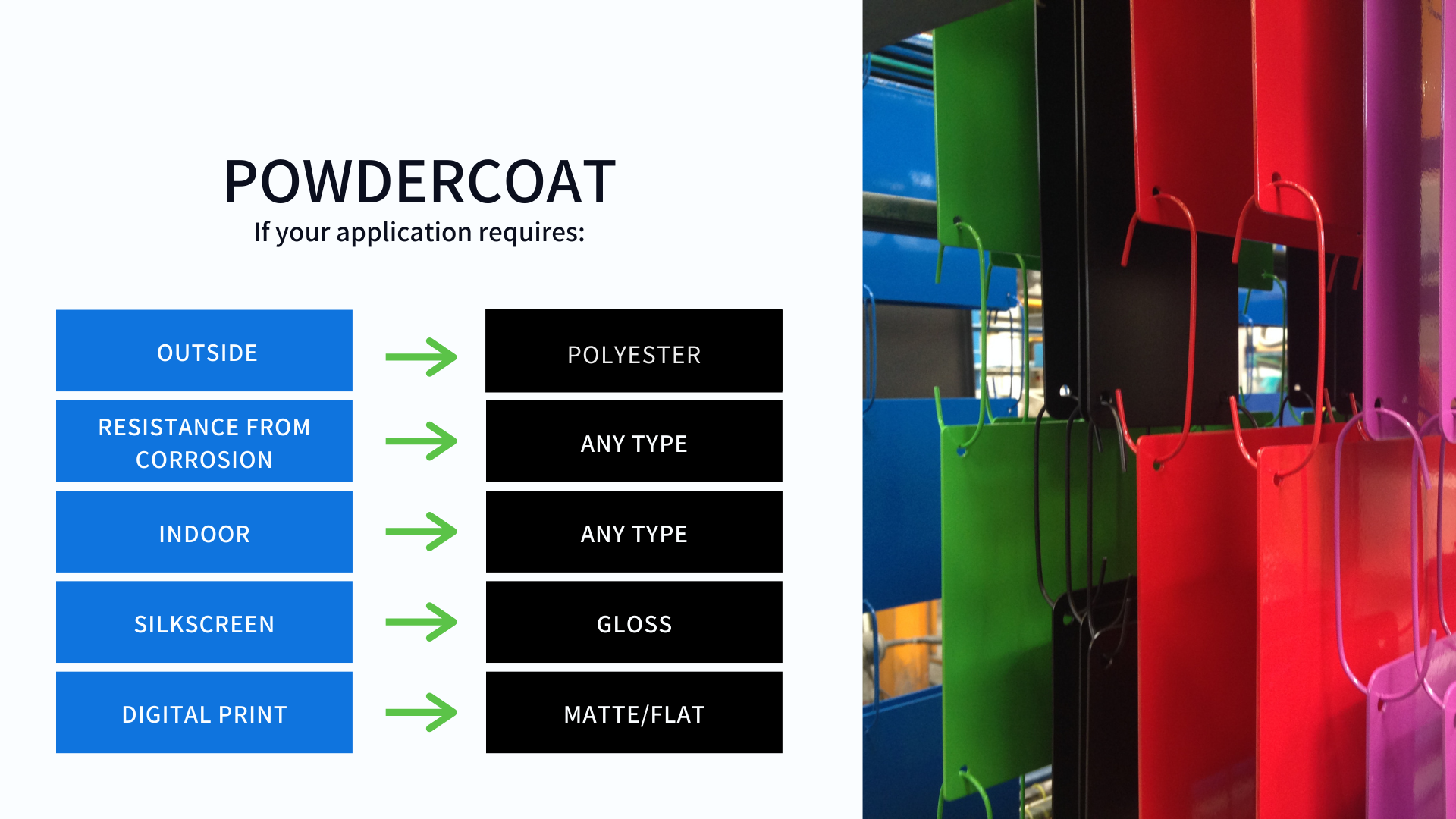 Don't Forget Tolerances
An important rule of thumb when choosing powdercoat for metal enclosures, parts and panels with cutouts – powdercoat will add 0.003" (0.08mm) to a cutout.
For example, if you were to mount a component in your enclosure that requires a 1" diameter hole on a surface that will be powdercoated, you should call out a hole diameter of 1.006". This will allow 0.003" of powdercoat per side.
Conclusion
Powdercoating is a great way to add some durability and corrosion resistance to your part or enclosure. The wide range of color powdercoat options will also give you a vibrant, professional look that will make your parts stand out. Please share this powdercoat guide for sheet metal parts & enclosures with anybody who would value the information.
Protocase is committed to helping you turn your vision into reality and get you projects completed on time. Do you have any questions or want to discuss a project you've got in mind? Contact your Protocase Account Manager directly, or email info@protocase.com.