Products & Services
Protocase manufactures fully finished custom electronic enclosures and associated parts from a wide variety of materials and components, in 2-3 days with no minimum order. Protocase also provides expert and affordable enclosure design services.
Direct Digital Printing
Protocase Tech Tip Video
Quick video about Graphics
Customize your enclosures, parts and panels with Protocase's state-of-the-art digital printing, featuring accurate and crisp printing of complex visuals on a variety of finishes.
Direct digital printing is useful for many different applications:
Our digital printing uses the halftone technique to create color prints. Halftone blends various densities of small droplets of Cyan, Magenta, Yellow and Black, which creates brilliant colors and gradients our eyes perceive as solid from a distance. However, at close range, the eye can see this half-toning effect because some of the larger droplet sizes are detectable by the naked eye.
Unlike silkscreening, digital printing is ideal for graphics with high amounts of detail, such as a gradient finish, CGI effects or overlapping colors. Digital printing is also best when there are multiple colors used in one single graphic.
Digital print technology produces a slightly raised and textured surface, especially when compared to silkscreening, as the self-levelling silkscreening ink used produces a smooth finish that's virtually indistinguishable by touch. Digital print is laid down linearly by scanning UV ink jet heads, and cured immediately after. This means the ink can self-level (flow), so there is a slight linear texture that becomes visible in large areas of single color.
We will be pleased to help you determine if your project is suited for digital printing. Please email info@protocase.com if you have any additional questions.
Digital Print Resolution Options
NEW
We offer two different resolution options for our direct digital printing:
Standard Resolution (720 dpi): This option is ideal for most basic graphics:
Premium Resolution (1440 dpi): This option is best suited for orders where cosmetics are critical, particularly if they involve:
Please note: There is an additional charge for premium resolution, as it requires more printer passes (therefore longer machine time). However, your lead-time will remain unchanged.
How to Choose Your Digital Print Resolution
We recommend: Standard Resolution (720 DPI)
Physical Limitations:
You can opt for direct digital printing for your custom enclosures, panels and parts, so long as they fit within our maximum dimensions:
Applicable Materials
Maximum Dimensions
Bare-Metal Parts and Enclosures

5052 Aluminum
6061 Aluminum
Stainless Steel 304
Stainless Steel 316
Copper

Parts cannot exceed:


Height = 36" (914.4mm)
Width = 45" (1143mm)
Length = 60" (1524mm)



Printable Area:


Width = 42.5" (1079.5mm)
Length = 47"(1193.8mm)

Powdercoat Painted Parts and Enclosures

5052 Aluminum
6061 Aluminum
Stainless Steel 304
Stainless Steel 316
Cold Rolled Steel
Galvanneal

Parts cannot exceed:


Height = 36" (914.4mm)
Width = 45" (1143mm)
Length = 60" (1524mm)



Printable Area:


Width = 42.5" (1079.5mm)
Length = 47"(1193.8mm)

Please note: Enclosures and parts can have self-clinching fasteners installed, as long as the fasteners are not protruding from the printable face.
Graphic File Formats:
To ensure the highest print quality and clarity, vector graphic files are recommended:
.AI - Adobe Illustrator
.EPS - Encapsulated PostScript
.SVG - Scalable Vector Graphics
.PDF - Portable Document Format
.DXF or .DWG - AutoCAD
We can accept the following raster image files, however additional processing charges may apply:
.PNG - Portable Network Graphic
.JPG (.JPEG) - Joint Photographic Experts Group
.TIF (.TIFF)- Tagged Image File
.PSD - Photoshop
.VDX, .VSD, or .VSDX - Visio
.DOCX - Microsoft Word
.PPTX - Microsoft PowerPoint
File formats we cannot accept:
Saving a raster image in any of these vector file formats will not create a vector graphic. You may need to contact the individual who created the original graphics file in order to access the necessary vector files.
We do not recommend printing raster formats directly (.png, .jpeg, .pdf, etc.) as the inherent pixelation does not produce good results. We recommend that you convert such raster files. We also offer graphic design services to create vector files out of your high-resolution raster images.
You may also include your graphics on your SolidWorks CAD models.
Digital Print on Finishes:
Finish

Recommended?

Rcmd?

Special Considerations
Powdercoat
Yes
Digital print is superior in producing images on sandtex powdercoat paints.

When choosing a non-stock powdercoat, we recommend an ink adhesion test prior to proceeding with your order.
Number 4 Finish
Yes
Grained Finish
Yes
When digitally printed, there may be some instances of ink bleeding into the grain direction produced via Grained Finish process. This isn't very detectable to the human eye unless you inspect very closely. However, it is something you should be aware of when choosing digital print on bare-metal finish.

If possible, we recommend opting for Number 4 Finish instead of Grained Finish, as the reduced surface roughness minimizes ink bleeding.
Vibratory Finish
Yes
Parts must not exceed the maximum dimensions:

10"L x 10"W x 6"H (254mm L x 254mm W x 152.4mm H)
Anodized Finish
No
Digital print ink bleeding into the grain direction can worsen with anodized parts.

If anodizing is required, we recommend silkscreening for graphics. If opting for digital print instead, we recommend parts be finished with either Number 4 finish or Vibratory finish before they are anodized.
Chem-Film Coating
Yes
Parts must not exceed the maximum dimensions:

30"L x 24"W x 6"H (760mm x 609.6mm x 152.4mm)
No Finish
No
While digital print is technically achievable on our No Finish offering, we do not advise printing No Finish parts, as No Finish will contain surface scratches, swirl marks and other blemishes.
Fonts and Colors:
We offer the full spectrum of CMYK colors within our direct digital printing services.
In order to produce the best end result for your digital print, we recommend adhering to our minimum font sizes:
| | Sans Serif Font Minimum Size | Serif Font Minimum Size |
| --- | --- | --- |
| Colored letters printed on white powdercoat | 6 pt | 6 pt |
| Colored letters printed on non-white powdercoat | 7 pt | 10 pt |
| Letters (white and colored) on bare-metal finish | 7 pt | 10 pt |
Note: Fonts that appear smaller than Times New Roman and Myriad Pro may have to be enlarged to ensure proper white underbase. Contact us at info@protocase.com for more information.
Cleaning Your Enclosures & Parts
We recommend any part or enclosure with digital print or silkscreen be cleaned using a mild soap/degreaser (for example: dish detergent), or water with a soft (non-abrasive) cloth or sponge.
Avoid using isopropyl alcohol, lysol wipes, acetone or hand sanitizer. For cloths, we do not recommend paper towel, as it is abrasive.
Graphic Placement Tolerance:
As with everything in the manufacturing process, there are always some variance between parts and images (spatial registration).
We are able to manually position and optically align parts and enclosures on our flatbeds to print with registration of ± 0.020" (0.51mm) between part cutouts and print pattern.
In these situations, our eye is highly sensitive to the geometrical relationship between physical features and print pattern. The most common situation is concentricity.
Figure 1 - Eccentric Circles: Left 0.020" (0.50mm) eccentricity x & y, middle 0.002" (0.05mm) x & y Right 0.010" (0.25mm) eccentricity x & y




Please note: Images are a scaled representation of a CAD drawing of half-inch circles around quarter inch holes
Printing over Cutouts: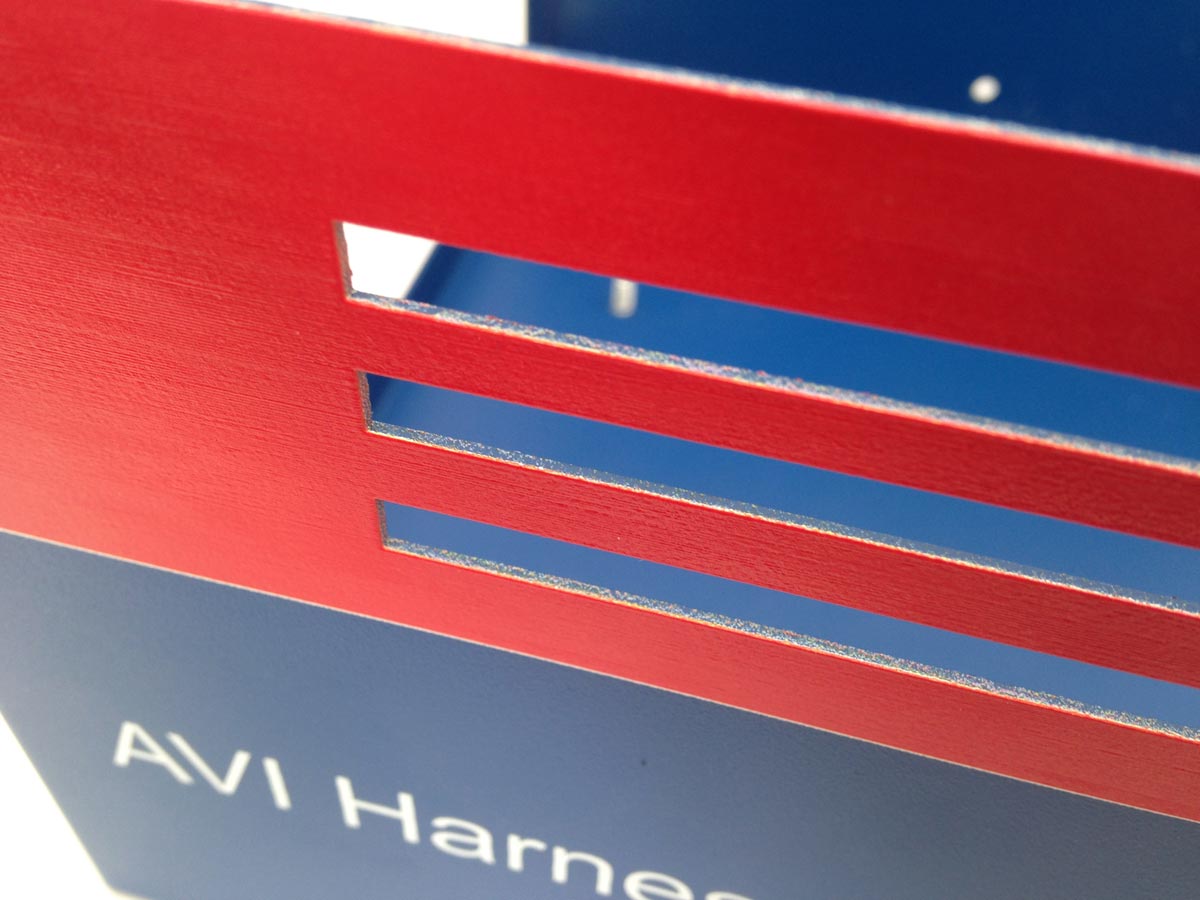 We can print over cutouts on panels and enclosures by masking the opposite side in order to catch ink that would otherwise spray the other side.
However, it should be noted that a miniscule amount of overspray ink may stick to the inside wall of the cut-out.