Hinges for Sheet Metal Enclosures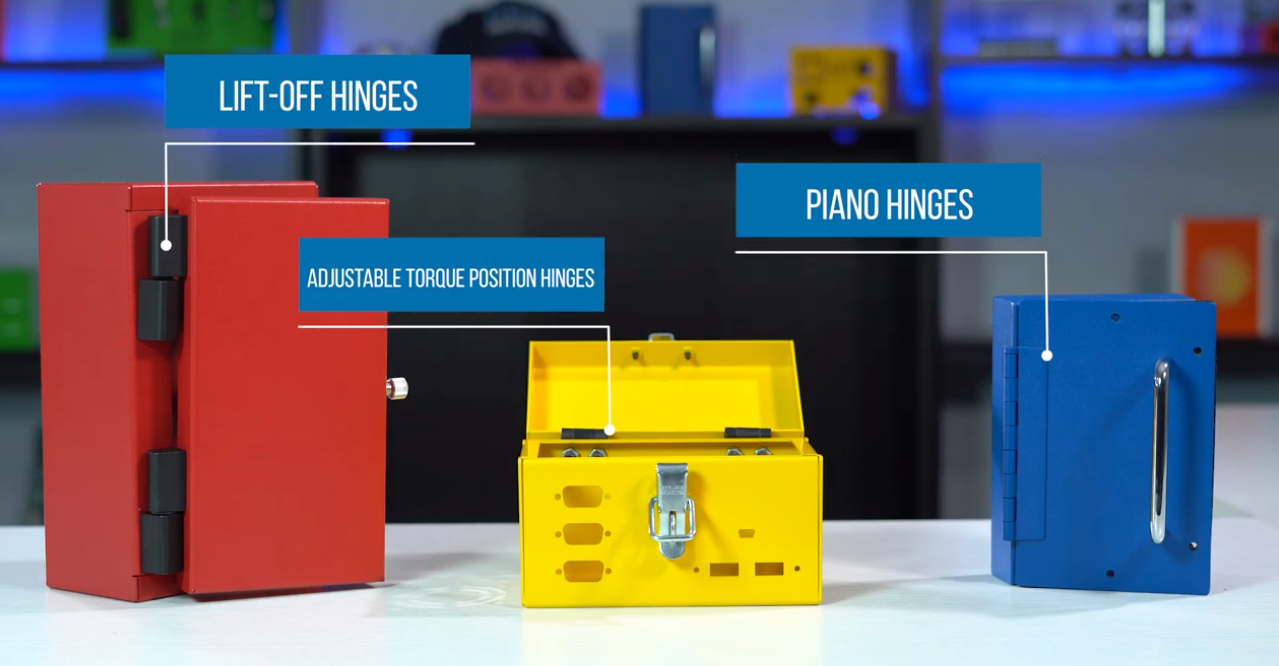 At Protocase, we are a one-stop shop for custom sheet metal and CNC machined enclosures, parts and panels. Our goal is to make exactly what you envision and require as quickly as possible, so we offer a full roster of materials, fasteners, finishes and components in-house. One of those components are hinges for sheet metal enclosures.
A hinge is a mechanical device that joins two solid pieces to rotate or open between both parts.
Five-sided enclosures (made up of four sides and a removable top/cover), commonly include hinges. Engineers often choose to include a hinge on this type of enclosure because it converts the 5-sided enclosure's top into a door or lid.
Another option is to cut into a section of one face of an enclosure and attach the removed piece with a hinge to create a door for easy access to the enclosure's inside components. This blog will go over the three types of hinges for sheet metal that we stock here at Protocase.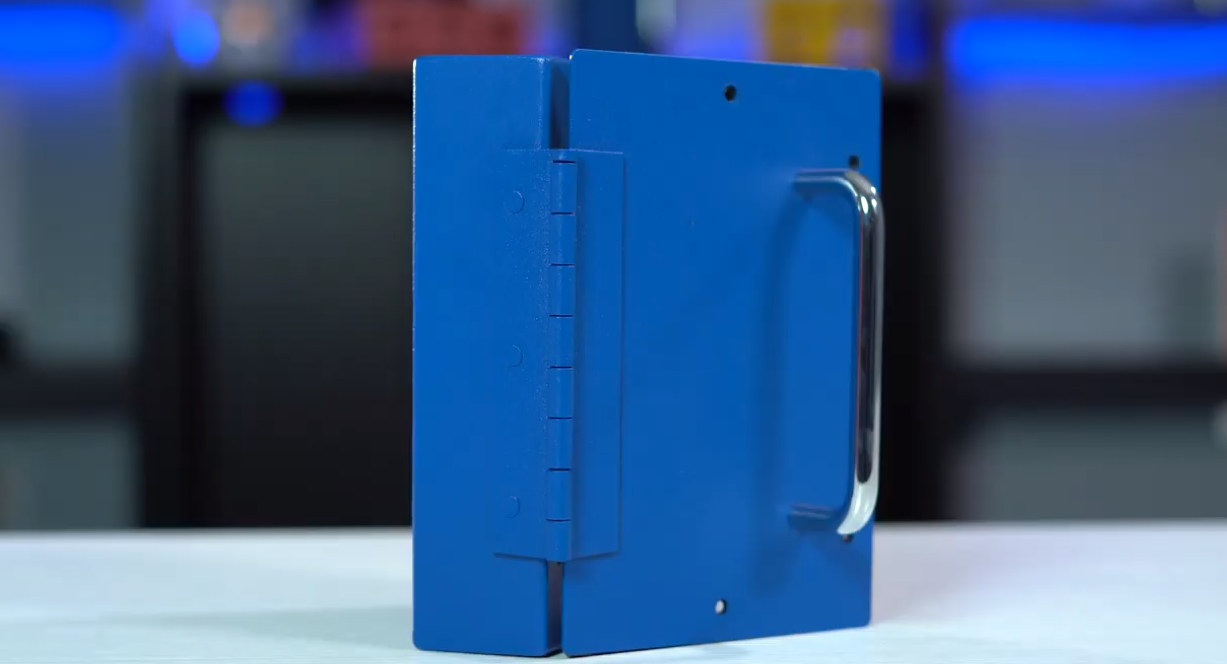 Piano hinges are made from either steel, stainless steel or aluminum. They are available in a variety of different open widths, thicknesses, lengths, and diameters. Piano hinges have a range of motion of 270 degrees.
With piano hinges, you have the flexibility to decide how you want to mount them to your sheet-metal enclosure because they do not have pre-set mounting holes. You can request for mounting holes to be drilled into them so the hinge can be mounted using self-clinching fasteners or screws, or you can opt to have the hinges welded to the enclosure. We recommend only welding to one part of the enclosure and using self-clinching nuts to mount to the other side, allowing easy separation of the parts if needed.
All of the piano hinges we stock can be powdercoated to match your enclosure. If you're looking to leave it as bare metal, we recommend using stainless steel or aluminum (the lighter option), as those are the corrosion-resistant options.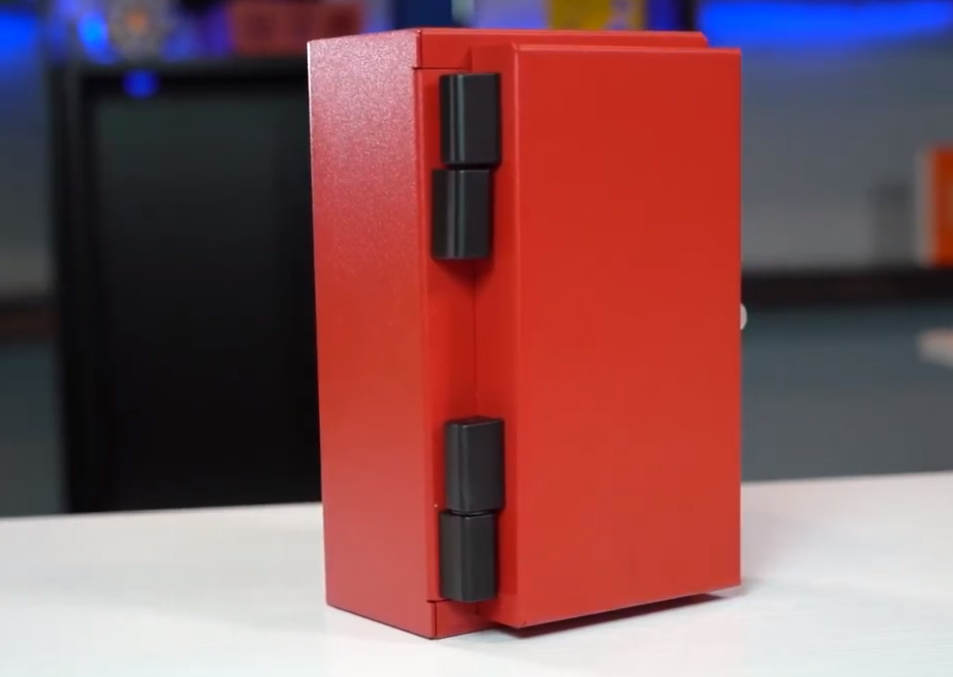 Lift-off hinges are narrow, block-shaped hinges that are diecast zinc and have a black powdercoat finish. A pin is connected to the frame, which then connects into the door leaf, making it much easier to remove the door or lid without removing the pin.
The lift-off hinge has a range of motion of 180 degrees and is reversible to work with both right and left-handed doors.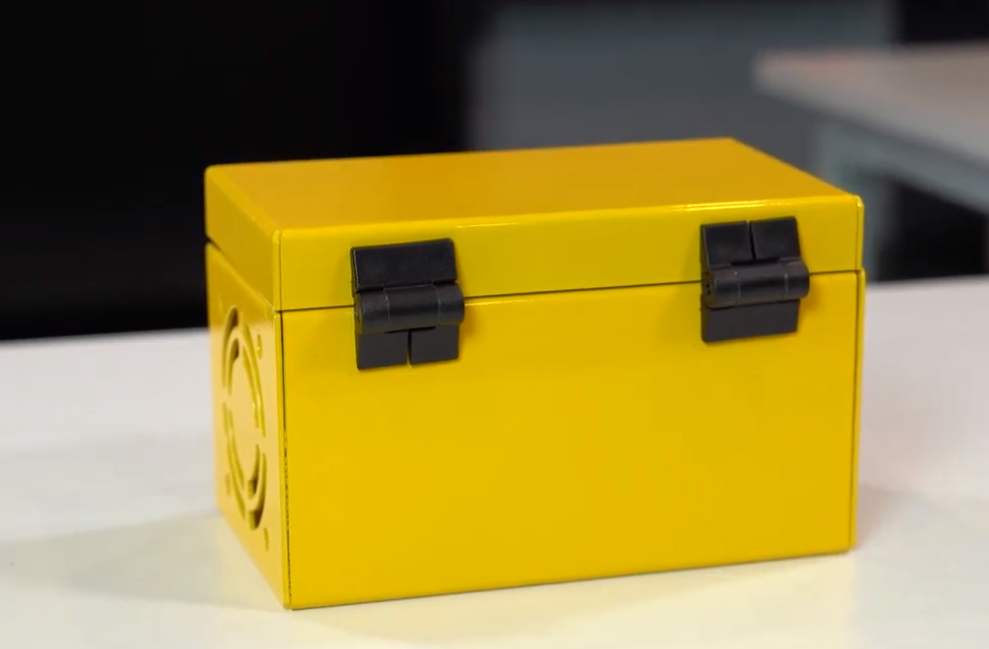 Adjustable torque position control hinges are made from durable plastic with a black finish and mount via an integrated plastic stud. This stud fastens to the enclosure with four thread-cutting steel nuts.
These hinges also have an adjustment screw that allows the frictional holding torque to be set as desired. The reason for this is so that a lid or door can be moved easily but remain in position when no force is applied.
Please note that the hinges listed above all have mounting hardware that is concealed when fastened to the enclosure.
Conclusion
Hinges are a simple but effective addition to your custom electronic sheet metal enclosures, as they provide easy access to your enclosure's inside components. The hinge you choose for your enclosure will come down to a few key factors:
For more information about stocked hinges for sheet metal, please visit our website.
Want a visual breakdown of our hinges? Our Proto Tech Tip covers it all:
Contact us to get started on your custom enclosures, parts or panels. We can assess your design (or you can use Protocase Designer to make your designing and quoting process easy and fast!), and then, when you're ready, we'll custom manufacture your design to your specific requirements in the exact quantity you need.