Products & Services
Protocase manufactures fully finished custom electronic enclosures and associated parts from a wide variety of materials and components, in 2-3 days with no minimum order. Protocase also provides expert and affordable enclosure design services.
Piano Hinges
Protocase Tech Tip Video
Quick video about Hinges
Protocase has a variety of hinges in stock. Including a hinged door or lid gives you easy access to everything on the inside of your enclosure. If you have questions regarding hinges for electronic enclosures, please email us at info@protocase.com and we'll respond to you quickly.
The Piano Hinge comes in different material types, open widths, leaf thicknesses, pin diameters and knuckle lengths (see table below). These hinges do not have mounting holes, which gives you flexibility in how you mount them. You can specify that holes be drilled in them to facilitate self clinching fasteners or screws, or depending on materials used, they can also be spot, tack, or seam welded to the enclosure. The Piano Hinge has a range of motion of 270 degrees. Hinges can be cut to length.
Powder coat colors are identified by the RAL number. When specifying a fully custom powder coat colors please provide us with the RAL number. Click here for RAL color chart. (Link will open PDF document)
Notes:
• Steel piano hinges pins and leaves are made from unfinished low carbon steel.
• Stainless steel piano hinges have pins and leaves made of unfinished type 304 stainless steel, for enhanced corrosion resistance.
• Aluminum piano hinges are corrosion resistant and are lighter in weight.
Diagrams: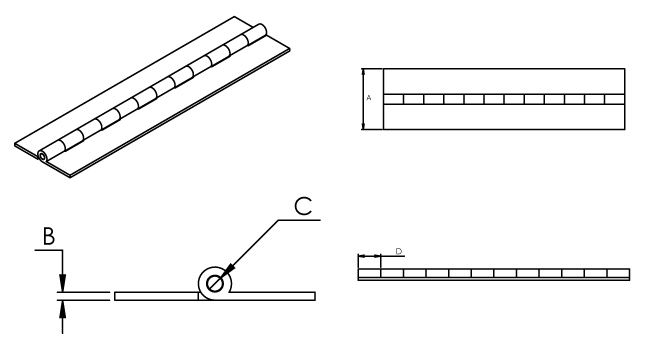 Part Number
Material Type
DIM A
Open Width
DIM B
Leaf Thickness
DIM C
Pin Diameter
DIM D
Knuckle Length
15665A105
Steel
0.750" | 19.05mm
0.035" | 0.89mm
0.078" | 1.98mm
0.250" | 6.35mm
15665A115
Steel
1.063" | 27.00mm
0.035" | 0.89mm
0.078" | 1.98mm
0.250" | 6.35mm
15665A231
Steel
1.500" | 38.10mm
0.063" | 1.60mm
0.125" | 3.18mm
0.500" | 12.7mm
15665A315
Steel
1.500" | 38.10mm
0.075" | 1.91mm
0.188" | 4.78mm
1.000" | 25.4mm
1582A112
Stainless Steel
1.000" | 25.40mm
0.025" | 0.64mm
0.063" | 1.60mm
0.250" | 6.35mm
1581A19
Aluminum
1.000" | 25.40mm
0.050" | 1.27mm
0.125" | 3.18mm
0.500" | 12.7mm
1581A39
Aluminum
1.500" | 38.10mm
0.063" | 1.60mm
0.125" | 3.18mm
0.500" | 12.7mm