Products & Services
Protocase manufactures fully finished custom electronic enclosures and associated parts from a wide variety of materials and components, in 2-3 days with no minimum order. Protocase also provides expert and affordable enclosure design services.
Electronic Enclosures
Custom Computer Enclosures
Protocase custom builds enclosures for computer applications, which are built to your design in 2-3 days. Computer enclosures often start as standard rackmount, U, or L shape designs, to which the customer adds details such as custom standoffs to mount motherboards, cutouts and fasteners to accommodate power supplies, drives and drive bays, ventilation holes and fans, switches, connectors, etc. We can work from your own CAD files, and if you do not wish to design from scratch, consider using our free 3D CAD software, or a template from our free online template generator. Or utilize our expert design services to save design time and focus on your own core activities.
Custom computer enclosures: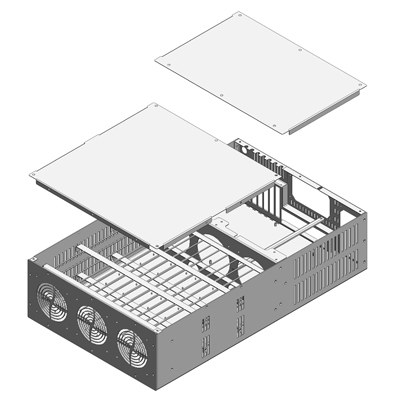 Details:
Available in a wide range of dimensions
ROHS Compliant
Get started by choosing one of the following easy design options: