Products & Services
Protocase manufactures fully finished custom electronic enclosures and associated parts from a wide variety of materials and components, in 2-3 days with no minimum order. Protocase also provides expert and affordable enclosure design services.
Hardware
Protocase Tech Tip Video
Quick video about Handles
Protocase stocks a wide variety of hardware items that enhance the functionality of electronics enclosures. If we don't stock it, we can usually obtain just about any item that you may wish to utilize in your design. We've listed a few of the most common items below for your convenience. If you have questions regarding details or availability of hardware items, please email us at info@protocase.com and we'll respond to you quickly.
Handles
We have access to a wide variety of handles, but the small chrome, medium chrome, and large plastic handles shown below are the most common choices of our customers.
Handles are commonly used on rackmount enclosures (as per the table below), as well as any other miscellaneous application that calls for them.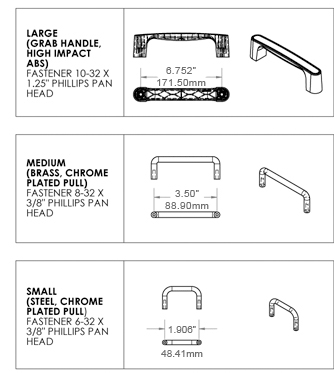 Notes:
To determine a mounting pattern for a handle, use the center-to-center distance shown on the drawing on the right, and the clearance hole recommendations shown in the table below.
Recommended Clearance holes:
| Handle | Rackmount height | Clearance hole |
| --- | --- | --- |
| Small | 2U | 0.160" (4mm) |
| Medium | 3U, 4U | 0.188" (4.75mm) |
| Large | 5U and greater | 0.210" (5.4mm) |