Products & Services
Protocase manufactures fully finished custom electronic enclosures and associated parts from a wide variety of materials and components, in 2-3 days with no minimum order. Protocase also provides expert and affordable enclosure design services.
Chemical Conversion Coating for Aluminum
"Chem Film"
Protocase is pleased to offer in-house Chemical Conversion Coating for Aluminum.
What is it?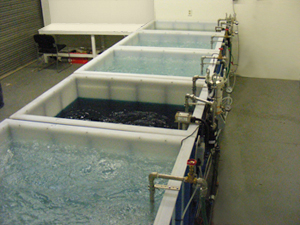 Chemical Conversion Coating is often referred to as chem film, chromate coating, or yellow chromate coating. This coating process applies chromate to the metal substrate, creating a surface that is corrosion resistant, durable, and exhibits stable electrical conductivity.
Chemical Conversion Coating is used to protect enclosures and metal parts from corrosion, and to ensure that reliable electrical connections can be made to aluminum chassis and components. It is also an effective pretreatment for powdercoat. Protocase's Chemical Conversion Coating process meets a number of specifications, and qualifies as Type II, Class 1a and 3 under MIL-DTL-5541F. In simple terms, 'Type II' means the process does not utilize toxic and dangerous hexavalent chrome. Class 1a refers its ability to protect against corrosion. Class 3 refers to its ability to provide reliable electrical conductivity. Details are given below.
Chem-Film Coating is sometimes also referred to by its brand names, including Alodine, Iridite and Alocrom.
What do we coat?
Protocase will process a) sheet metal parts that have been fabricated in our own facility, or b) parts that have been fabricated or machined elsewhere. Applicable metals are listed above.
Size Restrictions:
We are now able to process components of aluminum with maximum dimensions of 30" x 30" x 45" (760mm x 760mm x 1140mm).
Lead Times:
With Protocase-fabricated parts, because the coating is done in-house, chemical conversion coating can be applied to enclosures and parts within 1 day. This means we can offer fully fabricated and finished sheet metal enclosures and components with chemical conversion coating, in as little as 3-4 days. Customer-supplied parts Protocase can apply chemical conversion coating to customer-supplied parts in as little as 3-4 days after receipt of parts.
Details:
Protocase uses Chemeon TCP-HF®. The coating subtly changes the appearance of the surface, which exhibits nearly clear iridescence, with a subtle gold to violet tint.
Chemeon TCP-HF® is an environmentally friendly trivalent chromium formulation, free of toxic and dangerous hexavalent chromium. Chemeon TCP-HF® conforms to a wide variety of environmental and workplace safety regulations, such as RoHS, WEEE, ELV, REACH and the OSHA PEL.
Protocase qualifies its process to pass the requirements of MIL-DTL-5541F Type 2 Class 1A & 3, and -81706B.
Chemeon TCP-HF® is a proprietary chemistry developed by Pratt and Whitney Aircraft®, one of the world's leaders in the manufacturing of civil and military aircraft engines and as such, this technologically advanced product was tested against the most rigorous standards used in high performance chromate conversion for aerospace applications.
Approvals:
RoHS (Restriction of Hazardous Substances Directive)
ELV (End of Life Vehicle Directive)
WEEE (Waste, Electrical and Electronic Equipment Directive)
OSHA Hexavalent Chromium PEL (Permissible Exposure Limit)
REACH (Registration, Evaluation and Authorization of Chemicals)
EO 13148 (Executive Order)
MIL-DTL-5541F, class 1A and class 3*
MIL-DTL-81706B*
*Protocase meets the requirements of Mil-DTL-5541F and MIL-DTL-81706B.
For more information, email info@protocase.com or call 1-866-849-3911.