Products & Services
Protocase manufactures fully finished custom electronic enclosures and associated parts from a wide variety of materials and components, in 2-3 days with no minimum order. Protocase also provides expert and affordable enclosure design services.
Materials, Components & Finishes
Hardware
Protocase stocks a wide variety of hardware items that enhance the functionality of electronics enclosures. If we don't stock it, we can usually obtain just about any item that you may wish to utilize in your design. We've listed a few of the most common items below for your convenience. If you have questions regarding details or availability of hardware items, please email us at tech@protocase.com and we'll respond to you quickly.
Drawer Slides
Drawer Slides are most commonly used with rackmounts when easy access is required. For this application, PEM nuts are mounted in the enclosure, and drawer slides fastened using pan head screws. Brackets are used to attach the slides to the rack. Drawer slides are versatile, and also solve a number of other problems where linear motion is required.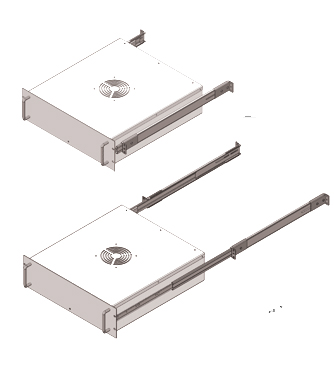 We commonly use two styles:
Accuride 2907 Ultra-Thin Series
The Narrowest, Full Ball Bearing Slide for 1U to 4U Chassis (fits standard width enclosures without modification)
Thin side space .38" (9.6 mm)
Low profile height 1.62" (41.1 mm)
115 lb. (52 kg) load capacity
Two inches (50.8 mm) of over travel
Available in even lengths 12"-30" (305-762 mm)
Accuride 3307 Medium Duty Series
150 lb (68 kg) capacity
1" (25.4 mm) over travel
.50" (12.7 mm) side space (enclosure must be modified to reduce width by 0.25" (6.35 mm) to accommodate)
Available in even lengths 12"-30" (305-762 mm)