Products & Services
Protocase manufactures fully finished custom electronic enclosures and associated parts from a wide variety of materials and components, in 2-3 days with no minimum order. Protocase also provides expert and affordable enclosure design services.
Conventional Fasteners
Protocase stocks a wide variety of conventional fasteners, and if we don't stock it, we have access to just about any common fastener on a quick-delivery. The most commonly used items are machine screws and hex nuts, which are listed in the table below.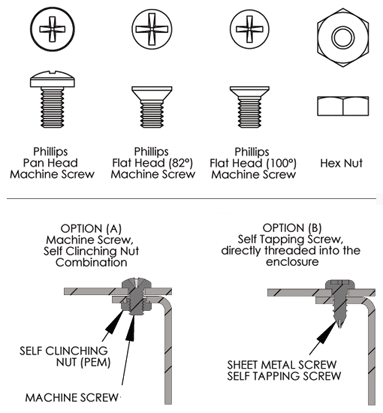 Self-tapping screws vs. machine screw / self-clinching nut combination
In certain situations, a designer has the option of using either
a combination of self clinching nut and machine screw, or
a self-tapping screw, as shown in the diagram.
We highly recommend option (A), for the following reasons:
Self tapping screws are subject to stripping
They interfere with finishes, breaking through powdercoating, and creating potential corrosion problems.
Inconsistent removal torque --- they can lock in place, and be extremely difficult to remove.
The self tapping screw option is slightly less expensive, but the disadvantages far outweigh the slight savings for most applications. Thus the only place we would ever recommend Option (B) is when searching for cost-engineering solutions on volume orders.
Most Commonly Used Fasteners
| Part Number | Description | Thread Size | Thread Length |
| --- | --- | --- | --- |
| 90480A003 | Hex Nut 2-56 Steel Zinc | 2-56 | |
| MS_2-56_1/4in_PPH_18-8SS | Machine Screw 2-56 x 1/4in Phillips Pan Head 18-8 Stainless | 2-56 | .250 |
| 2-56X1/4PAN PH SS B0 | Machine Screw 2-56 x 1/4in Phillips Pan Head 18-8 Stainless Black Oxide | 2-56 | .250 |
| 2-56X1/4PAN PH ST ZC | Machine Screw 2-56 x 1/4in Phillips Pan Head Steel Zinc | 2-56 | .250 |
| 2-56X1/4FT1 PH SS B0 | Machine Screw 2-56 x 1/4in Phillips Flat Head 100° 18-8 Stainless Black Oxide | 2-56 | .250 |
| FCMP0204 | Machine Screw 2-56 x 1/4in Phillips Flat Head 100° Steel Zinc | 2-56 | .250 |
| 2-56x1/4FT1 PH SS PS | Machine Screw 2-56 x 1/4in Phillips Flat Head 100° 18-8 Stainless | 2-56 | .250 |
| 2-56X1/4FLT PH SS B0 | Machine Screw 2-56 x 1/4in Phillips Flat Head 82° 18-8 Stainless Black Oxide | 2-56 | .250 |
| FMSP0204 | Machine Screw 2-56 x 1/4in Phillips Flat Head 82° 18-8 Stainless | 2-56 | .250 |
| 91771A110 | Machine Screw 4-40 x 1/2in Phillips Flat Head 82° 18-8 Stainless | 4-40 | |
| 4-40X3/8PAN PH SS B0 | Machine Screw 4-40 x 3/8in Phillips Pan Head 18-8 Stainless Black Oxide | 4-40 | |
| 91240A005 | Mil Spec. Hex Nut 4-40 18-8 Stainless (MS-35649-244) 1/4in Wide, 3/32in High | 4-40 | |
| 4-40X3/16PAN PH SS B0 | Machine Screw 4-40 x 3/16in Phillips Pan Head 18-8 Stainless Black Oxide | 4-40 | |
| 0MAS04400250FLP01BX | Machine Screw 4-40 x 1/4in Phillips Flat Head 82° 18-8 Stainless Black Oxide | 4-40 | |
| 4-40X1/4FLT PH ST ZC | Machine Screw 4-40 x 1/4in Phillips Flat Head 82° Steel Zinc | 4-40 | |
| 4-40X1/4FT1 PH SS B0 | Machine Screw 4-40 x 1/4in Phillips Flat Head 100° 18-8 Stainless Black Oxide | 4-40 | |
| 4-40 x 1/4in FlatHead Stainless 100° | Machine Screw 4-40 x 1/4in Phillips Flat Head 100° 18-8 Stainless | 4-40 | |
| 4-40M/S ST ZC | Hex Nut 4-40 Steel Zinc | 4-40 | |
| 4-40M/S SS PS | Hex Nut 4-40 18-8 Stainless | 4-40 | |
| 0MAS04400375PNP40ZR | Machine Screw 4-40 x 3/8in Phillips Pan Head Steel Zinc | 4-40 | |
| 4-40X5/8FLT PF ST B0 | Machine Screw 4-40 x 5/8in Phillips Flat Head 82° Steel Black Oxide | 4-40 | |
| 4-40X5/16FT1 PH SS PS | Machine Screw 4-40 x 5/16in Phillips Flat Head 100° 18-8 Stainless | 4-40 | |
| 95345A021 | Machine Screw with Lock Washer (internal tooth) 4-40 x 3/16in Phillips Pan Head 18-8 Stainless | 4-40 | .187 |
| 93085A105 | Mil Spec. Machine Screw 4-40 x 3/16in Phillips Flat Head 100° 18-8 Stainless (MS-24693-C1) | 4-40 | .187 |
| 0MAS04400187FCP0100 | Machine Screw 4-40 x 3/16in Phillips Flat Head 100° 18-8 Stainless | 4-40 | .187 |
| 98286A416 | Machine Screw 4-40 x 3/16in Phillips Flat Head 100° Black Nylon | 4-40 | .187 |
| 96640A052 | Machine Screw 4-40 x 3/16in Phillips Flat Head Undercut 82° 18-8 Stainless Black Oxide | 4-40 | .187 |
| 4-40 x 1/4 MACHINE SCREW FLAT 100 PHIL STEEL BLACK ZINC ROHS | Machine Screw 4-40 x 1/4in Phillips Flat Head 100° Steel Black Zinc | 4-40 | .250 |
| MSPPK0404 | Machine Screw 4-40 x 1/4in Phillips Pan Head 18-8 Stainless Black Oxide | 4-40 | .250 |
| 4-40X1/4PAN PH ST ZC | Machine Screw 4-40 x 1/4in Phillips Pan Head Steel Zinc | 4-40 | .250 |
| 4-40X1/4PAN PH SS PS | Machine Screw 4-40 x 1/4in Phillips Pan Head 18-8 Stainless | 4-40 | .250 |
| 4-40X1/4FT1 PH ST ZC | Machine Screw 4-40 x 1/4in Phillips Flat Head 100° Steel Zinc | 4-40 | .250 |
| 18-8 SS Flat Head (82deg) Phillips Machine Screw 4-40 Thread, 1/4in Length | Machine Screw 4-40 x 1/4in Phillips Flat Head 82° 18-8 Stainless | 4-40 | .250 |
| 91771A107 | Machine Screw 4-40 x 5/16in Phillips Flat Head 82° 18-8 Stainless | 4-40 | .312 |
| 93085A108 | Mil Spec. Machine Screw 4-40 x 3/8in Phillips Flat Head 100° 18-8 Stainless (MS-24693-C4) | 4-40 | .375 |
| SPX1150A | 4-40 x 3/8in Phillips Pan head, Nylon | 4-40 | .375 |
| 18-8 SS Flat Head (82deg) Phillips Machine Screw 4-40 Thread, 3/8in Length | Machine Screw 4-40 x 3/8in Phillips Flat Head 82° 18-8 Stainless | 4-40 | .375 |
| 4-40 x 3/8 FlatHead 100° 18-8SS BlackOX | Machine Screw 4-40 x 3/8in Phillips Flat Head 100° 18-8 Stainless Black Oxide | 4-40 | .375 |
| 4-40 x 3/8in Phillips Panhead, Stainless | Machine Screw 4-40 x 3/8in Phillips Pan Head 18-8 Stainless | 4-40 | .375 |
| 0MAS04400500PNP0100 | Machine Screw 4-40 x 1/2in Phillips Pan Head 18-8 Stainless | 4-40 | .500 |
| 0MAS04400500PNP01BX | Machine Screw 4-40 x 1/2in Phillips Pan Head 18-8 Stainless Black Oxide | 4-40 | .500 |
| 91772A115 | 18-8 Stainless Steel Phillips Rounded Head Screw 4-40 Thread Size, 1in Long | 4-40 | 1.000 |
| 91771A115 | Machine Screw 4-40 x 1in Phillips Flat Head 82° 18-8 Stainless | 4-40 | 1.000 |
| 91771A148 | Machine Screw 6-32 x 1/2in Phillips Flat Head 82° 18-8 Stainless | 6-32 | |
| 6-32 x 3/8in FlatHead Zinc 100º | Machine Screw 6-32 x 3/8in Phillips Flat Head 100° Steel Zinc | 6-32 | |
| 6-32X3/8 FH Black 100 | Machine Screw 6-32 x 3/8in Phillips Flat Head 100° 18-8 Stainless Black Oxide | 6-32 | |
| 6-32X3/8PAN PH SS | Machine Screw 6-32 x 3/8in Phillips Pan Head 18-8 Stainless | 6-32 | |
| 91400A146 | Machine Screw 6-32 x 3/8in Phillips Pan Head 18-8 Stainless (MS 51957-28) | 6-32 | |
| 91475A020 | Mil Spec. Split Lock Washer No.6 18-8 Stainless (MS-35338-136) | 6-32 | |
| 98032A436 | Mil. Spec. Cadmium-Plated Steel Flat Washer, Number 6 Screw Size, MS-27183-43, 0.156" ID | 6-32 | |
| 91240A007 | Mil Spec. Hex Nut 6-32 18-8 Stainless (MS-35649-264) 5/16in Wide, 7/64in High | 6-32 | |
| 91831A007 | Hex Nut Nylon Lock 6-32 18-8 Stainless, Size 5/16in Width, 11/64in Height | 6-32 | |
| 6-32X3/8PAN PH SS B0 | Machine Screw 6-32 x 3/8in Phillips Pan Head 18-8 Stainless Black Oxide | 6-32 | |
| MSPP0606 | Machine Screw 6-32 x 3/8in Phillips Pan Head Steel Zinc | 6-32 | |
| 6-32X3/8FLT PH SS B0 | Machine Screw 6-32 x 3/8in Phillips Flat Head 82° 18-8 Stainless Black Oxide | 6-32 | |
| 6-32X3/8FLT PH ST ZC | Machine Screw 6-32 x 3/8in Phillips Flat Head 82° Steel Zinc | 6-32 | |
| 6-32X3/8FLT PH SS PS | Machine Screw 6-32 x 3/8in Phillips Flat Head 82° 18-8 Stainless | 6-32 | |
| HN0632 | Hex Nut 6-32 Steel Zinc | 6-32 | |
| HNS0632 | Hex Nut 6-32 18-8 Stainless | 6-32 | |
| 96537A130 | Hex Nut 6-32 18-8 Stainless Black Oxide | 6-32 | |
| 90272A143 | Machine Screw 6-32 x 3/16in Phillips Pan Head Steel Zinc | 6-32 | .187 |
| 90273A143 - 45Drives | Machine Screw 6-32 x 3/16in Phillips Flat Head Undercut 82° Steel Zinc - 45Drives | 6-32 | .187 |
| 91772A143 | Machine Screw 6-32 x 3/16in Phillips Pan Head 18-8 Stainless | 6-32 | .187 |
| 97763A141 | Black-Oxide SS Button Head Socket Cap Screw 6-32 Thread, 1/4in Length | 6-32 | .250 |
| 6-32 x 1/4 FlatHead 100° 18-8SS BlackOX | Machine Screw 6-32 x 1/4in Phillips Flat Head 100° 18-8 Stainless Black Oxide | 6-32 | .250 |
| 0MAS06320250PNP01BX | Machine Screw 6-32 x 1/4in Phillips Pan Head 18-8 Stainless steel Black Oxide | 6-32 | .250 |
| MSPP0604 | Machine Screw 6-32 x 1/4in Phillips Pan Head Steel Zinc | 6-32 | .250 |
| 6-32X1/4PAN PH SS | Machine Screw 6-32 x 1/4in Phillips Pan Head 18-8 Stainless | 6-32 | .250 |
| 0MAS06320250FCP40ZR | Machine Screw 6-32 x 1/4in Phillips Flat Head 100° Steel Zinc | 6-32 | .250 |
| 6-32X1/4FT1 PH SS PS | Machine Screw 6-32 x 1/4in Phillips Flat Head 100° 18-8 Stainless | 6-32 | .250 |
| 6-32X1/4FLT PH ST B0 | Machine Screw 6-32 x 1/4in Phillips Flat Head 82° 18-8 Stainless Black Oxide | 6-32 | .250 |
| 6-32X1/4FLT PH SS PS | Machine Screw 6-32 x 1/4in Phillips Flat Head 82° 18-8 Stainless | 6-32 | .250 |
| 93085A145 | Machine Screw 6-32 x 5/16in Phillips Flat Head 100° 18-8 Stainless (MS24693-C25) | 6-32 | .312 |
| 91259A162 | Alloy Steel Shoulder Screw 5/32in Diameter x 3/8in Long Shoulder, 6-32 Thread | 6-32 | .375 |
| PSM6x3/8-PH-SS-TYB-BP | Thread Forming Screw No.6 x 3/8in Phillips Pan Head 18-8 Stainless Black Passivate | 6-32 | .375 |
| FSM6x3/8-PH-SS-TYB | Thread Forming Screw No.6 x 3/8in Phillips Flat Head 82° 18-8 Stainless | 6-32 | .375 |
| FSM6x3/8-PH-SS-TYB-BP | Thread Forming Screw No.6 x 3/8in Phillips Flat Head 82° 18-8 Stainless Black Passivate | 6-32 | .375 |
| FCMPS0606 | Machine Screw 6-32 x 3/8in Phillips Flat Head 100° 18-8 Stainless | 6-32 | .375 |
| PSM6x3/8-PH-SS-TYB | Thread Forming Screw No.6 x 3/8in Phillips Pan Head 18-8 Stainless | 6-32 | .375 |
| 97124A236 | Machine Screw 6-32 x 3/8in Phillips Flat Head 82° 2024 Aluminum | 6-32 | .375 |
| 91772A149 | Machine Screw 6-32 x 7/16in Phillips Pan Head 18-8 Stainless | 6-32 | .437 |
| 93085A148 | Machine Screw 6-32 x 1/2in Phillips Flat Head 100° 18-8 Stainless (MS24693-C28) | 6-32 | .500 |
| PSM6x1/2-PH-SS-TYB-BP | Thread Forming Screw No.6 x 1/2in Phillips Pan Head 18-8 Stainless Black Passivate | 6-32 | .500 |
| FSM6x1/2-PH-SS-TYB | Thread Forming Screw No.6 x 1/2in Phillips Flat Head 82° 18-8 Stainless | 6-32 | .500 |
| FSM6x1/2-PH-SS-TYB-BP | Thread Forming Screw No.6 x 1/2in Phillips Flat Head 82° 18-8 Black Passivate | 6-32 | .500 |
| PSM6x1/2-PH-SS-TYB | Thread Forming Screw No.6 x 1/2in Phillips Pan Head 18-8 Stainless | 6-32 | .500 |
| 0MAS06320500PNP0100 | Machine Screw 6-32 x 1/2in Phillips Pan Head 18-8 Stainless | 6-32 | .500 |
| 0MAS06320500PNP01BX | Machine Screw 6-32 x 1/2in Phillips Pan Head 18-8 Stainless Black Oxide | 6-32 | .500 |
| 91772A151 | Machine Screw 6-32 x 3/4in Phillips Pan Head 18-8 Stainless | 6-32 | .750 |
| 93085A151 | Machine Screw 6-32 x 3/4in Phillips Flat Head 100° 18-8 Stainless (MS24693-C30) | 6-32 | .750 |
| 91771A153 | Machine Screw 6-32 x 1in Phillips Flat Head 82° 18-8 Stainless | 6-32 | 1.000 |
| 90273A157 | Machine Screw 6-32 x 1-1/2in Phillips Flat Head 82° Steel Zinc | 6-32 | 1.500 |
| MSPP0806 | Machine Screw 8-32 x 3/8in Phillips Pan Head Steel Zinc | 8-32 | |
| 8-32X3/8FLT PH SS B0 | Machine Screw 8-32 x 3/8in Phillips Flat Head 82° 18-8 Stainless Black Oxide | 8-32 | |
| 8-32 x 3/8in FlatHead Zinc 82° | Machine Screw 8-32 x 3/8in Phillips Flat Head 82° Steel Zinc | 8-32 | |
| 91831A009 | Hex Nut Nylon Lock 8-32 18-8 Stainless, Size 11/32in Width, 15/64in Height | 8-32 | |
| FMSP0806 | Machine Screw 8-32 x 3/8in Phillips Flat Head 82° 18-8 Stainless | 8-32 | |
| HN0832 | Hex Nut 8-32 Steel Zinc | 8-32 | |
| HN_8-32_18-8SS | Hex Nut 8-32 18-8 Stainless | 8-32 | |
| 0NUT08320000MS001BX | Hex Nut 8-32 18-8 Stainless Black Oxide | 8-32 | |
| 93181A009 | Hex Nut 8-32 6061 Aluminum | 8-32 | |
| 8-32X1/4FLT PH SS B0 | Machine Screw 8-32 x 1/4in Phillips Flat Head 82° 18-8 Stainless Black Oxide | 8-32 | |
| FMPP0804 | Machine Screw 8-32 x 1/4in Phillips Flat Head 82° Steel Zinc | 8-32 | |
| 8-32X1/4PAN PH ST ZC | Machine Screw 8-32 x 1/4in Phillips Pan Head Steel Zinc | 8-32 | |
| FCMP0806 | Machine Screw 8-32 x 3/8in Phillips Flat Head 100° Steel Zinc | 8-32 | |
| 91475A025 | Mil Spec. Split Lock Washer No.8 18-8 Stainless (MS-35338-137) | 8-32 | |
| 91240A009 | Mil Spec. Hex Nut 8-32 18-8 Stainless (MS-35649-284) 11/32in Wide, 1/8in High | 8-32 | |
| 0MAS08320500PNP01BX | Machine Screw 8-32 x 1/2in Phillips Pan Head 18-8 Black Oxide | 8-32 | |
| 91772A190 | Machine Screw 8-32 x 1/4in Phillips Pan Head 18-8 Stainless | 8-32 | .250 |
| 0MAS08320250PNP40BR | Machine Screw 8-32 x 1/4in Phillips Pan Head Steel Black Oxide | 8-32 | .250 |
| 8-32X1/4FT1 PH SS BO | Machine Screw 8-32 x 1/4in Phillips Flat Head 100° 18-8 Stainless Black Oxide | 8-32 | .250 |
| 96640A122 | Machine Screw 8-32 x 1/4in Phillips Flat Head Undercut 82° 18-8 Stainless Black Oxide | 8-32 | .250 |
| 8-32X3/8PAN PH ST BZ | Machine Screw 8-32 x 3/8in Phillips Pan Head Steel Black Zinc | 8-32 | .375 |
| 8-32X3/8PAN PH SS PS | Machine Screw 8-32 x 3/8in Phillips Pan Head 18-8 Stainless | 8-32 | .375 |
| 97124A336 | Machine Screw 8-32 x 3/8in Phillips Flat Head 82° 2024 Aluminum | 8-32 | .375 |
| 8-32 x 3/8 PanHead 18-8SS BlackOX | Machine Screw 8-32 x 3/8in Phillips Pan Head 18-8 Stainless Black Oxide | 8-32 | .375 |
| FCMPS0806 | Machine Screw 8-32 x 3/8in Phillips Flat Head 100° 18-8 Stainless | 8-32 | .375 |
| 90825A814 | Machine Screw 8-32 x 3/8in Phillips Pan Head 18-8 Stainless (Sealing) | 8-32 | .375 |
| 8-32X3/8FT1 PH SS B0 | Machine Screw 8-32 x 3/8in Phillips Flat Head 100° 18-8 Stainless Black Oxide | 8-32 | .375 |
| 91400A194 | Mil Spec. Machine Screw 8-32 x 1/2in Phillips Pan Head 18-8 Stainless (MS-51957-45) | 8-32 | .500 |
| 0MAS08320500PNP0100 | Machine Screw 8-32 x 1/2in Phillips Pan Head 18-8 Stainless | 8-32 | .500 |
| 97763A178 | Socket Cap Screw 8-32 x 1/2in Button Head 18-8 Stainless Black Oxide (Fully Threaded) | 8-32 | .500 |
| 91771A194 | Machine Screw 8-32 x 1/2in Phillips Flat Head 82° 18-8 Stainless | 8-32 | .500 |
| 91771A199 | Machine Screw 8-32 x 1in Phillips Flat Head 82° 18-8 Stainless | 8-32 | 1.000 |
| 91772A199 | 18-8 Stainless Steel Pan Head Phillips Machine Screw, 8-32 Thread, 1in Length | 8-32 | 1.000 |
| 90273A203 | Machine Screw 8-32 x 1-1/2in Phillips Flat Head 82° Steel Zinc | 8-32 | 1.500 |
| 10-24 x 3/8in PanHead Zinc | Machine Screw 10-24 x 3/8in Phillips Pan Head Steel Zinc | 10-24 | |
| 10-24 x 3/8in FlatHead Zinc 82º | Machine Screw 10-24 x 3/8in Phillips Flat Head 82° Steel Zinc | 10-24 | |
| HN_10-24_ST_ZI | Hex Nut 10-24 Steel Zinc | 10-24 | |
| MSPP1120 | Machine Screw 10-32 x 1 1/4in Phillips Pan Head Steel Zinc | 10-32 | |
| 10-32X3/8PAN PH ST ZC | Machine Screw 10-32 x 3/8in Phillips Pan Head Steel Zinc | 10-32 | |
| 10-32X3/8PAN PH SS PS | Machine Screw 10-32 x 3/8in Phillips Pan Head 18-8 Stainless | 10-32 | |
| 10-32X3/8FLT PH SS PS | Machine Screw 10-32 x 3/8in Phillips Flat Head 82° 18-8 Stainless | 10-32 | |
| 10-32X3/8FLT PH ST ZC | Machine Screw 10-32 x 3/8in Phillips Flat Head 82° Steel Zinc | 10-32 | |
| HNS1032 | Hex Nut 10-32 18-8 Stainless | 10-32 | |
| 90257A411 | Hex Nut 10-32 316 Stainless | 10-32 | |
| 92147A430 | Split Lock Washer No.10 316 Stainless (pack 100) | 10-32 | |
| 91771A825 | Machine Screw 10-32 x 1/4in Phillips Flat Head Undercut 82° 18-8 Stainless | 10-32 | .250 |
| 0NUT10320000MS040ZR | Hex Nut 10-32 Steel Zinc | 10-32 | .250 |
| 91251A338 | Socket Cap Screw 10-32 x 1/4in Socket Head Steel Black Oxide (Fully Threaded) | 10-32 | .250 |
| 91249A258 | Black-Oxide Fnsh Pan Head Phil Machine Screw 18-8 SS, 10-32 Thread, 1/4in Length | 10-32 | .250 |
| 93085A823 | Mil Spec. Machine Screw 10-32 x 5/16in Phillips Flat Head 100° 18-8 Stainless (MS-24693-C269) | 10-32 | .312 |
| 18-8 10-32 x 5/16 FLT PH MS | Machine Screw 10-32 x 5/16in Phillips Flat Head 82° 18-8 Stainless | 10-32 | .312 |
| 91249A260 | Black-Oxide Fnsh Pan Head Phil Machine Screw 18-8 SS, 10-32 Thread, 0.375in Length | 10-32 | .375 |
| 91735A827 | Machine Screw 10-32 x 3/8in Phillips Pan Head 316 Stainless | 10-32 | .375 |
| 96640A141 | 18-8 SS Flat Head Phillips Machine Screw Black Oxide Finish, 10-32 Thread, 3/8in Length, 82 degree | 10-32 | .375 |
| 10-32 x 3/8in FlatHead SS 100º | Machine Screw 10-32 x 3/8in Phillips Flat Head 100° 18-8 Stainless | 10-32 | .375 |
| 91771A829 | 18-8 SS Flat Head Phillips Machine Screw 10-32 Thread, 1/2in Length | 10-32 | .500 |
| 10-32 x 1/2in PanHead Stainless (18-8) | Machine Screw 10-32 x 1/2in Phillips Pan Head 18-8 Stainless | 10-32 | .500 |
| 97763A232 | Socket Cap Screw 10-32 x 1/2in Button Head 18-8 Stainless Black Oxide (Fully Threaded) | 10-32 | .500 |
| 91735A830 | Machine Screw 10-32 x 5/8in Phillips Pan Head 316 Stainless | 10-32 | .625 |
| 91772A833 | Passivated 18-8 Stainless Steel Pan Head Phillips Screw 10-32 Thread, 1" Long | 10-32 | 1.000 |
| 91771A833 | Machine Screw 10-32 x 1in Phillips Flat Head 82° 18-8 Stainless | 10-32 | 1.000 |
| 91772A835 | Machine Screw 10-32 x 1 1/4in Phillips Pan Head 18-8 Stainless | 10-32 | 1.250 |
| 93575A029 | Wing Nut 1/4-20 316 Stainless | 1/4-20 | |
| 91849A029 | Hex Nut 1/4-20 18-8 Stainless (Extra-Wide - 1/2in Wide, 15/64in High) | 1/4-20 | |
| 95462A029 | Hex Nut 1/4-20 Steel Zinc | 1/4-20 | |
| 95479A111 | Hex Nut 1/4-20 Steel Black Oxide | 1/4-20 | .375 |
| 91772A537 | Machine Screw 1/4-20 x 1/2in Phillips Pan Head 18-8 Stainless | 1/4-20 | .500 |
| 92185A542 | Socket Cap Screw 1/4-20 x 1in Socket Head 316 Stainless (Fully Threaded) | 1/4-20 | 1.000 |
| 95479A118 | Hex Nut 3/8-16 Steel Black Oxide | 3/8-16 | |
| 94804A030 | Hex Nut 5/16-18 316 Stainless | 5/16-18 | |
| 92196A578 | Socket Cap Screw 5/16-18 x 1/2in Socket Head 18-8 Stainless (Fully Threaded) | 5/16-18 | .500 |
| 9200A104 | Machine Screw M2.5-.45 x 6mm Phillips Pan Head 18-8 Stainless | m2.5 | 6 mm |
| M3HEX ST SS | Hex Nut M3-.5 18-8 Stainless | m3 | |
| MMASM003M004PNP0100 | Machine Screw M3-.5 x 4mm Phillips Pan Head 18-8 Stainless | m3 | .250 |
| M3HEX ST ZC | Hex Nut M3-.5 Steel Zinc | m3 | .250 |
| 92010A122 | Machine Screw M3-.5 x 12mm Phillips Flat Head 90° 18-8 Stainless | m3 | 12 mm |
| M3X12MMPAN PH SS PS | Machine Screw M3-.5 x 12mm Phillips Pan Head 18-8 Stainless | m3 | 12 mm |
| 92000A130 | 18-8 Stainless Steel Metric Pan Head Phillips Machine Screw, M3 Size, 25mm Length, .5mm Pitch | m3 | 25 mm |
| 92010A130 | Machine Screw M3-.5 x 25mm Phillips Flat Head 90° 18-8 Stainless | m3 | 25 mm |
| M3X4MMFT9 | Machine Screw M3-.5 x 4mm Phillips Flat Head 90° 18-8 Stainless | m3 | 4 mm |
| 91698A301 | Machine Screw M3-.5 x 5mm Phillips Flat Head 90° 18-8 Stainless Black Oxide | m3 | 5 mm |
| M3X6MMPAN PH ST B0 | M3 x 6mm PanHead, Steel, Black | m3 | 6 mm |
| M3X6MMPAN PH SS PS | Machine Screw M3-.5 x 6mm Phillips Pan Head 18-8 Stainless | m3 | 6 mm |
| Machine screw, Phillips pan head, M3x.5, 6mm length, Stainless, Black Oxide | Machine screw, Phillips pan head, M3x.5, 6mm length, 18-8 Stainless, Black Oxide | m3 | 6 mm |
| 92010A118 | Machine Screw M3-.5 x 8mm Phillips Flat Head 90° 18-8 Stainless | m3 | 8 mm |
| M3X8MMPAN PH SS PS | Machine Screw M3-.5 x 8mm Phillips Pan Head 18-8 Stainless | m3 | 8 mm |
| M3 x 8mm PanHead 18-8 Stainless, Black | Machine Screw M3-.5 x 8mm Phillips Pan Head 18-8 Stainless Black Oxide | m3 | 8 mm |
| 91698A304 | Machine Screw M3-.5 x 8mm Phillips Flat Head 90° 18-8 Stainless Black Oxide | m3 | 8 mm |
| M4HEX ST ZC | Hex Nut M4-.7 Steel Zinc | m4 | |
| M4HEX ST SS | Hex Nut M4-.7 18-8 Stainless | m4 | |
| 92010A222 | Machine Screw M4-.7 x 12mm Phillips Flat Head 90° 18-8 Stainless | m4 | 12 mm |
| 92125A192 | 18-8 Stainless Steel Hex Drive Flat Head Screw M4 x 0.7 mm Thread, 12 mm Long | m4 | 12 mm |
| 92000A222 | 18-8 Stainless Steel Metric Pan Head Phillips Machine Screw, M4 Size, 12mm Length, .7mm Pitch | m4 | 12 mm |
| 92010A230 | Machine Screw M4-.7 x 25mm Phillips Flat Head 90° 18-8 Stainless | m4 | 25 mm |
| 92000A230 | 18-8 Stainless Steel Phillips Rounded Head Screws, M4 x 0.7 mm Thread, 25 mm Long | m4 | 25 mm |
| M4X5MMPAN PH SS PS | Machine Screw M4-.7 x 5mm Phillips Pan Head 18-8 Stainless | m4 | 5 mm |
| M4X6MMPAN PH ST ZC | Machine Screw M4-.7 x 6mm Phillips Pan Head Steel Zinc | m4 | 6 mm |
| M4X6MMFT9 PH ST ZC | Machine Screw M4-.7 x 6mm Phillips Flat Head 90° Steel Zinc | m4 | 6 mm |
| M4X6MMPAN PH ST ZB | Machine Screw M4-.7 x 6mm Phillips Pan Head Steel Black Oxide | m4 | 6 mm |
| Machine screw, Phillips pan head, M4-.7, 6mm length, Stainless, Black Oxide | Machine Screw M4-.7 x 6mm Phillips Pan Head 18-8 Stainless Black Oxide | m4 | 6 mm |
| M4X8MMFT9 PH ST ZC | Machine Screw M4-.7 x 8mm Phillips Flat Head 90° Steel Zinc | m4 | 8 mm |
| M4X8MMFT9 PH SS PS | Machine Screw M4-.7 x 8mm Phillips Flat Head 90° 18-8 Stainless | m4 | 8 mm |
| MMASM004M008PNP01BX | Machine Screw M4-.7 x 8mm Phillips Pan Head 18-8 Stainless Black Oxide | m4 | 8 mm |
| 92000A218 | Machine Screw M4-.7 x 8mm Phillips Pan Head 18-8 Stainless | m4 | 8 mm |
| 91698A426 | Machine Screw M4-.7 x 8mm Phillips Flat Head 90° 18-8 Stainless Black Oxide | m4 | 8 mm |
| 91828A241 | Hex Nut M5-.8 18-8 Stainless | m5 | |
| 92000A320 | Machine Screw M5-.8 x 10mm Phillips Pan Head 18-8 Stainless | m5 | 10 mm |
| 92010A320 | Machine Screw M5-.8 x 10mm Phillips Flat Head 90° 18-8 Stainless | m5 | 10 mm |
| M5HEX ST ZC | Hex Nut M5-.8 Steel Zinc | m5 | 8 mm |
| M6HEX ST ZC | Hex Nut M6-1 Steel Zinc | m6 | |
| M6 x 10mm FlatHead Stainless 90º | Machine Screw M6-1 x 10mm Phillips Flat Head 90° 18-8 Stainless | m6 | 10 mm |
| 92000A424 | Passivated 18-8 Stainless Steel Pan Head Phillips Screws M6 x 1mm Thread, 12mm Long | m6 | 12 mm |
| 92010A424 | Passivated 18-8 Stainless Steel Phillips Flat Head Screw M6 x 1 mm Thread, 12 mm Long | m6 | 12 mm |
| 92000A430 | Passivated 18-8 Stainless Steel Pan Head Phillips Screws M6 x 1mm Thread, 25mm Long | m6 | 25 mm |
| 92010A430 | Passivated 18-8 Stainless Steel Phillips Flat Head Screw M6 x 1 mm Thread, 25 mm Long | m6 | 25 mm |
| 93181A003 | Hex Nut 4-40 6061 Aluminum | | |
| 98019A314 | Mil Spec. Flat Washer No.6 18-8 Stainless (MS-15795-805) ID.156in x OD.312 | | |
| MILSMS35338-136 | WASHER, SPRING-LOCK # 6 REGULAR (MEDIUM) SERIES, CRES MS35338-136 | | |
| 98019A325 | MS15795-807, WASHER No.8, .38inOD, .19inID, .04-.07inTHK | | |
| 90107A030 | Type 316 Stainless Steel Flat Washer, 5/16" Screw Size, 0.344" ID, 0.750" OD | | |
| FASTENER TBD | FASTENER TBD | | |
| 90130A011 | EPDM Rubber Washer NO. 10 Screw Size, 3/8" OD, .093" Thick | | |
| 95635A537 | Socket Cap Screw 1/4-20 x 1/2in Button Head 18-8 Stainless (Security style Pin in) (Fully Threaded) | | |
| HEX_NUT_GENERIC_STANDARD | HEX_NUT_GENERIC_STANDARD | | |
| HEX_NUT_GENERIC_METRIC | HEX_NUT_GENERIC_METRIC | | |
| MACHINE_SCREW_GENERIC_METRIC | MACHINE_SCREW_GENERIC_METRIC | | |
| 95836A253 | Machine Screw M2.5-.45 x 6mm Phillips Pan Head 18-8 Stainless BO | | |
| 92147A029 | Split Lock Washer Screw Size 1/4in 316 Stainless | | |
| MACHINE_SCREW_GENERIC_STANDARD | MACHINE_SCREW_GENERIC_STANDARD | | |
| 91755A200 | Nylon Self-Retaining Washer, Number 2/M2 Screw Size, 13/64in OD, .02in-.04in Thick | | |
| 91475A018 | Mil Spec. Split Lock Washer No.4 18-8 Stainless (MS-35338-135) | | |
| 98032A425 | Mil. Spec. Cadmium-Plated Steel Flat Washer, Number 4 Screw Size, MS-27183-4, 0.125" ID | | |
| 98032A514 | Mil. Spec. Cadmium-Plated Steel Flat Washer, 3/8" Screw Size, MS-27183-14, 0.406" ID | | |
| 91475A031 | Mil Spec. Split Lock Washer Screw Size 3/8in 18-8 Stainless (MS-35338-141) | | |