Products & Services
Protocase manufactures fully finished custom electronic enclosures and associated parts from a wide variety of materials and components, in 2-3 days with no minimum order. Protocase also provides expert and affordable enclosure design services.
Hardware
Protocase Tech Tip Video
Quick video about Louvers
Protocase stocks a wide variety of hardware items that enhance the functionality of electronics enclosures. If we don't stock it, we can usually obtain just about any item that you may wish to utilize in your design. We've listed a few of the most common items below for your convenience. If you have questions regarding details or availability of hardware items, please email us at info@protocase.com and we'll respond to you quickly.
Louvers
Louvers provide ventilation openings in your enclosure, while maintaining a degree of protection against accidental entry of dirt or foreign objects. For low volume jobs, louvers are formed on a press brake using special tooling. Protocase maintains tooling for making the nominal 2" louvers shown below, so that we can build enclosures or sheet metal components that include these louvers, without extra lead time or tooling charges.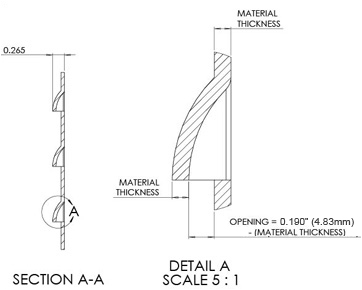 Guidelines:
Maximum Material Thickness: 0.081"
Minimum Separations:

0.625" (15.88mm) From Louver to any Edge or Bend
2.6" (66.04mm) Horizontal Center to Center Spacing
1.25" (31.75mm) Vertical center to Center Spacing
0.5" (12.7mm) From Edges of Louvers to Center of a Self Clinching Fastener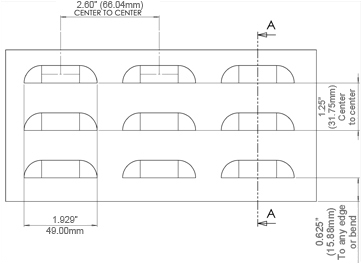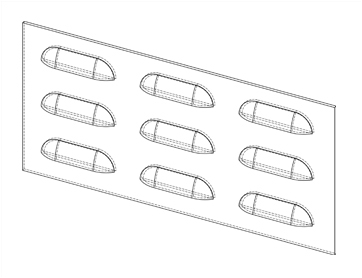 Downloads:
The Protocase Louver DXF file contains the drawings shown on this page, and are useful for 2-D designs.
Download our Louver .dxf file
The SolidWorks Louver Form file is a form tool for SolidWorks users. Download and install this file to your Solidworks Forming Tool Library to conveniently add louvers to your 3D solidworks models.
Download our Solidworks form