Products & Services
Protocase manufactures fully finished custom electronic enclosures and associated parts from a wide variety of materials and components, in 2-3 days with no minimum order. Protocase also provides expert and affordable enclosure design services.
Louvers
Protocase Tech Tip Video
Quick video about Louvers
Louvers provide ventilation openings in your enclosure, while maintaining a degree of protection against accidental entry of dirt, dripping water or foreign objects. Louvers are formed using press brake machinery and a special top and bottom die. After the metal has been cut with a pre-slit, the piece is formed using the press brake, with the die pushing into the pre-slit area. The end result is a raised window with protection on three sides and an opening on the fourth side.
Louvers can satisfy NEMA rating requirements up to 3R and IP ratings of IP53.
Protocase maintains tooling for creating nominal 2", 4" and 6" louvers. We can build enclosures and sheet metal components with louvers in 2-3 days, with no extra lead time or tooling charges.
Louver Sizes:
2" (50.8mm)
4" (101.6mm)
6" (152.4mm)
All louvers will have a standard height that will depend on the material thickness used. It will be approximately equal to 0.190" + Material Thickness.

For example, a 2" louver in 16 Gauge 0.063" Stainless Steel will be 0.253" high.
Materials:
Louvers are available on the following stocked materials at Protocase:
Aluminum
Stainless Steel
Cold Rolled Steel
Galvanneal
Material must not exceed 0.1285" (3.264mm) in thickness.
Minimum Separations:
| Louver Size | Space from Louverto Edge or Bend | Horizontal Centerto Center Spacing | Vertical Centerto Center Spacing |
| --- | --- | --- | --- |
| 2" (50.8mm) | 0.625" (15.88mm) | 2.6" (66.04mm) | 1.25" (31.75mm) |
| 4" (101.6mm) | 0.625" (15.88mm) | 4.6" (116.98mm) | 1.25" (31.75mm) |
| 6" (152.4mm) | 0.625" (15.88mm) | 6.6" (167.84mm) | 1.25" (31.75mm) |
Keep Out Zones for Self-Clinching Fasteners:
Louver Size
Fastener Height
Horizontal
Vertical
Front of Louver
Vertical
Back of Louver
2" (50.8mm)
<0.400" (10.16mm)
0.850" (21.59mm)
0.700" (17.78mm)
0.800" (20.32mm)
2" (50.8mm)
>0.400" (10.16mm)
2.315" (58.801mm)
0.700" (17.78mm)
1.250" (31.75mm)
4" (101.6mm)
<0.400" (10.16mm)
0.850" (21.59mm)
0.700" (17.78mm)
0.800" (20.32mm)
4" (101.6mm)
>0.400" (10.16mm)
2.315" (58.801mm)
0.700" (17.78mm)
1.250" (31.75mm)
6" (152.4mm)
<0.400" (10.16mm)
0.850" (21.59mm)
0.700" (17.78mm)
0.800" (20.32mm)
6" (152.4mm)
>0.400" (10.16mm)
1.315" (33.401mm)
0.700" (17.78mm)
1.250" (31.75mm)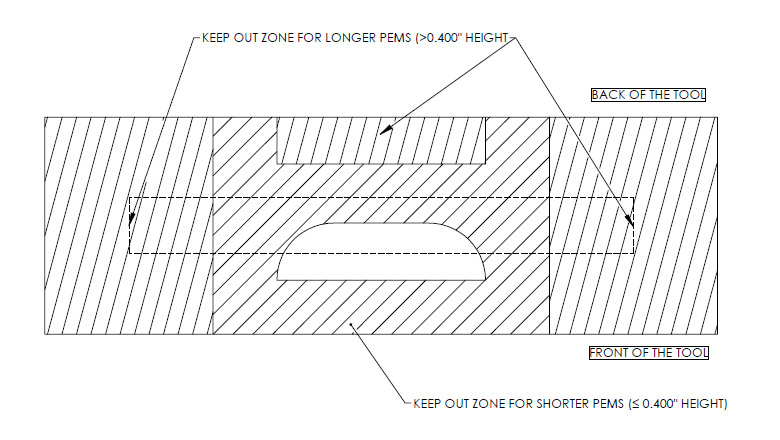 Resources: