Products & Services
Protocase manufactures fully finished custom electronic enclosures and associated parts from a wide variety of materials and components, in 2-3 days with no minimum order. Protocase also provides expert and affordable enclosure design services.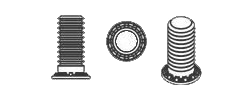 Self Clinching Studs
Please note: To view our stocked inventory of conventional fasteners, plese visit protocase.com on a desktop or laptop computer.
A standoff is a fastener that gives you a permanently threaded screw inside your enclosure or part that can be used for many different purposes, including mounting or grounding components.

The following table lists all of the Self-Clinching Studs we work with. Use the drop-down menus to filter through the selections, including stock and non-stock options.

Non-stock fasteners must be ordered in a minimum quantity, and are subject to vendor availability and may extend manufacturing lead times.

Click on the Part Number to see more information about the fastener. To clear your filters, click the button labelled "Reset Filters."
Part Number
Description
Thread
Size
Length
(mm)
Materials NOT
Compatible
Stock


FHS-256-4
flush-head self-clinching stud
2-56
.250
Stainless
In-Stock
FH-256-4ZI
flush-head self-clinching stud
2-56
.250
Stainless
In-Stock
FH-256-6ZI
flush-head self-clinching stud
2-56
.375
Stainless
In-Stock
FH-256-8ZI
flush-head self-clinching stud
2-56
.500
Stainless
In-Stock
FH-256-10ZI
flush-head self-clinching stud
2-56
.625
Stainless
In-Stock
FH-256-12ZI
flush-head self-clinching stud
2-56
.750
Stainless
In-Stock
FH4-440-4
flush-head self-clinching stud for stainless steel
4-40
.250
In-Stock
FH-440-4ZI
flush-head self-clinching stud
4-40
.250
Stainless
In-Stock
FHS-440-4
flush-head self-clinching stud
4-40
.250
Stainless
In-Stock
CHA-440-4
concealed-head studs
4-40
.250
Stainless Cold-rolled
In-Stock
CHC-440-4
concealed-head studs
4-40
.250
Stainless
In-Stock
FHA-440-4
flush-head self-clinching stud
4-40
.250
Stainless Cold-rolled
In-Stock
FH-440-5ZI
flush-head self-clinching stud
4-40
.312
Stainless
In-Stock
FH4-440-5
flush-head self-clinching stud for stainless steel
4-40
.312
In-Stock
FHL-440-6ZI
flush head studs (low-displacement head)
4-40
.375
Stainless
In-Stock
FH4-440-6
flush-head self-clinching stud for stainless steel
4-40
.375
In-Stock
FH-440-6ZI
flush-head self-clinching stud
4-40
.375
Stainless
In-Stock
CHC-440-6
concealed-head studs
4-40
.375
Stainless
In-Stock
FH-440-8ZI
flush-head self-clinching stud
4-40
.500
Stainless
In-Stock
FH4-440-8
flush-head self-clinching stud for stainless steel
4-40
.500
In-Stock
CHC-440-8
concealed-head studs
4-40
.500
Stainless
In-Stock
FHA-440-8
flush-head self-clinching stud
4-40
.500
Stainless Cold-rolled
In-Stock
CHA-440-8
concealed-head studs
4-40
.500
Stainless Cold-rolled
In-Stock
FH4-440-10
flush-head self-clinching stud for stainless steel
4-40
.625
In-Stock
FH-440-10ZI
flush-head self-clinching stud
4-40
.625
Stainless
In-Stock
FH4-440-12
flush-head self-clinching stud for stainless steel
4-40
.750
In-Stock
FH-440-12ZI
flush-head self-clinching stud
4-40
.750
Stainless
In-Stock
CHC-440-12
concealed-head studs
4-40
.750
Stainless
In-Stock
FHA-440-12
flush-head self-clinching stud
4-40
.750
Stainless Cold-rolled
In-Stock
FH-440-14ZI
flush-head self-clinching stud
4-40
.875
Stainless
In-Stock
FH-440-16ZI
flush-head self clinching stud
4-40
1.000
Stainless
In-Stock
FH4-440-16
flush-head self-clinching stud for stainless steel
4-40
1.000
In-Stock
FH-440-20ZI
flush-head self clinching stud
4-40
1.250
Stainless
In-Stock
CHA-632-4
concealed-head studs
6-32
.250
Stainless Cold-rolled
In-Stock
CHC-632-4
concealed-head studs
6-32
.250
In-Stock
FH-632-4ZI
flush-head self-clinching stud
6-32
.250
Stainless
In-Stock
FH4-632-4
flush-head self-clinching stud for stainless steel
6-32
.250
In-Stock
FH-632-5ZI
flush-head self-clinching stud
6-32
.312
Stainless
In-Stock
FH4-632-6
flush-head self-clinching stud for stainless steel
6-32
.375
In-Stock
FH-632-6ZI
flush-head self-clinching stud
6-32
.375
Stainless
In-Stock
CHC-632-6
concealed-head studs
6-32
.375
Stainless
In-Stock
CHA-632-8
concealed-head studs
6-32
.500
Stainless Cold-rolled
In-Stock
FH4-632-8
flush-head self-clinching stud for stainless steel
6-32
.500
In-Stock
FHS-632-8
flush-head self-clinching stud
6-32
.500
Stainless
In-Stock
FH-632-8ZI
flush-head self-clinching stud
6-32
.500
Stainless
In-Stock
CHC-632-8
concealed-head studs
6-32
.500
Stainless
In-Stock
FH-632-10ZI
flush-head self-clinching stud
6-32
.625
Stainless
In-Stock
FH4-632-10
flush-head self-clinching stud for stainless steel
6-32
.625
In-Stock
FH-632-12ZI
flush-head self-clinching stud
6-32
.750
Stainless
In-Stock
FH4-632-12
flush-head self-clinching stud for stainless steel
6-32
.750
In-Stock
CHC-632-12
concealed-head studs
6-32
.750
Stainless
In-Stock
FH-632-14ZI
flush-head self-clinching stud
6-32
.875
Stainless
In-Stock
FH-632-16ZI
flush-head self-clinching stud
6-32
1.000
Stainless
In-Stock
FH4-632-20
flush-head self-clinching stud for stainless steel
6-32
1.250
In-Stock
FH-632-20ZI
flush-head self-clinching stud
6-32
1.250
Stainless
In-Stock
FHS-632-24
flush-head self-clinching stud
6-32
1.500
Stainless
In-Stock
FH-632-24ZI
flush-head self-clinching stud
6-32
1.500
Stainless
In-Stock
FH4-832-4
flush-head self-clinching stud for stainless steel
8-32
.250
In-Stock
FH-832-4ZI
flush-head self-clinching stud
8-32
.250
Stainless
In-Stock
FH4-832-5
flush-head self-clinching stud for stainless steel
8-32
.312
In-Stock
FH-832-6ZI
flush-head self-clinching stud
8-32
.375
Stainless
In-Stock
FHA-832-6
flush-head self-clinching stud
8-32
.375
Stainless Cold-rolled
In-Stock
CHC-832-6
concealed-head studs
8-32
.375
Stainless
In-Stock
FH4-832-6
flush-head self-clinching stud for stainless steel
8-32
.375
In-Stock
FH-832-8ZI
flush-head self-clinching stud
8-32
.500
Stainless
In-Stock
FH4-832-8
flush-head self-clinching stud for stainless steel
8-32
.500
In-Stock
CHC-832-8
concealed-head studs
8-32
.500
In-Stock
FH-832-10ZI
flush-head self-clinching stud
8-32
.625
Stainless
In-Stock
FH4-832-10
flush-head self-clinching stud for stainless steel
8-32
.625
In-Stock
FH-832-12ZI
flush-head self-clinching stud
8-32
.750
Stainless
In-Stock
FH4-832-12
flush-head self-clinching stud for stainless steel
8-32
.750
In-Stock
CHC-832-12
concealed-head studs
8-32
.750
Stainless
In-Stock
FH-832-16ZI
flush-head self-clinching stud
8-32
1.000
Stainless
In-Stock
FH4-832-20
flush-head self-clinching stud for stainless steel
8-32
1.250
In-Stock
FH-832-20ZI
flush-head self-clinching stud
8-32
1.250
Stainless
In-Stock
FH-024-6ZI
flush-head self clinching stud
10-24
.375
Stainless
In-Stock
FH-024-8ZI
flush-head self clinching stud
10-24
.500
Stainless
In-Stock
FH-024-12ZI
flush-head self clinching stud
10-24
.750
Stainless
In-Stock
FH-024-16ZI
flush-head self clinching stud
10-24
1.000
Stainless
In-Stock
FH-032-5ZI
flush-head self clinching stud
10-32
.312
Stainless
In-Stock
FH4-032-6
flush-head self-clinching stud for stainless steel
10-32
.375
In-Stock
FH-032-6ZI
flush-head self clinching stud
10-32
.375
Stainless
In-Stock
CHC-032-8
concealed-head studs
10-32
.500
Stainless
In-Stock
FH4-032-8
flush-head self-clinching stud for stainless steel
10-32
.500
In-Stock
FH-032-8ZI
flush-head self clinching stud
10-32
.500
Stainless
In-Stock
FH4-032-10
flush-head self-clinching stud for stainless steel
10-32
.625
In-Stock
FH-032-10ZI
flush-head self clinching stud
10-32
.625
Stainless
In-Stock
FH-032-12ZI
flush-head self clinching stud
10-32
.750
Stainless
In-Stock
FH4-032-12
flush-head self-clinching stud for stainless steel
10-32
.750
In-Stock
FH4-032-16
flush-head self-clinching stud for stainless steel
10-32
1.000
In-Stock
FH-032-16ZI
flush-head self clinching stud
10-32
1.000
Stainless
In-Stock
FH-0420-6ZI
flush-head self-clinching stud
1/4-20
.375
Stainless
In-Stock
FH-0420-8ZI
flush-head self-clinching stud
1/4-20
.500
Stainless
In-Stock
FH4-0420-8
flush-head self-clinching stud for stainless steel
1/4-20
.500
In-Stock
FH4-0420-10
flush-head self-clinching stud for stainless steel
1/4-20
.625
In-Stock
FH-0420-10ZI
flush-head self-clinching stud
1/4-20
.625
Stainless
In-Stock
FH-0420-12ZI
flush-head self-clinching stud
1/4-20
.750
Stainless
In-Stock
FH4-0420-12
flush-head self-clinching stud for stainless steel
1/4-20
.750
In-Stock
FH-0420-16ZI
flush-head self-clinching stud
1/4-20
1.000
Stainless
In-Stock
FH4-0420-24
flush-head self-clinching stud for stainless steel
1/4-20
1.500
In-Stock
FHS-0518-24
flush-head self-clinching stud
5/16-18
1.500
Stainless
In-Stock
FH-M2.5-10ZI
flush-head self clinching stud
m2.5
10 mm
Stainless
In-Stock
FH-M2.5-12ZI
flush head self clinching stud
m2.5
12 mm
Stainless
In-Stock
FH-M3-10ZI
flush head self clinching stud
m3
10 mm
Stainless
In-Stock
FH4-M3-10
flush-head self-clinching stud for stainless steel
m3
10 mm
In-Stock
FH-M3-12ZI
flush head self clinching stud
m3
12 mm
Stainless
In-Stock
FH4-M3-12
flush-head self-clinching stud for stainless steel
m3
12 mm
In-Stock
FHS-M3-12
flush-head self-clinching stud
m3
12 mm
Stainless
In-Stock
FH4-M3-15
flush-head self-clinching stud for stainless steel
m3
15 mm
In-Stock
FH-M3-15ZI
flush-head self-clinching stud
m3
15 mm
Stainless
In-Stock
FH-M3-18ZI
flush head self clinching stud
m3
18 mm
Stainless
In-Stock
FH-M3-20ZI
flush-head self-clinching stud
m3
20 mm
Stainless
In-Stock
FH-M3-25ZI
flush-head self-clinching stud
m3
25 mm
Stainless
In-Stock
FH-M3-6ZI
flush head self clinching stud
m3
6 mm
Stainless
In-Stock
FH4-M3-6
flush-head self-clinching stud for stainless steel
m3
6 mm
In-Stock
FH4-M3-8
flush-head self-clinching stud for stainless steel
m3
8 mm
In-Stock
FH-M3-8ZI
flush head self clinching stud
m3
8 mm
Stainless
In-Stock
FH4-M4-10
flush-head self-clinching stud for stainless steel
m4
10 mm
In-Stock
FH-M4-10ZI
flush-head self-clinching stud
m4
10 mm
Stainless
In-Stock
FH-M4-12ZI
flush head self clinching stud
m4
12 mm
Stainless
In-Stock
FH4-M4-12
flush-head self-clinching stud for stainless steel
m4
12 mm
In-Stock
FHS-M4-12
flush-head self-clinching stud
m4
12 mm
Stainless
In-Stock
FH-M4-15ZI
flush head self clinching stud
m4
15 mm
Stainless
In-Stock
FH-M4-18ZI
flush head self clinching stud
m4
18 mm
Stainless
In-Stock
FH-M4-35ZI
flush-head self-clinching stud
m4
35 mm
Stainless
In-Stock
FH-M4-6ZI
flush head self clinching stud
m4
6 mm
Stainless
In-Stock
FH-M4-8ZI
flush-head self-clinching stud
m4
8 mm
Stainless
In-Stock
FH4-M4-8
flush-head self-clinching stud for stainless steel
m4
8 mm
In-Stock
FH-M5-10ZI
flush-head self-clinching stud
m5
10 mm
Stainless
In-Stock
FH4-M5-10
flush-head self-clinching stud for stainless steel
m5
10 mm
In-Stock
FH-M5-12ZI
flush-head self-clinching stud
m5
12 mm
Stainless
In-Stock
FH4-M5-15
flush-head self-clinching stud
m5
15 mm
In-Stock
FH-M5-20ZI
flush-head self-clinching stud
m5
20 mm
Stainless
In-Stock
FH-M5-25ZI
flush-head self-clinching stud
m5
25 mm
Stainless
In-Stock
FHS-M5-30
flush-head self-clinching stud
m5
30 mm
Stainless
In-Stock
FH-M5-8ZI
flush-head self-clinching stud
m5
8 mm
Stainless
In-Stock
FH4-M5-8
flush-head self-clinching stud for stainless steel
m5
8 mm
In-Stock
FH-M6-12ZI
flush-head self-clinching stud
m6
12 mm
Stainless
In-Stock
FH-M6-15ZI
flush-head self-clinching stud
m6
15 mm
Stainless
In-Stock
FH4-M6-18
flush-head self-clinching stud for stainless steel
m6
18 mm
In-Stock
FH4-M6-20
flush-head self-clinching stud
m6
20 mm
In-Stock
FH-M6-20ZI
flush-head self-clinching stud
m6
20 mm
Stainless
In-Stock
FHL-256-10ZI
flush head studs (low-displacement head) fhl-256-10zi
2-56
.250
Stainless
Non-Stock
FHL-256-4ZI
flush head studs (low-displacement head)
2-56
.250
Stainless
Non-Stock
FHLS-256-4
flush low-displacement head
2-56
.250
Non-Stock
FHS-256-5
flush-head self-clinching stud
2-56
.312
Stainless
Non-Stock
FH-256-5ZI
flush-head self-clinching stud
2-56
.312
Stainless
Non-Stock
FH4-256-6
flush-head self-clinching stud
2-56
.375
Non-Stock
FHS-256-6
flush-head self-clinching stud
2-56
.375
Stainless
Non-Stock
FHS-137-6
.137 x 3/8 self clinch pin ss
2-56
.375
Stainless
Non-Stock
FHL-256-6ZI
flush head studs (low-displacement head)
2-56
.375
Stainless
Non-Stock
FHLS-256-8
flush head studs (low-displacement head)
2-56
.500
Stainless
Non-Stock
FHS-256-8
flush-head self-clinching stud
2-56
.500
Non-Stock
FHS-256-10
flush-head self-clinching stud
2-56
.625
Stainless
Non-Stock
FHS-256-12
flush-head self-clinching stud
2-56
.750
Stainless
Non-Stock
FHLS-256-12
flush head studs (low-displacement head)
2-56
.750
Stainless Cold-rolled Aluminum
Non-Stock
901503R-.093-B-6a
double-ended male round knurled stand off (externally threaded stud)
4-40
Stainless Cold-rolled
Non-Stock
FHL-440-4ZI
flush head studs (low-displacement head)
4-40
.250
Stainless
Non-Stock
FHLS-440-4
flush head studs (low-displacement head)
4-40
.250
Non-Stock
TFH-440-4ZI
non-flush self-clinching stud for thin sheets
4-40
.250
Stainless Cold-rolled Aluminum
Non-Stock
TFHS-440-4
non-flush studs for thin material
4-40
.250
Stainless
Non-Stock
FHL-440-5ZI
flush head studs (low-displacement head)
4-40
.312
Stainless
Non-Stock
FHS-440-5
flush-head self clinching stud
4-40
.312
Stainless
Non-Stock
FHA-440-5
flush head studs
4-40
.312
Stainless Cold-rolled
Non-Stock
FHLS-440-5
flush head studs (low-displacement head)
4-40
.312
Non-Stock
FHS-440-6
flush-head self-clinching stud
4-40
.375
Stainless
Non-Stock
FHA-440-6
flush-head self-clinching stud
4-40
.375
Stainless Cold-rolled
Non-Stock
FHL-440-8ZI
flush head studs (low-displacement head)
4-40
.375
Stainless
Non-Stock
FHLS-440-6
flush head studs (low-displacement head)
4-40
.375
Non-Stock
FHS-440-8
flush-head self clinching stud
4-40
.500
Stainless
Non-Stock
FHLS-440-8
flush head studs (low-displacement head)
4-40
.500
Non-Stock
FHA-440-10
flush-head self-clinching stud
4-40
.625
Stainless Cold-rolled
Non-Stock
FHLS-440-10
flush head studs (low-displacement head)
4-40
.625
Non-Stock
CHC-440-10
concealed-head studs
4-40
.625
Stainless Cold-rolled
Non-Stock
FHL-440-10ZI
flush head studs (low-displacement head)
4-40
.625
Stainless
Non-Stock
FHS-440-10
flush-head self-clinching stud
4-40
.625
Stainless
Non-Stock
CFHA-440-12
concealed-head studs
4-40
.750
Stainless Cold-rolled
Non-Stock
CFHC-440-12
440 x 3/4 concealed-head stud ss
4-40
.750
Stainless
Non-Stock
FHS-440-12
flush-head self clinching stud fhs-440-12
4-40
.750
Stainless
Non-Stock
FHL-440-12ZI
flush head studs (low-displacement head)
4-40
.750
Stainless
Non-Stock
CHA-440-12
concealed-head studs
4-40
.750
Stainless Cold-rolled
Non-Stock
FHS-440-14
fhs-440-14 flush-head self clinching stud 440 x 7/8 self sclinch stud ss
4-40
.875
Stainless
Non-Stock
FH4-440-14
flush-head self-clinching stud for stainless steel
4-40
.875
Non-Stock
FHL-440-16ZI
flush head studs (low-displacement head)
4-40
1.000
Stainless
Non-Stock
FHS-440-16
flush-head self clinching stud
4-40
1.000
Stainless
Non-Stock
FHS-440-20
flush-head self clinching stud fhs-440-20
4-40
1.250
Stainless
Non-Stock
CFHA-632-4
concealed-head studs
6-32
.250
Stainless Cold-rolled
Non-Stock
TFH-632-4ZI
non-flush self-clinching stud for thin sheets
6-32
.250
Stainless
Non-Stock
FHLS-632-4
flush head studs (low-displacement head)
6-32
.250
Non-Stock
FHA-632-4
flush-head self-clinching stud
6-32
.250
Stainless Cold-rolled
Non-Stock
CFHC-632-4
concealed-head studs
6-32
.250
Non-Stock
FHLS-632-5
flush head studs (low-displacement head)
6-32
.312
Non-Stock
FHA-632-5
flush-head self-clinching stud
6-32
.312
Stainless Cold-rolled
Non-Stock
FHS-632-5
flush-head self clinching stud
6-32
.312
Stainless
Non-Stock
FHL-632-5ZI
flush head studs (low-displacement head)
6-32
.312
Stainless
Non-Stock
FH4-632-5
flush-head self-clinching stud for stainless steel
6-32
.312
Non-Stock
M63540/1-12C
mil-spec - flush-head self clinching stud 632 x 5/16 stud
6-32
.312
Stainless
Non-Stock
TFH-632-6ZI
non-flush self-clinching stud for thin sheets
6-32
.375
Stainless
Non-Stock
CFHC-632-6
concealed-head studs
6-32
.375
Non-Stock
FHA-632-6
flush-head self-clinching stud
6-32
.375
Stainless Cold-rolled
Non-Stock
FHL-632-6ZI
flush head studs (low-displacement head)
6-32
.375
Stainless
Non-Stock
FHLS-632-6
flush head studs (low-displacement head)
6-32
.375
Non-Stock
CFHC-440-6
concealed-head studs
6-32
.375
Stainless
Non-Stock
FHS-632-6
flush-head self-clinching stud
6-32
.375
Stainless
Non-Stock
TFHS-632-6
non-flush studs for thin material
6-32
.375
Stainless
Non-Stock
CFHA-632-8
concealed-head studs
6-32
.500
Stainless Cold-rolled
Non-Stock
FHL-632-8ZI
flush head studs (low-displacement head)
6-32
.500
Stainless
Non-Stock
FHA-632-8
flush-head self-clinching stud
6-32
.500
Stainless Cold-rolled
Non-Stock
FHA-632-12
flush-head self-clinching stud fha-632-12
6-32
.500
Stainless Cold-rolled
Non-Stock
FHA-632-10
flush-head self-clinching stud
6-32
.500
Stainless Cold-rolled
Non-Stock
CHA-632-10
concealed-head studs
6-32
.625
Stainless Cold-rolled
Non-Stock
CHC-632-10
concealed-head studs
6-32
.625
Stainless
Non-Stock
FHL-632-10ZI
flush head studs (low-displacement head) 632 x 5/8 low displace stud stl zi
6-32
.625
Stainless
Non-Stock
FHS-632-10
flush-head self-clinching stud
6-32
.625
Stainless
Non-Stock
CHA-632-12
concealed-head studs
6-32
.750
Stainless Cold-rolled
Non-Stock
CFHC-632-12
cfhc-632-12 concealed-head studs
6-32
.750
Non-Stock
FHL-632-12ZI
flush head studs (low-displacement head)
6-32
.750
Stainless
Non-Stock
FHS-632-12
flush-head self-clinching stud
6-32
.750
Stainless
Non-Stock
FH4-632-14
flush-head self-clinching stud for stainless steel
6-32
.875
Non-Stock
FHS-632-14
flush-head self-clinching stud
6-32
.875
Stainless
Non-Stock
FH4-632-16
flush-head self-clinching stud for stainless steel
6-32
1.000
Non-Stock
CFHA-632-12
concealed-head studs
6-32
1.000
Stainless Cold-rolled
Non-Stock
CFHA-632-16
concealed-head studs
6-32
1.000
Stainless Cold-rolled
Non-Stock
CHC-632-16
concealed-head studs
6-32
1.000
Stainless
Non-Stock
FHS-632-16
flush-head self-clinching stud
6-32
1.000
Stainless
Non-Stock
FHL-632-20
flush-head self-clinching stud
6-32
1.250
Stainless
Non-Stock
FHS-632-20
flush-head self-clinching stud
6-32
1.250
Stainless
Non-Stock
FH4-632-24
flush-head self-clinching stud
6-32
1.500
Non-Stock
CHC-832-4
concealed-head-studs
8-32
.250
Stainless
Non-Stock
FHS-832-4
flush-head self-clinching stud
8-32
.250
Stainless
Non-Stock
FH-832-5ZI
flush-head self-clinching stud
8-32
.312
Stainless
Non-Stock
FHS-832-5
flush-head self-clinching stud
8-32
.312
Non-Stock
FHS-832-6
flush-head self-clinching stud .164-32 (#8-32)
8-32
.312
Non-Stock
FHP-832-6
fhp-832-6 - part # fhp-832-6, self-clinching studs for stainless steel sheets
8-32
.375
Non-Stock
CFHC-832-6
concealed-head studs
8-32
.375
Non-Stock
CHA-832-6
concealed-head studs cha-832-6
8-32
.375
Stainless Cold-rolled
Non-Stock
FHS-832-8
flush-head self-clinching stud
8-32
.500
Stainless
Non-Stock
CHA-832-8
concealed-head studs
8-32
.500
Stainless Cold-rolled
Non-Stock
FHA-832-8
flush-head self-clinching stud
8-32
.500
Stainless Cold-rolled
Non-Stock
TFH-832-8ZI
non-flush self-clinching stud for thin sheets
8-32
.500
Stainless Cold-rolled Aluminum
Non-Stock
CHA-832-10
concealed-head studs
8-32
.625
Stainless Cold-rolled
Non-Stock
FHS-832-10
flush-head self-clinching stud
8-32
.625
Stainless
Non-Stock
FHS-832-20
flush-head self-clinching stud
8-32
.625
Stainless
Non-Stock
CFHC-832-10
concealed-head studs
8-32
.625
Non-Stock
FHS-832-12
flush-head self-clinching stud
8-32
.750
Stainless
Non-Stock
FH-832-14ZI
flush-head self-clinching stud
8-32
.875
Stainless
Non-Stock
FH4-832-14
flush-head self-clinching stud for stainless steel
8-32
.875
Non-Stock
FHS-832-14
flush-head self-clinching stud
8-32
.875
Stainless
Non-Stock
TFH-832-14ZI
non-flush self-clinching stud for thin sheets
8-32
.875
Stainless
Non-Stock
FHA-832-14
flush-head self-clinching stud
8-32
.875
Stainless Cold-rolled
Non-Stock
FHA-832-16
flush-head self-clinching stud
8-32
1.000
Stainless Cold-rolled Aluminum
Non-Stock
CHC-832-16
concealed-head studs
8-32
1.000
Stainless
Non-Stock
FH4-832-16
flush-head self-clinching stud for stainless steel
8-32
1.000
Non-Stock
FHS-832-16
flush-head self-clinching stud
8-32
1.000
Stainless
Non-Stock
FHS-832-24
flush-head self-clinching stud
8-32
1.500
Non-Stock
FH-832-24ZI
flush-head self-clinching stud
8-32
1.500
Stainless
Non-Stock
FH4-832-24
flush-head self-clinching stud for stainless steel
8-32
1.500
Non-Stock
FH-024-20ZI
flush-head self clinching stud
10-24
.125
Stainless
Non-Stock
FH-024-5ZI
flush-head self clinching stud
10-24
.312
Stainless
Non-Stock
FHS-024-6
flush-head self clinching stud
10-24
.375
Non-Stock
FHS-024-8
flush-head self clinching stud
10-24
.500
Stainless
Non-Stock
FH-024-10ZI
flush-head self clinching stud
10-24
.625
Stainless
Non-Stock
FHS-024-10
flush-head self-clinching stud
10-24
.625
Stainless
Non-Stock
FH-024-14ZI
flush-head self clinching stud
10-24
.750
Stainless
Non-Stock
FHS-024-12
flush-head self-clinching stud
10-24
.750
Stainless
Non-Stock
FHS-024-14
flush-head self-clinching stud
10-24
.875
Stainless
Non-Stock
FH-024-24ZI
flush-head self clinching stud
10-24
1.500
Stainless
Non-Stock
FH-032-4ZI
flush-head self clinching stud
10-32
.250
Stainless
Non-Stock
FHL-032-5ZI
flush head studs (low-displacement head)
10-32
.312
Stainless
Non-Stock
FH4-032-5
flush-head self-clinching stud for stainless steel
10-32
.312
Non-Stock
CHA-032-6
concealed-head studs
10-32
.375
Stainless Cold-rolled
Non-Stock
CFHA-032-6
concealed-head studs
10-32
.375
Stainless Cold-rolled
Non-Stock
CHC-032-6
concealed-head studs
10-32
.375
Stainless
Non-Stock
FHA-032-6
flush-head self-clinching stud
10-32
.375
Stainless Cold-rolled
Non-Stock
FHS-032-6
flush-head self-clinching stud
10-32
.375
Stainless
Non-Stock
FHL-032-6ZI
flush head studs (low-displacement head)
10-32
.375
Stainless
Non-Stock
FHA-032-8
flush-head self-clinching stud
10-32
.500
Stainless Cold-rolled
Non-Stock
HFHB-032-8X
heavy-duty busbar stud
10-32
.500
Stainless
Non-Stock
AESS-1032-130-500
atlas - blind threaded studs - unified
10-32
.500
Stainless Cold-rolled Aluminum
Non-Stock
HFHS-032-8
high-strength studs
10-32
.500
Stainless
Non-Stock
FHP-632-6
10-32
.500
Non-Stock
FHP-032-8
10-32
.500
Non-Stock
FHS-032-8
flush-head self-clinching stud
10-32
.500
Stainless
Non-Stock
FHA-032-10
flush-head self-clinching stud
10-32
.625
Stainless Cold-rolled
Non-Stock
CHC-032-10
concealed-head studs
10-32
.625
Stainless
Non-Stock
FHS-032-10
flush-head self-clinching stud
10-32
.625
Stainless
Non-Stock
FHA-032-12
flush-head self-clinching stud
10-32
.750
Stainless Cold-rolled
Non-Stock
HFH-032-12ZI
high-strength studs
10-32
.750
Stainless
Non-Stock
FHS-032-12
flush-head self-clinching stud
10-32
.750
Stainless
Non-Stock
CFHC-032-12
concealed-head stud
10-32
.750
Stainless
Non-Stock
FH-032-14ZI
flush-head self clinching stud
10-32
.875
Stainless
Non-Stock
FHS-032-14
flush-head self-clinching stud
10-32
.875
Stainless
Non-Stock
FH4-032-14
flush-head self-clinching stud for stainless steel
10-32
.875
Non-Stock
HFHB-032-16X
high-strength studs
10-32
1.000
Stainless
Non-Stock
FHS-032-16
flush-head self-clinching stud
10-32
1.000
Stainless
Non-Stock
CHC-032-16
concealed-head studs
10-32
1.000
Stainless
Non-Stock
FHA-032-16
flush-head self-clinching stud
10-32
1.000
Stainless Cold-rolled
Non-Stock
CFHC-032-16
concealed-head stud
10-32
1.000
Stainless
Non-Stock
FH4-032-20
flush-head self-clinching stud for stainless steel
10-32
1.250
Non-Stock
FHS-032-20
flush-head self-clinching stud
10-32
1.250
Stainless
Non-Stock
FH-032-20ZI
flush-head self clinching stud
10-32
1.250
Stainless
Non-Stock
FHS-032-24
flush-head self-clinching stud
10-32
1.500
Stainless
Non-Stock
FH-032-24ZI
flush-head self clinching stud
10-32
1.500
Stainless
Non-Stock
FH4-0420-32
flush-head self-clinching stud for stainless steel
1/4-20
Non-Stock
HFH-0420-24ZI
high-strength studs
1/4-20
.150
Stainless
Non-Stock
FH4-0420-6
flush-head self-clinching stud for stainless steel
1/4-20
.375
Non-Stock
FHS-0420-6
flush-head self-clinching stud
1/4-20
.375
Stainless
Non-Stock
FH4-0420-16
flush-head self-clinching stud for stainless steel
1/4-20
.500
Non-Stock
HFHS-0420-8
high-strength studs
1/4-20
.500
Stainless
Non-Stock
FHS-0420-8
flush-head self-clinching stud
1/4-20
.500
Stainless
Non-Stock
HFHB-0420-8X
heavy-duty busbar stud
1/4-20
.500
Stainless Cold-rolled Aluminum
Non-Stock
HFH-0420-8ZI
high-strength studs
1/4-20
.500
Stainless
Non-Stock
HFHS-0420-24
high-strength studs
1/4-20
.500
Stainless
Non-Stock
HFE-0420-8ZI
high-strength studs
1/4-20
.500
Stainless
Non-Stock
FHA-0420-8
flush-head-self-clinching stud
1/4-20
.500
Stainless Cold-rolled
Non-Stock
FHS-0420-10
flush-head self-clinching stud
1/4-20
.625
Stainless
Non-Stock
HFE-0420-12ZI
high-strength studs
1/4-20
.750
Stainless
Non-Stock
HFHS-0420-12
high-strength studs
1/4-20
.750
Stainless
Non-Stock
HFHB-0420-12X
heavy-duty busbar stud
1/4-20
.750
Stainless Cold-rolled Aluminum
Non-Stock
FHA-0420-12
self-clinching threaded studs
1/4-20
.750
Stainless Cold-rolled
Non-Stock
FHS-0420-12
flush-head self-clinching stud
1/4-20
.750
Stainless
Non-Stock
FH-0420-14ZI
flush-head self-clinching stud
1/4-20
.875
Stainless
Non-Stock
FH4-0420-14
flush-head self-clinching stud
1/4-20
.875
Non-Stock
FHS-0420-14
flush-head self-clinching stud
1/4-20
.875
Stainless
Non-Stock
HFE-0420-16ZI
1/4-20 x 1 high-strength clinch stud zi
1/4-20
1.000
Stainless
Non-Stock
HFHB-0420-16X
hfhb-0420-16x high-strength studs 1/4-20 x 1 busbar stud phos.bronze
1/4-20
1.000
Stainless
Non-Stock
HFH-0420-16ZI
high-strength studs
1/4-20
1.000
Stainless
Non-Stock
FHA-0420-16
flush-head-self-clinching stud
1/4-20
1.000
Stainless Cold-rolled
Non-Stock
FHS-0420-16
flush-head self-clinching stud
1/4-20
1.000
Stainless
Non-Stock
FH-0420-20ZI
flush-head self-clinching stud
1/4-20
1.250
Stainless
Non-Stock
FH4-0420-20
flush-head self-clinching stud for stainless steel
1/4-20
1.250
Non-Stock
HFHS-0420-20
high-strength studs
1/4-20
1.250
Stainless
Non-Stock
FHS-0420-20
flush-head self-clinching stud
1/4-20
1.250
Non-Stock
FH-0420-24ZI
flush-head self-clinching stud
1/4-20
1.500
Stainless
Non-Stock
FHS-0420-24
flush-head self-clinching stud
1/4-20
1.500
Stainless
Non-Stock
HFH-0420-28ZI
hfh-0420-28zi 1/4-20 x 1-3/4 high strength stud stl zn
1/4-20
1.75
Stainless Cold-rolled Aluminum
Non-Stock
FH-0420-32ZI
flush-head self clinching stud
1/4-20
2
Stainless
Non-Stock
HFH-0616-12ZI
high-strength studs
3/8-16
.075
Stainless
Non-Stock
HFHS-0616-12
high-strength studs
3/8-16
.750
Stainless
Non-Stock
HFHB-0616-12X
hfhb-0616-24x studs 3/8-16 x 3/4 busbar stud phos bronze unplated for copper
3/8-16
.750
Stainless Cold-rolled Aluminum
Non-Stock
HFHB-0616-16X
heavy-duty busbar stud
3/8-16
1.000
Stainless
Non-Stock
HFH-0616-16ZI
high-strength studs
3/8-16
1.000
Stainless
Non-Stock
HFHS-0616-16
high-strength studs
3/8-16
1.000
Stainless
Non-Stock
HFH-0616-32ZI
hfh-0616-32zi 3/8-16 x 2 high strength stud zinc
3/8-16
1.250
Stainless
Non-Stock
HFHS-0616-20
high-strength studs
3/8-16
1.250
Stainless
Non-Stock
HFH-0616-20ZI
high-strength studs
3/8-16
1.250
Stainless
Non-Stock
HFHB-0616-20X
hfhb-0616-20x heavy-duty busbar stud
3/8-16
1.250
Stainless
Non-Stock
HFHB-0616-24X
hfhb-0616-24x studs 3/8-16 x 1-1/2 busbar stud phos bronze unplated for copper
3/8-16
1.500
Stainless Cold-rolled Aluminum
Non-Stock
HFHB-0616-32X
hfhb-0616-32x 3/8-16 x 2 busbar stud phos bronze unplated for copper
3/8-16
1.500
Stainless Cold-rolled Aluminum
Non-Stock
HFH-0616-24ZI
high-strength studs
3/8-16
1.500
Stainless
Non-Stock
HFHS-0616-24
high-strength studs
3/8-16
1.500
Stainless
Non-Stock
HFH-0518-8ZI
high-strength studs
5/16-18
.500
Stainless
Non-Stock
FHS-0518-8
flush-head self-clinching stud
5/16-18
.500
Stainless
Non-Stock
FH-0518-8ZI
flush-head self-clinching stud
5/16-18
.500
Stainless
Non-Stock
FH-0518-10ZI
flush-head self-clinching stud
5/16-18
.625
Stainless
Non-Stock
HFH-0518-12ZI
high-strength studs
5/16-18
.750
Stainless
Non-Stock
FHS-0518-12
flush-head self-clinching stud
5/16-18
.750
Stainless
Non-Stock
FH-0518-12ZI
flush-head self-clinching stud
5/16-18
.750
Stainless
Non-Stock
HFE-0518-12ZI
high-strength studs
5/16-18
.750
Stainless
Non-Stock
FHS-0518-14
flush-head self-clinching stud
5/16-18
.875
Stainless
Non-Stock
FH-0518-14ZI
flush-head self-clinching stud
5/16-18
.875
Stainless
Non-Stock
FH4-0518-14
flush-head self-clinching stud for 300 ss (fh4-0518-14)
5/16-18
.875
Stainless
Non-Stock
FH4-0518-16
flush-head self-clinching stud for stainless steel
5/16-18
1.000
Non-Stock
FH-0518-16ZI
flush-head self clinching stud
5/16-18
1.000
Stainless
Non-Stock
HFH-0518-16ZI
high-strength studs
5/16-18
1.000
Stainless
Non-Stock
HFHB-0518-16X
high-strength studs
5/16-18
1.000
Stainless Cold-rolled
Non-Stock
HFHS-0518-16
high-strength studs
5/16-18
1.000
Stainless
Non-Stock
FHS-0518-16
flush-head self-clinching stud
5/16-18
1.000
Stainless
Non-Stock
HFE-0518-16ZI
high-strength studs
5/16-18
1.000
Stainless
Non-Stock
HFH-0518-20ZI
high-strength studs
5/16-18
1.250
Stainless
Non-Stock
FHS-0518-20
flush-head self-clinching stud
5/16-18
1.250
Stainless
Non-Stock
FH-0518-20ZI
flush-head self-clinching stud
5/16-18
1.250
Stainless
Non-Stock
HFHB-0518-20X
high-strength studs
5/16-18
1.250
Stainless
Non-Stock
HFHS-0518-24
high-strength studs
5/16-18
1.500
Stainless
Non-Stock
FH-0518-24ZI
flush-head self-clinching stud
5/16-18
1.500
Stainless
Non-Stock
HFH-0518-24ZI
high-strength studs
5/16-18
1.500
Stainless
Non-Stock
FH4-M2.5-10
flush-head self-clinching stud
m2.5
10 mm
Non-Stock
FHS-M2.5-10
flush head self clinching stud
m2.5
10 mm
Stainless
Non-Stock
FHA-M2.5-12
m2.5 x 12mm clinch stud alum
m2.5
12 mm
Stainless Cold-rolled
Non-Stock
FHS-M2.5-12
flush head self clinching stud
m2.5
12 mm
Non-Stock
FHLS-M2.5-12
m2.5 x 12mm low displace stud ss
m2.5
12 mm
Stainless
Non-Stock
FHL-M2.5-15ZI
flush head studs (low-displacement head)
m2.5
15 mm
Stainless
Non-Stock
FHS-M2.5-15
flush head self clinching stud
m2.5
15 mm
Stainless
Non-Stock
FH-M2.5-15ZI
flush-head self clinching stud
m2.5
15 mm
Stainless
Non-Stock
FH-M2.5-18ZI
flush-head self clinching stud
m2.5
18 mm
Stainless
Non-Stock
FHL-M2.5-18ZI
flush head studs (low-displacement head)
m2.5
18 mm
Stainless
Non-Stock
FHS-M2.5-18
flush head self clinching stud
m2.5
18 mm
Stainless
Non-Stock
FH-M2.5-6ZI
flush head self clinching stud
m2.5
6 mm
Stainless
Non-Stock
FHA-M2.5-6
flush head self clinching stud
m2.5
6 mm
Stainless Cold-rolled
Non-Stock
FHLS-M2.5-6
m2.5 x 6 low displace stud ss
m2.5
6 mm
Stainless
Non-Stock
FHS-M2.5-6
flush head self clinching stud
m2.5
6 mm
Stainless
Non-Stock
FH-M2.5-8ZI
flush head self clinching stud
m2.5
8 mm
Stainless
Non-Stock
FHS-M2.5-8
self-clinching threaded studs
m2.5
8 mm
Stainless
Non-Stock
TFH-M3-6ZI
tfh-m3-6zi
m3
Stainless
Non-Stock
TFHS-M3-6
non-flush studs
m3
Stainless
Non-Stock
FHL-M3-6ZI
flush head studs (low-displacement head)
m3
.375
Stainless
Non-Stock
FHLS-M3-10
flush-head self-clinching stud
m3
10 mm
Stainless
Non-Stock
TFH-M4-12ZI
non-flush self-clinching stud for thin sheets
m3
10 mm
Stainless
Non-Stock
FHP-M3-10
flush-head self-clinching stud for stainless steel
m3
10 mm
Non-Stock
CHC-M3-10
concealed-head studs
m3
10 mm
Stainless
Non-Stock
CFHC-M3-10
concealed-head studs
m3
10 mm
Stainless
Non-Stock
FHS-M3-10
flush-head self-clinching stud
m3
10 mm
Stainless
Non-Stock
FHL-M3-10ZI
flush-head self-clinching stud
m3
10 mm
Stainless
Non-Stock
FHA-M3-10
flush-head self-clinching stud
m3
10 mm
Stainless Cold-rolled
Non-Stock
TFH-M3-10ZI
non-flush self-clinching stud for thin sheets
m3
10 mm
Stainless
Non-Stock
FHA-M3-18
flush-head self-clinching stud
m3
12 mm
Stainless Cold-rolled
Non-Stock
CHC-M3-12
concealed-head studs
m3
12 mm
Stainless
Non-Stock
CFHC-M3-12
m3
12 mm
Stainless
Non-Stock
FHA-M3-12
fha-m3-12 flush-head self-clinching stud
m3
12 mm
Stainless Cold-rolled
Non-Stock
FH-M3-14ZI
flush-head self-clinching stud
m3
14 mm
Stainless
Non-Stock
FHS-M3-15
flush-head self-clinching stud
m3
15 mm
Stainless
Non-Stock
FHL-M3-15ZI
flush-head self-clinching stud
m3
15 mm
Stainless
Non-Stock
FHA-M3-15
flush-head self-clinching stud
m3
15 mm
Stainless Cold-rolled
Non-Stock
CHC-M3-16
concealed-head studs
m3
16 mm
Stainless
Non-Stock
FHLS-M3-12
flush head studs (low-displacement head)
m3
18 mm
Stainless
Non-Stock
FH4-M3-18
flush-head self-clinching stud for stainless steel
m3
18 mm
Non-Stock
FHS-M3-18
flush-head self-clinching stud
m3
18 mm
Stainless
Non-Stock
TSO-6M3-1800ZI
ultra thin sheet standoffs (wide base)
m3
18 mm
Stainless
Non-Stock
FHL-M3-12ZI
flush head studs (low-displacement head)
m3
18 mm
Stainless
Non-Stock
FHL-M3-18ZI
flush head studs (low-displacement head)
m3
18 mm
Stainless
Non-Stock
FHLS-M3-20
flush-head self-clinching stud
m3
20 mm
Stainless
Non-Stock
FHS-M3-20
flush-head self-clinching stud
m3
20 mm
Stainless
Non-Stock
FH4-M3-20
flush-head self-clinching stud fh4-m3-20
m3
20 mm
Non-Stock
FHS-M3-25
flush-head self-clinching stud
m3
25 mm
Stainless
Non-Stock
FH4-M3-25
flush-head self-clinching stud
m3
25 mm
Non-Stock
FH-M3-30ZI
flush-head self-clinching stud
m3
30 mm
Stainless
Non-Stock
FHA-M3-6
flush-head self-clinching stud
m3
6 mm
Stainless Cold-rolled
Non-Stock
CHC-M3-6
concealed-head studs
m3
6 mm
Stainless
Non-Stock
CHA-M3-6
concealed-head studs
m3
6 mm
Stainless Cold-rolled
Non-Stock
FHL-M3.5-8ZI
flush head studs (low-displacement head)
m3
8 mm
Stainless
Non-Stock
FHS-M3-8
flush-head self-clinching stud
m3
8 mm
Stainless
Non-Stock
CFHC-M3-8
concealed-head studs
m3
8 mm
Non-Stock
CHA-M3-8
concealed-head studs
m3
8 mm
Stainless Cold-rolled
Non-Stock
CHC-M3-8
concealed-head studs
m3
8 mm
Stainless
Non-Stock
TFH-M3-8ZI
non flush head self clinching stud
m3
8 mm
Stainless
Non-Stock
FHS-M3-6
flush-head self-clinching stud
m3
8 mm
Stainless
Non-Stock
FHA-M3-8
flush-head self-clinching stud
m3
8 mm
Stainless Cold-rolled
Non-Stock
FHL-M3-8ZI
flush head studs (low-displacement head)
m3
8 mm
Stainless
Non-Stock
FHLS-M3-8
flush-head self-clinching stud
m3
8 mm
Stainless
Non-Stock
FH-M3.5-10ZI
flush-head self-clinching stud
m3.5
10 mm
Stainless
Non-Stock
FHS-M3.5-12
flush-head self-clinching stud
m3.5
12 mm
Stainless
Non-Stock
FH-M3.5-12ZI
flush-head self-clinching stud
m3.5
12 mm
Stainless
Non-Stock
FH-M3.5-15ZI
flush-head self-clinching stud
m3.5
15 mm
Stainless
Non-Stock
FHS-M3.5-15
flush-head self-clinching stud
m3.5
15 mm
Stainless
Non-Stock
FH-M3.5-18ZI
flush-head self-clinching stud
m3.5
18 mm
Stainless
Non-Stock
FHS-M3.5-20
flush-head self-clinching stud
m3.5
20 mm
Stainless
Non-Stock
FHLS-M3.5-30
flush-head self-clinching stud
m3.5
30 mm
Non-Stock
FH-M3.5-8ZI
flush-head self-clinching stud
m3.5
8 mm
Stainless
Non-Stock
FHA-M4-18
self-clinching threaded studs
m4
Stainless Cold-rolled
Non-Stock
FHS-M4-38
flush-head self-clinching stud
m4
Stainless
Non-Stock
FHS-M4-10
flush-head self-clinching stud
m4
10 mm
Stainless
Non-Stock
CHC-M4-10
concealed-head studs
m4
10 mm
Stainless
Non-Stock
FHL-M4-10ZI
flush head studs (low-displacement head)
m4
10 mm
Stainless
Non-Stock
CFHC-M4-10
concealed-head studs
m4
10 mm
Stainless
Non-Stock
FHA-M4-10
flush-head self-clinching stud
m4
10 mm
Stainless Cold-rolled
Non-Stock
TFH-M4-10ZI
non-flush self-clinching stud for thin sheets
m4
10 mm
Stainless
Non-Stock
FHP-M4-12
flush-head self-clinching stud for stainless steel
m4
12 mm
Non-Stock
FHL-M4-12ZI
flush head studs (low-displacement head)
m4
12 mm
Stainless
Non-Stock
CHC-M4-12
concealed-head studs
m4
12 mm
Stainless
Non-Stock
FHA-M4-12
flush-head self-clinching stud
m4
12 mm
Stainless Cold-rolled
Non-Stock
FH4-M4-14
flush-head self-clinching stud for stainless steel
m4
14 mm
Non-Stock
FH-M4-14ZI
flush head self clinching stud
m4
14 mm
Stainless
Non-Stock
FHP-M4-15
flush-head self-clinching stud for stainless steel
m4
15 mm
Non-Stock
FHA-M4-15
flush head self clinching stud
m4
15 mm
Stainless
Non-Stock
FH4-M4-15
flush-head self-clinching stud for stainless steel
m4
15 mm
Non-Stock
FHL-M4-15ZI
low-displacement head studs
m4
15 mm
Stainless
Non-Stock
TFHS-M4-15
non-flush studs
m4
15 mm
Stainless
Non-Stock
FHS-M4-15
flush-head self-clinching stud
m4
15 mm
Stainless
Non-Stock
FHLS-M4-15
flush low-displacement head self-clinching stud
m4
15 mm
Stainless
Non-Stock
CHC-M4-16
concealed-head studs
m4
16 mm
Stainless
Non-Stock
FH-M4-16ZI
flush-head self-clinching stud
m4
16 mm
Stainless
Non-Stock
FHS-M4-18
flush-head self-clinching stud
m4
18 mm
Stainless
Non-Stock
FH4-M4-18
flush-head self-clinching stud for stainless steel
m4
18 mm
Non-Stock
FH-M4-20ZI
flush-head self-clinching stud
m4
20 mm
Stainless
Non-Stock
CHA-M4-20
concealed-head studs
m4
20 mm
Stainless Cold-rolled
Non-Stock
FH4-M4-20
flush-head self-clinching stud for stainless steel
m4
20 mm
Non-Stock
CHC-M4-20
concealed-head studs
m4
20 mm
Stainless Cold-rolled
Non-Stock
FHS-M4-20
flush-head self-clinching stud for stainless steel
m4
20 mm
Non-Stock
FHA-M4-20
self-clinching threaded studs
m4
20 mm
Stainless Cold-rolled
Non-Stock
FHP-M4-25
flush-head self-clinching stud for stainless steel
m4
25 mm
Non-Stock
FHS-M4-25
flush-head self-clinching stud
m4
25 mm
Stainless
Non-Stock
FHA-M4-25
self-clinching threaded studs fha-m4-25
m4
25 mm
Stainless Cold-rolled
Non-Stock
FH4-M4-25
flush-head self-clinching stud for stainless
m4
25 mm
Stainless
Non-Stock
CFHC-M4-25
concealed-head studs
m4
25 mm
Stainless
Non-Stock
FH-M4-25ZI
flush-head self-clinching stud
m4
25 mm
Stainless
Non-Stock
FH4-M4-30
flush-head self-clinching stud for stainless steel
m4
30 mm
Non-Stock
FH-M4-30ZI
flush head self clinching stud
m4
30 mm
Stainless
Non-Stock
FHS-M4-30
flush-head self-clinching stud
m4
30 mm
Stainless
Non-Stock
FH4-M4-35
flush-head self-clinching stud for stainless steel
m4
35 mm
Non-Stock
FHS-M4-35
flush-head self-clinching stud
m4
35 mm
Stainless
Non-Stock
FHA-M4-35
flush-head self-clinching stud
m4
35 mm
Stainless Cold-rolled
Non-Stock
FHA-M4-40
flush-head self-clinching stud
m4
40 mm
Stainless Cold-rolled
Non-Stock
FH-M4-40ZI
flush-head self-clinching stud
m4
40 mm
Stainless Cold-rolled Aluminum
Non-Stock
FH4-M4-6
flush head self clinching stud
m4
6 mm
Non-Stock
CHC-M4-6
concealed-head studs
m4
6 mm
Stainless
Non-Stock
CHA-M4-8
concealed-head studs
m4
8 mm
Stainless Cold-rolled
Non-Stock
FHS-M4-8
flush-head self-clinching stud
m4
8 mm
Stainless
Non-Stock
FHL-M4-8ZI
flush head studs (low-displacement head)
m4
8 mm
Stainless
Non-Stock
CFHC-M4-8
concealed-head studs
m4
8 mm
Stainless
Non-Stock
CHC-M4-8
concealed-head studs
m4
8 mm
Stainless
Non-Stock
FHA-M4-8
flush-head self-clinching stud
m4
8 mm
Stainless Cold-rolled
Non-Stock
TFH-M4-8ZI
m4 x 8mm thin non flush hd stud stl zi
m4
8 mm
Stainless
Non-Stock
FHS-M5-10
flush-head self-clinching stud
m5
10 mm
Stainless
Non-Stock
FH4-M5-12
flush-head self-clinching stud for stainless steel
m5
12 mm
Non-Stock
CHA-M5-12
m5 x 12 concealed head stud alum
m5
12 mm
Stainless Cold-rolled
Non-Stock
FHA-M5-12
flush-head self-clinching stud
m5
12 mm
Stainless Cold-rolled
Non-Stock
CFHC-M5-12
concealed-head studs
m5
12 mm
Non-Stock
FHS-M5-12
flush-head self-clinching stud
m5
12 mm
Stainless
Non-Stock
CHC-M5-12
m5 x 12 concealed-head stud ss
m5
12 mm
Stainless
Non-Stock
HFHS-M5-15
high-strength studs
m5
15 mm
Stainless
Non-Stock
FH-M5-15ZI
flush-head self-clinching stud
m5
15 mm
Stainless
Non-Stock
FHS-M5-15
flush-head self-clinching stud
m5
15 mm
Stainless
Non-Stock
HFH-M5-15ZI
high-strength studs
m5
15 mm
Stainless
Non-Stock
HFHB-M5-15-X
high-strength m5 x 15 busbar stud phos bronze
m5
15 mm
Stainless
Non-Stock
CFHC-M5-16
concealed-head studs
m5
16 mm
Non-Stock
FHA-M5-18
flush-head self-clinching stud
m5
18 mm
Stainless Cold-rolled
Non-Stock
FH4-M5-18
flush-head self-clinching stud for stainless steel
m5
18 mm
Non-Stock
FHS-M5-18
flush-head self-clinching stud for stainless steel
m5
18 mm
Stainless
Non-Stock
FH-M5-18ZI
flush-head self-clinching stud
m5
18 mm
Stainless
Non-Stock
FHS-M5-20
flush-head self-clinching stud
m5
20 mm
Non-Stock
HFHB-M5-20
high-strength m5 x 20 busbar stud phos bronze
m5
20 mm
Stainless Cold-rolled Aluminum
Non-Stock
CHC-M5-10
concealed-head studs
m5
20 mm
Stainless
Non-Stock
CFHC-M5-20
concealed-head studs
m5
20 mm
Non-Stock
CFHC-M5-10
concealed-head studs
m5
20 mm
Non-Stock
FHA-M5-20
flush-head self-clinching stud
m5
20 mm
Stainless Cold-rolled
Non-Stock
HFHS-M5-20
high-strength studs
m5
20 mm
Stainless
Non-Stock
FH4-M5-20
flush-head self-clinching stud for stainless steel
m5
20 mm
Non-Stock
FHS-M5-25
flush-head self-clinching stud
m5
25 mm
Non-Stock
FH4-M5-25
fh4-m5-25 flush-head self-clinching stud for stainless steel
m5
25 mm
Non-Stock
FHA-M5-25
flush-head self-clinching stud
m5
25 mm
Stainless Cold-rolled
Non-Stock
HFHS-M5-25
high-strength studs
m5
25 mm
Stainless
Non-Stock
FH-M5-30ZI
flush-head self-clinching stud
m5
30 mm
Stainless
Non-Stock
FH4-M5-30
flush-head self-clinching stud for stainless steel
m5
30 mm
Non-Stock
FHS-M5-35
flush-head self-clinching stud
m5
35 mm
Non-Stock
FH4-M5-35
flush-head self-clinching stud for stainless steel
m5
35 mm
Non-Stock
FH-M5-35ZI
flush-head self-clinching stud
m5
35 mm
Stainless
Non-Stock
FH-M6-10ZI
flush-head self-clinching stud
m6
10 mm
Stainless
Non-Stock
FHS-M6-10
flush-head self-clinching stud
m6
10 mm
Stainless
Non-Stock
FH4-M6-10
flush-head self-clinching stud for stainless steel
m6
10 mm
Non-Stock
FHA-M6-12
flush-head self-clinching aluminum stud m6 x 12mm
m6
12 mm
Stainless Cold-rolled
Non-Stock
FH4-M6-12
flush-head self-clinching stud for stainless steel
m6
12 mm
Non-Stock
FHS-M6-12
flush-head self-clinching stud
m6
12 mm
Stainless
Non-Stock
HFHB-M6-20X
heavy-duty busbar stud
m6
15 mm
Stainless
Non-Stock
HFH-M6-15ZI
m6 x 15 high strength stud stl/zinc
m6
15 mm
Stainless
Non-Stock
FH4-M6-15
flush-head self-clinching stud for stainless steel
m6
15 mm
Non-Stock
FHS-M6-15
flush-head self-clinching stud
m6
15 mm
Stainless
Non-Stock
FHA-M6-15
fha-m6-15 flush-head self-clinching aluminum stud m6 x 15mm
m6
15 mm
Stainless Cold-rolled
Non-Stock
FH-M6-15ZI
flush-head self-clinching stud
m6
15 mm
Stainless
Non-Stock
HFHB-M6-15X
heavy-duty busbar stud
m6
15 mm
Stainless
Non-Stock
FH-M6-16ZI
flush-head self-clinching stud
m6
16 mm
Stainless
Non-Stock
FH4-M6-16
flush-head self-clinching stud for stainless steel
m6
16 mm
Non-Stock
FHS-M6-18
flush-head self-clinching stud
m6
18 mm
Stainless
Non-Stock
FH-M6-18ZI
flush-head self-clinching stud
m6
18 mm
Stainless
Non-Stock
FHS-M6-20
flush-head self-clinching stud
m6
20 mm
Stainless
Non-Stock
HFH-M6-20ZI
high-strength studs
m6
20 mm
Stainless
Non-Stock
FHA-M6-20
flush-head self-clinching stud
m6
20 mm
Stainless Cold-rolled
Non-Stock
HFHS-M6-20
high-strength studs
m6
20 mm
Stainless
Non-Stock
FH-M6-22ZI
flush-head self-clinching stud
m6
22 mm
Stainless
Non-Stock
FH4-M6-30
flush-head self-clinching stud
m6
25 mm
Non-Stock
FH-M6-25ZI
flush-head self-clinching stud
m6
25 mm
Stainless
Non-Stock
FHS-M6-25
flush-head self-clinching stud
m6
25 mm
Stainless
Non-Stock
FH4-M6-25
flush-head self-clinching stud
m6
25 mm
Cold-rolled
Non-Stock
HFHS-M6-25
high-strength studs
m6
25 mm
Stainless
Non-Stock
HFH-M6-25ZI
high-strength studs
m6
25 mm
Stainless
Non-Stock
FHA-M6-25
flush-head self-clinching stud
m6
25 mm
Stainless Cold-rolled
Non-Stock
FHS-M6-30
flush-head self-clinching stud
m6
30 mm
Stainless
Non-Stock
FHA-M6-30
flush-head self-clinching stud
m6
30 mm
Stainless Cold-rolled
Non-Stock
FH-M6-30ZI
flush-head self-clinching stud
m6
30 mm
Stainless
Non-Stock
FHS-M6-35
flush-head self-clinching stud
m6
35 mm
Stainless
Non-Stock
FH-M6-35ZI
flush-head self-clinching stud
m6
35 mm
Stainless
Non-Stock
HFHS-M6-50
high-strength studs m6x1 50mm length
m6
null
Stainless
Non-Stock
HFHB-M8-20X
heavy-duty busbar stud
m8
Stainless Cold-rolled Aluminum
Non-Stock
FHS-M8-12
flush-head self-clinching stud
m8
12 mm
Stainless
Non-Stock
FH-M8-12ZI
flush head self clinching stud
m8
12 mm
Stainless
Non-Stock
FH-M8-15ZI
flush head self clinching stud
m8
15 mm
Stainless
Non-Stock
FHS-M8-15
flush head self clinching stud
m8
15 mm
Stainless
Non-Stock
FHS-M8-18
flush-head self-clinching stud
m8
18 mm
Non-Stock
FH4-M8-18
flush-head self-clinching stud
m8
18 mm
Non-Stock
FH-M8-18ZI
flush-head self-clinching stud
m8
18 mm
Stainless
Non-Stock
HFH-M8-20ZI
high-strength studs
m8
20 mm
Stainless
Non-Stock
FH-M8-20ZI
flush-head self-clinching stud
m8
20 mm
Stainless
Non-Stock
FHS-M8-20
flush-head self-clinching stud
m8
20 mm
Stainless
Non-Stock
FH-M8-25ZI
flush-head self-clinching stud
m8
25 mm
Stainless
Non-Stock
FHS-M8-25
flush-head self-clinching stud
m8
25 mm
Stainless
Non-Stock
FH4-M8-25
flush-head self-clinching stud
m8
25 mm
Non-Stock
HFH-M8-25ZI
high-strength stud
m8
25 mm
Stainless
Non-Stock
HFHB-M8-30X
heavy-duty busbar stud
m8
30 mm
Stainless Cold-rolled Aluminum
Non-Stock
FH-M8-30ZI
flush-head self-clinching stud
m8
30 mm
Stainless
Non-Stock
HFHS-M8-30
high-strength studs
m8
30 mm
Stainless
Non-Stock
FH-M8-35ZI
flush-head self-clinching stud
m8
35 mm
Stainless
Non-Stock
HFH-M8-35ZI
high-strength studs
m8
35 mm
Stainless
Non-Stock
HFH-M8-40ZI
high-strength studs
m8
40 mm
Stainless
Non-Stock
HFH-M10-20ZI
high-strength studs
m10
20 mm
Stainless
Non-Stock
HFH-M10-15ZI
high-strength studs
m10
20 mm
Stainless
Non-Stock
HFH-M10-25ZI
m10 x 25high-strength stud st zinc
m10
25 mm
Stainless
Non-Stock
HFHS-M10-25
high-strength studs
m10
25 mm
Stainless
Non-Stock
HFH-M10-30ZI
high-strength studs
m10
30 mm
Stainless
Non-Stock
CFHC-440-8
440 x 1/2 concealed-head stud ss
Stainless
Non-Stock
CHA-440-8
concealed-head studs
Stainless Cold-rolled Aluminum
Non-Stock
HFHS-032-32
high-strength studs
Stainless
Non-Stock
CHA-440-10
440 x 5/8 concealed-head stud alum
Stainless Cold-rolled
Non-Stock
CHA-440-6
440 x 3/8 concealled-head stud alum
Stainless Cold-rolled
Non-Stock
FHS-137-4
flush-head self-clinching stud
.250
Stainless
Non-Stock
FHS-103-5
fhs-103-5 flush-head self-clinching stud for stainless steel
.312
Non-Stock
FHS-160-5
flush-head self-clinching stud
.312
Stainless
Non-Stock
CHC-032-12
concealed-head stud
.750
Stainless
Non-Stock