Products & Services
Protocase manufactures fully finished custom electronic enclosures and associated parts from a wide variety of materials and components, in 2-3 days with no minimum order. Protocase also provides expert and affordable enclosure design services.
Engrave and Fill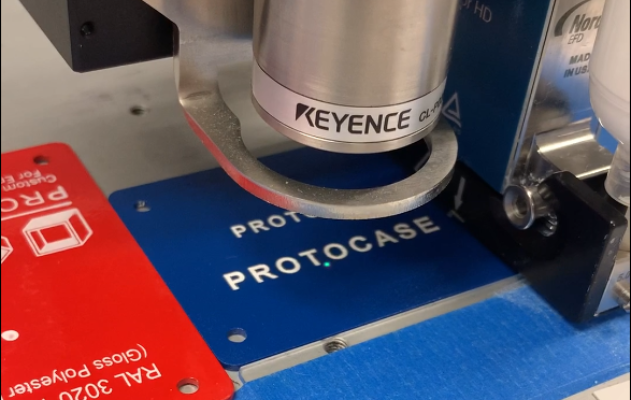 Protocase Engrave and Fill is a form of marking that is compliant with the following standards:
• MIL-STD-130
• A-A-56023D
• A-A-00208D (US Department of Defense Property)
To create Engrave and Fill marking, your parts are laser marked or machined engraved, and then the laser-engraved sections are filled with ink, according to your specific requirements. The ink fill sits below the edges of the area that has been marked – it does not go all the way from the bottom of the laser-marked area to the top of the substrate.
The end result is a durable and striking form of marking that meets MIL-STD-130 and other standards.
Protocase Engrave and Fill is offered as part of our standard 2-3 day leadtime*.
We are currently offering Engrave and Fill text on your custom parts, panels and enclosures. (Stay tuned – we are working on adding logos and large areas to our Engrave and Fill capabilities).
Materials
Engrave and Fill is available on aluminum.
Finishes
We can ink fill any substrate and finish that already qualifies for either laser marking or machined engraving.
In addition to no finish aluminum, you can apply Engrave and Fill on many different finishes:
(Note: For anodizing and chemical film conversion, the process of laser marking or engraving happens prior to the finishing process. Following the selected finishing process, the parts are then ink filled to complete the Engrave and Fill process.)
Fill Colors
For your Engrave and Fill ink colors, you may choose from any of our stocked silkscreen colors.
In order to create the best contrast (which is required by MIL-STD-130), we recommend choosing white or black ink fill, depending on the finish of your parts.
Limitations & Constraints
| | |
| --- | --- |
| Maximum Part Size | 28" x 31" x 6.5" (711.2mm x 787.4mm x 165.1mm) |
| Minimum Material Thickness | 0.051" (1.295mm) |
| Minimum Engraving Depth | 0.015" (0.381mm) |
| Minimum Line Thickness | 0.03" (0.762mm) |
| Minimum Spacing Between Letters | 0.025" (0.635mm) |
• Depending on the style and height of the font you select, your line thickness must be at least 0.030" (0.762mm)
• Positional tolerance for Engrave and Fill is the same as our Laser Marking tolerance: +/- 0.020" (+/- 0.508mm)
*For in-stock materials and finishes.